How is it Possible!? 250% Forex Profit in 1 Month .. No Trading!? Bitcoin Accepted!? No Need to Provide Identification!?
It is indeed possible!
I happily stumbled across a post which led me to .. 1Broker.com
The author was describing the ups/downs, the benefits/dangers of copy-trading .. where you sign up with a brokerage, choose a successful trader to 'follow' and after setting some basic parameters you would make the same trades, moving in / out of positions chosen by the trader you have followed.
Sounds scary right!? Sounds like something only a total newb would do!
Nope ..

After setting up an account on 1Broker I funded it with a few hundred dollars worth of Bitcoin and examined the list of successful traders that people are copying (below are the most current) ..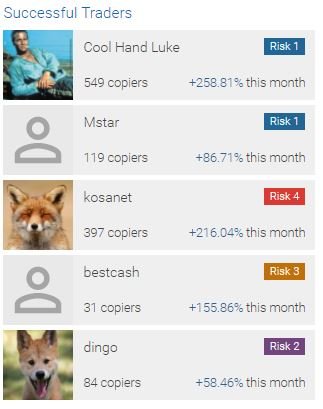 Not wanting to take on too much risk I was happy to see that the # 1 copied trader is also one of the least risky ..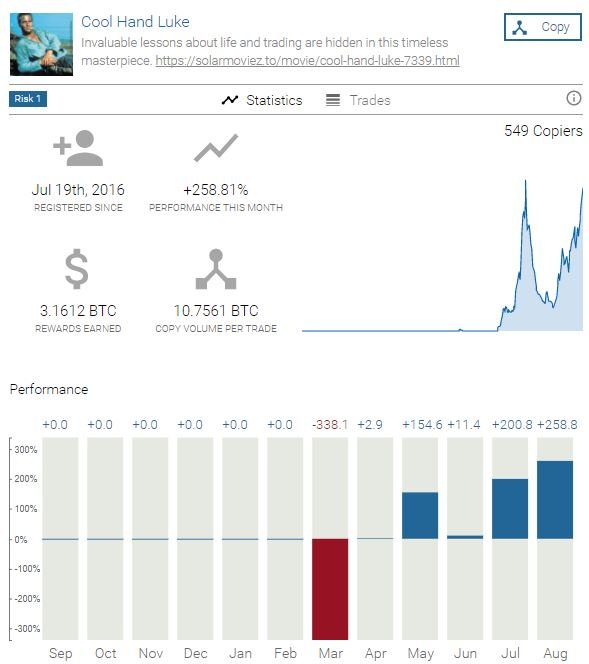 Cool Hand Luke seems is not big on Forex trading, which is extremely volatile, and requires that you open/close positions the same day for the most part, which means that a series of bad choices can impact your bottom-line drastically, in a very short period of time. Luke seems to be doing well trading the S&P 500, which is ooook with me! The copy-trading parameters I set were 0.01 BTC per trade, a maximum of 5 trades per day, to see how things went .. you can set your per trade amount much lower, or of course much higher, depending on what you are working with ..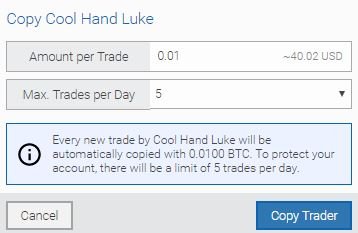 Results ..
In the month of July I made 0.028 BTC copying this guy .. not bad, and with the jump in BTC price in that period, it was a good month indeed. Looking forward to many more, and to do some Forex dabbling with the profit.

Warning:
Of course these guys can have a bad day, week, month .. they can completely meltdown. If you look at Cool Hand Luke's statistics he had a bad month in March of 2017 .. but, if you look at his trade history, it is clear that this was the result of one very big, very bad loss, on BTCUSD .. something that has not happened again since - it seems he has learned quite a lot in the last few months, and is doing increasingly well .. however, just be careful .. monitor the results of these trades, and make sure the trader you have copied has not lost their f'n minds. :-)