Infiltration into the Dark Web: Online Black Markets Sell Everything from Personal Information to Drugs to Guns
A clandestine region called the dark web exists on the Internet. This is a deeper realm that can only be accessed via specific software. During our investigation on spam, Your Special Mission News Crew was informed that this dark web is used to buy and sell personal information. The Crew carried out an "infiltration" to confirm this and found a state of anarchy.
"P__sonal info___tion available"
Late April, we found the following post on a dark web message board: "Credit cards. E-mail addresses. Any number acceptable. Volume discounts can be considered." The blanks can each be filled in with "er" and "rma," revealing the full phrase to be "personal information". This is being traded in a dark world that cannot be searched by major search engines such as Google and Yahoo.
The site we accessed was a Japanese message board called Onion Channel. While it resembles 2channel on the World Wide Web, the posts here are loaded with code words. Exploited for various types of transactions, there are more than 2,000 posts that advertise illegal items on sale.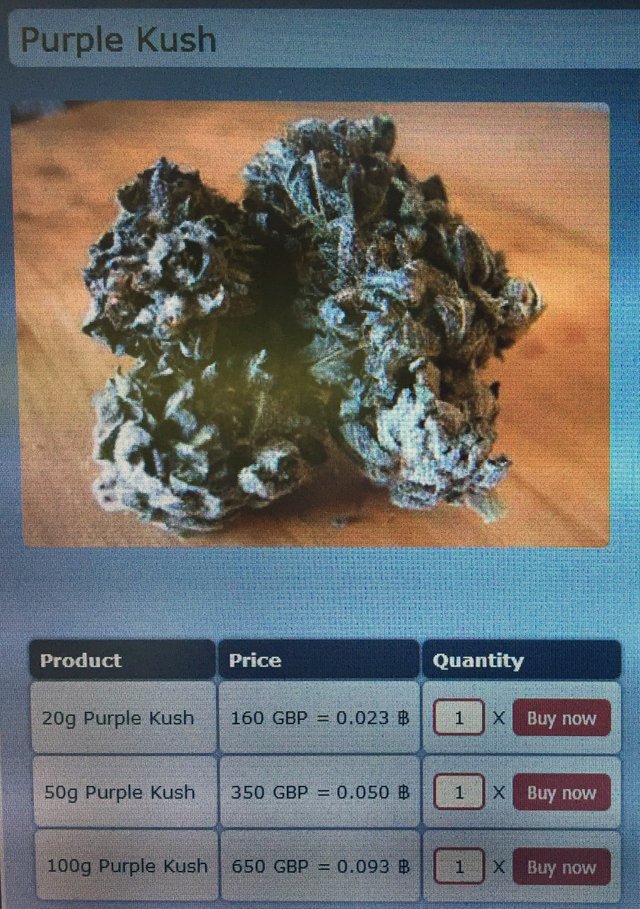 An website listing marijuana for sale
One term that particularly stood out was "ice," which is used to refer to stimulant drugs. The sellers declare that they will deliver such drugs to specified locations for ¥30,000 to ¥50,000 per gram. "I live in Saga and I can't get any vegetables. Can anyone share some with me?" Of course, this does not mean that Saga Prefecture, one of the major producers of vegetables, is suffering from poor harvest. Vegetables, in fact, refers to marijuana. An e-mail address was listed as a way to contact this buyer, making it seem as though these traders were in the mail order business.
We sent an e-mail to an "ice" dealer and got a response in 3.5 hours. "I can hand it to you directly or send it by post," was the reply. The dealer even stated that we should "be certain [of our request] because it's not necessarily a cheap purchase." Indeed, the price of ruining one's life is immeasurable.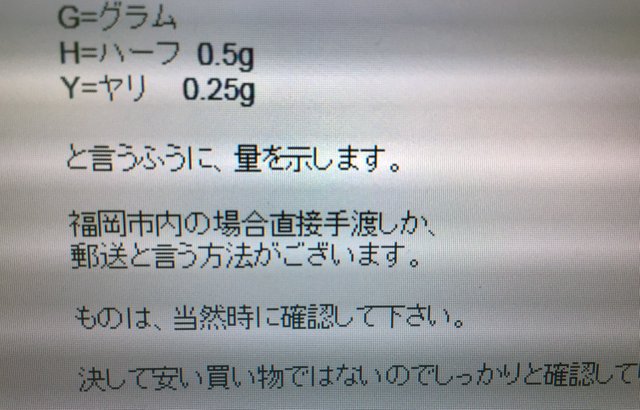 The reply e-mail from the "ice" dealer. It also said, "Be certain because it's not necessarily a cheap purchase."
■
The dark web goes through multiple overseas servers to increase users' anonymity and confidentiality. Historically, it has been used among journalists and activists in countries under dictatorships to exchange information. It was also used by WikiLeaks, the whistle-blower website that was uncovered numerous confidential documents, to obtain information anonymously.
"Criminals noted these characteristics [of the dark web]," says Seigen Takano, head of the security firm Sprout Inc. You can find anything on these message boards: fake ID cards, lucrative part-time job offers with monthly pay checks of 2 million yen, dealers that break up couples, as well as those who assist clients in escaping overseas. It reads like a wild manga storyline.
"Tokarev. 6 rounds. First come first served." This is a military-grade, automatic revolver made in Russia. It even had a kind note: "Please be aware that the spring is old."
You can also find cryptocurrencies on the dark web. We found a post that read: "Convert various types of cryptocurrencies into cash, for 15% of total amount plus a transaction fee of ¥100,000." The approximately 58-billion-yen worth of NEM that was stolen from Coincheck, a major cryptocurrency trader based in Tokyo, was also converted to a different cryptocurrency on the dark web. That money was laundered and is now difficult to trace or recover.
■■
Is it possible to crack down on these dark markets? While the police appear to be monitoring the situation, there seems to be an obstacle that prevents investigations. Mr. Takano reveals that "while North America and Europe has allocated both people and money to bust rings through international operations, it is difficult for the police in Japan to investigate and trace overseas servers. What is more, sting operations are not permitted by law, so it is extremely difficult to track criminals."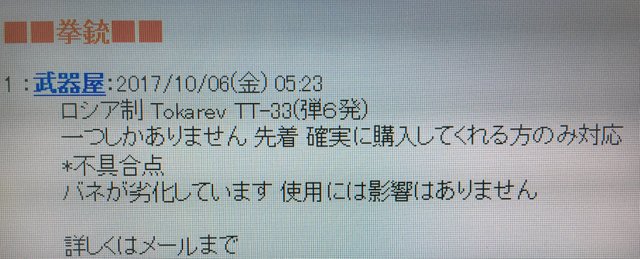 The Onion Channel message board. A "weapon seller" listed a Tokarev, a military revolver.
The dark web also has malicious "trap" sites, where someone merely browsing can get infected with viruses or have their information stolen. For this investigation, the Special Mission News Crew used a computer that was isolated from our network to limit the potential damage from viruses. We were also extra cautious when accessing the Internet so as not to affect the newspaper production process.
Mr. Takano warns, "You should never access the dark web light-heartedly. It's like walking into a sketchy alley with your wallet in your hand."
---
ダークウェブに潜入してみた 闇市場まるで通販 個人情報、薬物に拳銃まで
インターネット空間には、特定のソフトがないと閲覧できない「ダークウェブ」と呼ばれる深層領域がある。2月に掲載した「迷惑メールを追う」の取材過程で、特命取材班はこのダークウェブが個人情報の売買に悪用されているとの情報を得た。"潜入"してみると、そこには無法地帯が広がっていた。
「○人情○有り」
4月下旬、ダークウェブ上の掲示板サイトにこんな投稿があった。「クレジットカード。メールアドレス。何件でも可能。多い場合はディスカウントを検討」。二つの「○」に入るのは「個」と「報」、つまり個人情報のことだろう。検索大手グーグルやヤフーでは検索できない闇の世界で、個人情報が取引されていることがうかがえる。
このサイトは日本語掲示板「onion(オニオン)ちゃんねる」。見た目はネット掲示板「2ちゃんねる」に似ているが、中身は隠語だらけ。さまざまな売買に悪用されており、2千件以上の売り文句が並ぶ。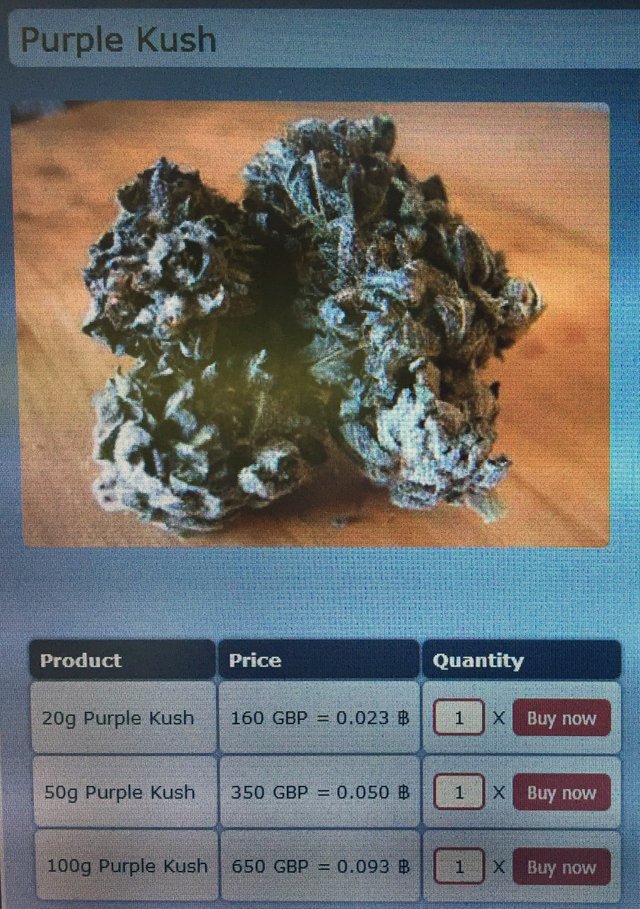 大麻が出品されていた海外サイトの画像
目立つのは「アイス」という言葉。覚醒剤を意味する。1グラム3万~5万円程度で指定場所に配達してくれるという。「佐賀なんだけどまったく野菜が手に入らない。誰か分けて」。農業県・佐賀で野菜が不作、というわけではない。野菜とは大麻のこと。連絡用のメールアドレスが明記され、まるで通販感覚だ。
「アイス」の売人にメールを入れてみた。返信は3時間半後。「直接手渡しか、郵送で購入可能」。さらに「決して安い買い物ではないのでしっかりと確認して」と記されていた。確かに、人生を台無しにする代償は計り知れない。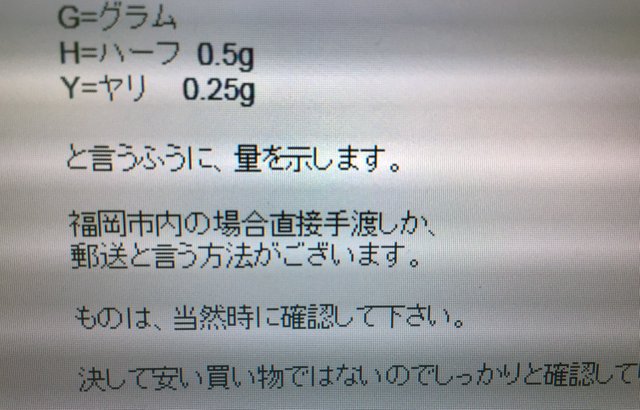 「アイス」(覚醒剤)の売人からの返信メール。「安い買い物ではないので確認して」とも記してあった
■
複数の海外サーバーを経由して、利用者の匿名性と秘匿性を高めるのがダークウェブの特徴だ。独裁国家のジャーナリストや活動家が情報をやりとりしたり、機密文書を暴いてきた内部告発サイト「ウィキリークス」が匿名の相手から情報を得たりする手段として利用されてきた歴史がある。
「この特性に目を付けたのが犯罪者」と、セキュリティー企業スプラウト(東京)の高野聖玄代表は指摘する。掲示板には偽造身分証明書の販売から月収200万円の「高額バイト」募集、男女の仲を裂く「別れさせ屋」、海外逃亡を手助けする「にがしや」まである。まるで漫画の世界だ。
「トカレフ。弾6発。先着」。ロシア製の軍用自動式拳銃だ。丁寧なことに「※バネが劣化しています」と注釈まであった。
仮想通貨も登場する。「総額の15%プラス手数料10万円で、あらゆる仮想通貨を現金化」するという。仮想通貨交換業者大手コインチェック(東京)から約580億円相当の「NEM(ネム)」が流出した事件で、犯人側が別の仮想通貨に交換したのもダークウェブ上。マネーロンダリング(資金洗浄)され、追跡や回収は困難になっている。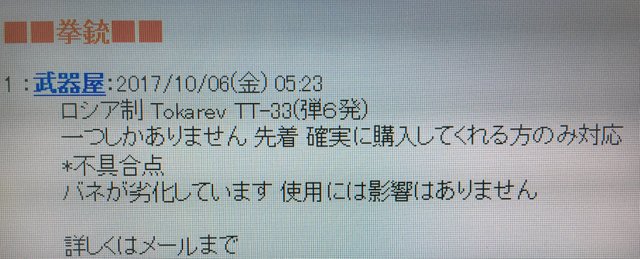 掲示板「onionちゃんねる」。「武器屋」が軍用拳銃トカレフを売り出している
■■
こうした闇の市場を取り締まることはできないのか。警察当局は監視しているとみられるが、捜査には「壁」があるようだ。高野代表は「欧米は人員も予算も確保し、国際捜査で摘発を進めているが、日本の警察に海外サーバーをたどる捜査は困難。おとり捜査も法律で認められておらず、なかなか犯人にたどり着けない」と明かす。
ダークウェブは、閲覧しただけでウイルスに感染したり、情報を抜き取られたりする「わな」もある。取材班は今回、ウイルスに感染してもいいパソコンを用意、新聞製作に影響が出ないようにネット接続に細心の注意を払った。
高野代表は「安易に近づくのは厳禁。治安の悪い路地裏に、財布を持って行くようなものだ」と警告している。