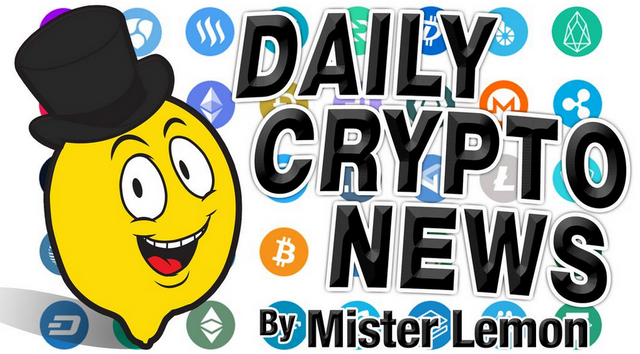 Cryptopia: From Zug To The Proposed Melaka Straits City - Can Blockchain Build A City?;
Banking, Bitfinex and the Hidden Irony of Crypto's Newest Controversy;
US Court Orders Craig Wright to Provide Bitcoin Ownership Records ;
Top 5 Crypto Performers: ATOM, DASH, MIOTA, BTC, BCH
'Not a White Paper': Marketing Document Details $1 Billion Bitfinex Token Sale ;
📑 Daily Crypto Calendar, May, 6th💰
STEEM Trading Update
Welcome to the Daily Crypto News: A complete Press Review, Coin Calendar and Trading Analysis. Enjoy!
There is no doubting that people have become quite tribal and patriotic to their selected cryptocurrencies. The original 'civil war' between Bitcoin and its fork Bitcoin Cash proved this. Many believed that BTC was no longer the real thing and jumped to a blockchain with bigger blocks, defendeding it vehemently.


This tribalism stems from what cryptocurrency can offer. It is a tool that has the potential to allow people to 'move off the grid' and become sustainable in an all together new economy that does not rely on banks, regulators, governments or other legacy institutions.


This utopic - or dystopic? - future seems a little out of the realms of possibility as it currently stands. Bitcoin and related cryptocurrencies have, for the most part, realised that for adoption they need to be in line with regulators; but, there are areas, valleys, towns, and even cities looking to go full crypto on their own.

When I visited some early bitcoin startups in Hong Kong five years ago, they were unanimous about their biggest challenge: finding a bank that would let them open an account.


It wasn't that local banks were especially worried about this little-understood new industry. The issue was that compliance-obsessed correspondence banks in the U.S. were demanding that their counterparts in the territory apply an especially high "know-your-customer" standard for bitcoin businesses. Since Hong Kong banks couldn't live without a dollar lifeline from New York, the path of least resistance was to say no.


That situation was a lesson about how the dollar's reserve status leaves U.S. financial institutions, and the Washington regulators whose guidance they heed, exerting profound worldwide influence – in this case, constraining innovation, wherever it was happening.



The United States District Court of the Southern District of Florida issued an order on May 3 requiring self-proclaimed Satoshi Nakamoto Craig Wright to produce a list of his public bitcoin (BTC) addresses.


The order is part of an ongoing case against Wright filed by the estate of computer scientist David Kleiman, which claims that Wright stole hundreds of thousands of BTC. The coins were worth over $5 billion dollars in February last year, when Kleiman's estate first sued Wright.


The order illustrates a number of the plaintiffs' requests. They ask the court to order Wright to produce a list of the public addresses of bitcoin he owned as of Dec. 31, 2013, make him identify all bitcoin allegedly transferred to a blind trust in 2011 and produce documents related to said trust.
While markets have looked bullish this week following a sharp surge May 3, traders need to watch out for a correction in the next few days. This pullback will shake out the weak hands and will differentiate between different digital currencies. While some will lose only a part of their recent gains, others will plunge towards their lows again.


The stronger ones are likely to lead the next bull market in cryptocurrencies. Therefore, traders should buy strength after the pullback ends. If our assumption is correct, the current fall should offer a great opportunity to buy for the long-term. Our view will be invalidated if cryptocurrencies give up all the gains made over the past few weeks.


A survey by financial consultancy firm DeVere Group shows that 68% of high-net-worth individuals across the globe will have invested in cryptocurrencies by the end of 2022. One of the major reasons for investing in cryptocurrency is their borderless nature, which makes the assets available across the globe.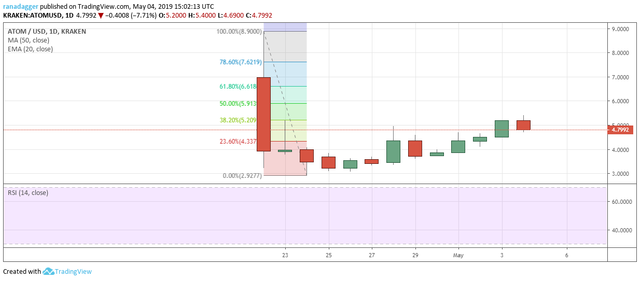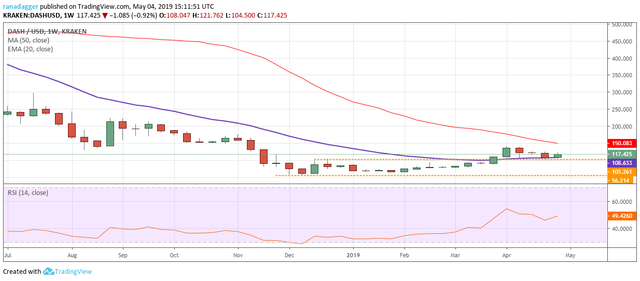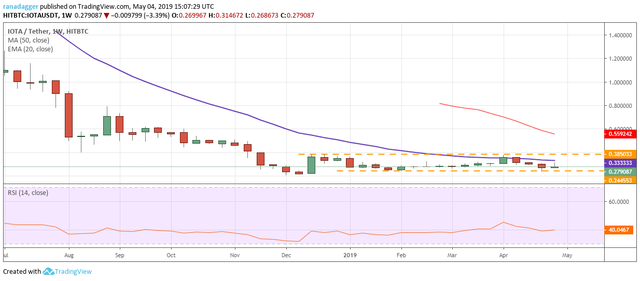 New details are emerging about a planned $1 billion token sale to be held by iFinex, the parent company of Bitfinex and Tether, two cryptocurrency companies currently being sued by the state of New York for allegedly covering up a $850 million loss in customer funds.


Released today on Twitter by known company shareholder and over-the-counter trader Zhao Dong, a 3-page "marketing document" details the specifics of how the sale might ultimately take place, while noting throughout that it is not intended to be legally binding.


For example, the document makes explicit that it is "not a white paper," meaning it does not provide technical specifics including which blockchain or blockchains the new cryptocurrency for sale will trade on, or the cryptographic specifics of how its code will enable peers to move and transfer funds.
📑 Daily Crypto Calendar, May, 6th💰
We will increase the number of elected Consensus Delegates from 12 to 18 at the start of epoch #350!
"Were just two days away from the first Nebulas upgrade that will support the NAT airdrop!"
"One week later, on May 6, the migration will begin."
Spectrum distributes incentives bonus to qualified holders by the first Monday of every month.
"After months of hard work we are finally ready to launch the official BEAT App!"
STEEM Trading Update by my friend @cryptopassion
Here is the chart of yesterday :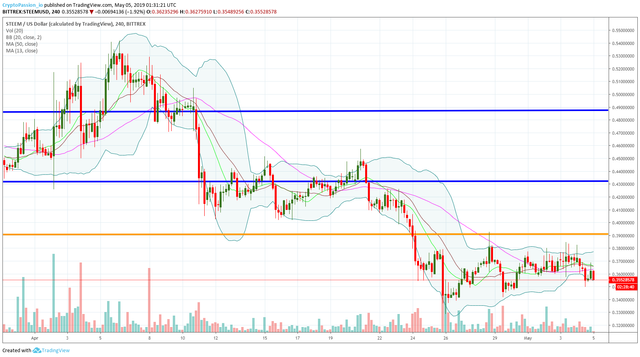 Here is the current chart :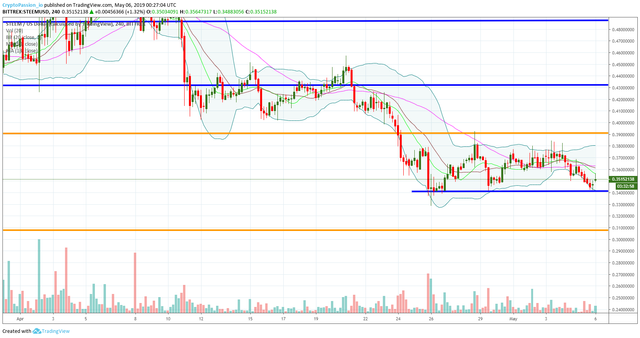 All is in the title, BTC is current testing his short term highs and we should have soon a Break Out but on the STEEM level, it is the opposite. You can see clearly on the chart that we are testing the lows and that if we break these lows, we will go directly to 0.31$. Cmon STEEM, react !
Last Updates
Join this new Free To Play on the STEEM Platform !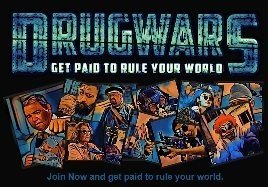 You don't want to miss a Crypto news?
Join SteemFollower and get Upvotes back !
---
Posted from my blog with <a

---
Posted from my blog with SteemPress : https://scrips.io/blog/mr-cryptolemon/%f0%9f%97%9e-daily-crypto-news-may-6th%f0%9f%92%b0/
---