🗞 Daily Crypto News, April, 19th💰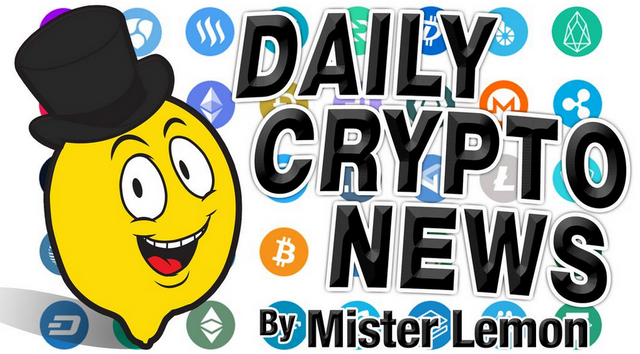 Binance Chain Launches, Firm Expects to Execute Mainnet Swap on April 23;
Bitcoin Price Indicator Turns Bullish in First Since Early 2018;
Official Chinese Currency Renminbi to Become Cryptocurrency, Expert Says;
NYDFS: Why We Rejected Bittrex's Application for a BitLicense;
US Presidential Candidate Andrew Yang Calls for Clear Crypto Regulations;
📑 Daily Crypto Calendar, April, 19th💰
STEEM Trading Update
Welcome to the Daily Crypto News: A complete Press Review, Coin Calendar and Trading Analysis. Enjoy!
Binance has launched its mainnet Binance Chain and expects to execute the swap of its native token Binance Coin (BNB) on April 23, according to an announcement on April 18.


The major crypto exchange first revealed its plans to launch its own blockchain in December 2018, intending to build a basis for issuing new cryptocurrencies and initial coin offering tokens.


According to the announcement, Binance is producing blocks with consensus from the genesis block as of today, with its native coin BNB planned to be issued in the genesis block.


Binance Chain Explorer and Web Wallet will be available to selected partners in beta testing mode and are expected to be opened to public access "around April 23, 2019," the announcement notes.
Bitcoin's two-week moving average convergence divergence (MACD) histogram has turned positive for the first time since early February 2018, signaling a longer-term bearish-to-bullish trend change.


While the MACD is a lagging indicator, the historical data indicates the previous bull market began following a positive crossover on the indicator.


In the short term, BTC's hourly chart indicators have turned bearish, so a drop to $5,000 could be seen in the next day or two if crucial support below $5,200 is breached.


Prices may still rise to recent highs above $5,400 if the bulls can defend the that support level and drive price upwards.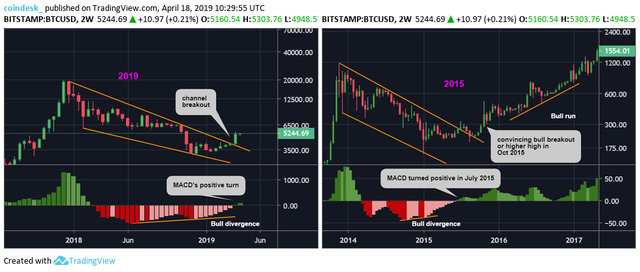 Donald Tapscott, executive chairman of the Blockchain Research Institute, stated that the official Chinese currency, the renminbi (RMB), will become a cryptocurrency, in an interview with Bloomberg on April 17.
In the interview, Tapscott revealed that he had recently been at a meeting with the vice-chairman of the Communist Party in China, who recalled that President Xi Jinping thinks that blockchain is one of the most important technologies for the future of the country.


Speaking about the government's ban on cryptocurrency exchanges, Tapscott outlined that China is considering to ban cryptocurrency mining as well, and added:


"It's not really necessary to do that [to ban exchanges and mining] because in 20 years we are not going to be using bitcoin in China. Chinese people will use the RMB, only the RMB will become a cryptocurrency. The central bank of China will turn it into a digital currency."
Bittrex purportedly aims to get the facts straight about the denial of its license applications by the New York State Department of Financial Services (DFS) in recent statements to the media (including CoinDesk). But, the cryptocurrency exchange leaves out the context necessary to understand its failures to comply with DFS's licensing requirements, it continues to misstate the facts and it presents a misleading picture about the denial.


First, Bittrex claims that DFS did not provide guidance to the company and that the company's applications sat on DFS's desk "for years." These statements are untrue.


Bittrex either misunderstands or misrepresents the meaning of guidance from a regulator in the context of a license application. DFS's guidance consists of informing an applicant of the regulatory requirements for a license and pointing out deficiencies that need to be addressed before a license is granted. The corrective work to address deficiencies remains the applicant's responsibility.
Andrew Yang, a United States Democratic presidential candidate for the 2020 elections, is advocating for clear regulations on digital assets. Yang put the key operative points in a policy published on his campaign website.


Yang — an entrepreneur who contributed $120,000 to establish Venture For America (VFA), an accelerator aimed at building new startups in emerging cities — is running for president in 2020. As part of his presidential campaign, Yang stands for the implementation of cryptocurrency and digital assets regulation in the country.


In the release, Yang outlines that the government has failed to develop and launch a national framework for regulating digital assets, while several federal agencies claim conflicting jurisdictions. Yang stresses the need to define how digital assets should be treated and regulated in order to ensure that investors proceed with all the relevant information.

Yang said:
"We should let investors, companies, and individuals know what the landscape and treatment will be moving forward to support innovation and development. The blockchain has vast potential."
📑 Daily Crypto Calendar, April, 19th💰
Our testnet launch includes Wallet BETA (Desktop & MAC version) testing and DApps (Decentralized Application) testing.
DigiByte Global summit will be live streamed on
at 12 noon GMT.
Binance hosts NavCoin for an AMA event (in Spanish).
"Deposit & Withdrawal to start at 22:00 p.m. EDT on Apr 17th, 2019. Trading to start at 10:00 a.m. EDT on Apr 19th 2019."
ANON performs coin burn, hard coded for block 48,500, on all shielded addresses.
STEEM Trading Update by my friend @cryptopassion
Here is the chart of yesterday :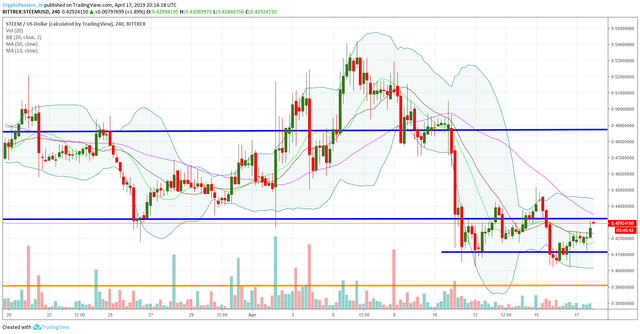 Here is the current chart :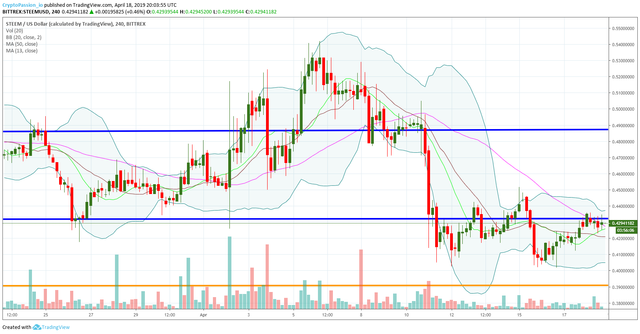 Today, we tested the resistance line at 0.43$ several times but we havent been able to break it... So we are staying just under that line, waiting for the volume needed to break it or waiting for the sellers to take the advantage. Let's see who will win in this battle but for sure we will need a Break Out to know the next direction.
Last Updates
Join this new Free To Play on the STEEM Platform !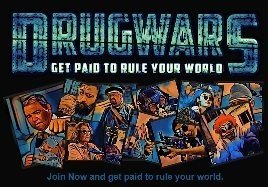 ---
You don't want to miss a Crypto news?
Join SteemFollower and get Upvotes back !
---
You don't want to miss a Crypto news?
Join SteemFollower and get Upvotes back !
---
Posted from my blog with <a


---
Posted from my blog with SteemPress : https://scrips.io/blog/mr-cryptolemon/%f0%9f%97%9e-daily-crypto-news-april-19th%f0%9f%92%b0/
---