🗞 Daily Crypto News, April, 17th💰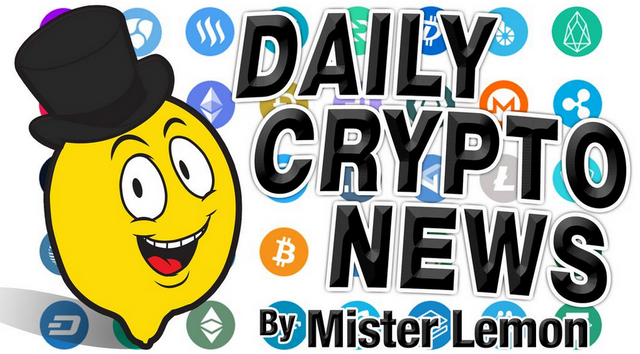 Welcome to the Daily Crypto News: A complete Press Review, Coin Calendar and Trading Analysis. Enjoy!
Major United States cryptocurrency exchange Kraken has decided to delist bitcoin (BTC) offshoot bitcoin SV (BSV), the firm announced on April 16.


In an official press release, Kraken said that BSV had "engaged in behavior completely antithetical to everything we at Kraken and the wider crypto community stands for." As such, the exchange has decided to delist the currency, which was the result of a hard fork in the bitcoin cash (BTC) network last November.
1. Do I need to report my cryptocurrency trades to the IRS?

You need to report your cryptocurrency activity if you incurred a taxable event during the year. A taxable event is a specific scenario that triggers a tax liability. The below are a list of the taxable events as specified by the IRS 2014 guidance:

Trading cryptocurrency to fiat currency like the U.S. dollar is a taxable event.
Trading cryptocurrency to cryptocurrency is a taxable event (you have to calculate the fair market value in USD at the time of the trade).

Using cryptocurrency for goods and services is a taxable event (again, you have to calculate the fair market value in USD at the time of the trade; you may also end up owing sales tax).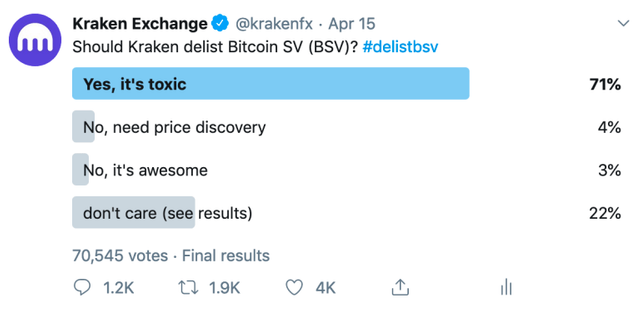 Is Coinbase going to solve the thorny challenges of proof-of-stake (PoS) blockchain governance or centralize those systems even further?


That's the question experts in the space are pondering with the recent announcement that Coinbase Custody will offer staking support for Maker, Tezos and Cosmos. The move means institutional investors will be able to vote on blockchain governance matters directly through their Coinbase accounts.
Crypto exchange Gate.io has raised $64 million worth of crypto assets in seven days for its own exchange cryptocurrency that won't be launched on a blockchain for at least six months.


One of the oldest Chinese exchanges, Gate.io claimed on Monday that over the last week it was heavily oversubscribed with orders totaling $2.99 billion for the so-called Gate Points, which can be used for offsetting trading fees on the platform.


Moreover, each Gate Point further entitles a holder to receive 2.5 Gate Tokens (GT), the native cryptocurrency of Gatechain, the exchange's yet-to-be-launched proprietary blockchain. Gate.io says it expects the network to go live in the fourth quarter.
There's a legal conflict brewing between outspoken members of the bitcoin community and the controversial computer scientist who claims to be the cryptocurrency's creator.


It's a complex story to untangle, but it boils down to Australian computer scientist Craig S. Wright – who has claimed to be bitcoin's pseudonymous creator since 2016 – sending out legal letters to those community members that have called him a "fraud."


While several news reports, as early as late 2015, identified Wright as Satoshi, and the lead maintainer of bitcoin at the time Gavin Andresen even lent his credence to the unmasking, security experts rebuked the claim, leaving many in the cryptocurrency community unconvinced. Yet, Wright has continued stating that he is Satoshi and those that believe that to be a false claim have continued to call Wright a liar.
ConsenSys is seeking a funding boost.


Ethereum co-founder Joe Lubin's Brooklyn-based venture studio is looking to raise $200 million from external investors, The Information reported Monday, at a valuation of $1 billion.


The Information reports that ConsenSys is pitching Chinese investors with materials claiming the company aims to earn $50 million in revenue this year, primarily from contracts with enterprise and government clients. Last December, the Brazilian National Social Development Bank confirmed to CoinDesk it was in talks with ConsenSys.


ConsenSys was previously supported by Lubin's personal fortune and employed up to 1,200 people in 2018. When the price of ethereum plummeted after the 2017 token boom fizzled, ConsenSys laid off 13 percent of its staff. Following a late-2018 re-organization dubbed "ConsenSys 2.0," it became clear that partnerships with traditional, external investors were a priority.
📑 Daily Crypto Calendar, April, 17th💰
Spend holds second AMA on Reddit with updates and announcements.
"Much will be revealed within seven days at our global main net launch — at the birthplace of Aergo at Seoul in South Korea; on April 17..."
Voice Calls in China
"We are pleased to announce that the HERB / KRW pairing will be held on 17 April starting at the @ProBit_Exchange Korean Exchange."
"Join #Binance CFO @weizhouBinance & @BinanceLabs Partner @hiteck on April 17th at Paris Blockchain Week for a Binance meetup"
STEEM Trading Update by my friend @cryptopassion
Here is the chart of yesterday :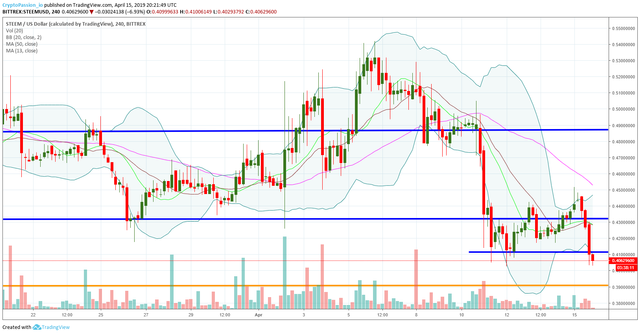 Here is the current chart :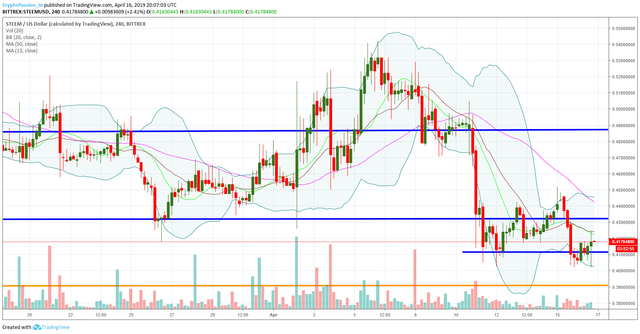 Due to the BTC little UP, the support line at 0.41$ corresponding to the previous low has been saved after some hours. We are now in the middle of 2 lines but I would like really see that we are able to go upper than the resistance line at 0.43$ to confirm any Up trend. Till that point, I will stay very cautious about the STEEM which is not moving nicely on each UP of the BTC but is dropping with exageration on each little correction on the BTC.
Last Updates
Join this new Free To Play on the STEEM Platform !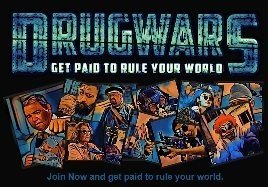 ---
You don't want to miss a Crypto news?
Join SteemFollower and get Upvotes back !
---
Posted from my blog with <a


---
Posted from my blog with SteemPress : https://scrips.io/blog/mr-cryptolemon/%f0%9f%97%9e-daily-crypto-news-april-17th%f0%9f%92%b0/
---