🗞 Daily Crypto News, March, 9th 💰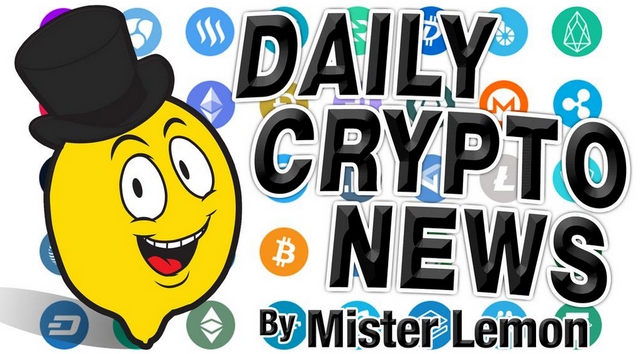 Relief Bounce May Stop $7.5K Bitcoin as Global Markets Face Disaster;
US Congressman Introduces Crypto-Currency Act of 2020;
Daily Users of Brave's Blockchain Web Browser Pass 4 Million;
Bitcoin, Bonds and Gold: Why Markets Are Upended in a Time of Fear ;
The Tokenization Delusion;
🗞 Daily Crypto Calendar, March, 9th 💰
STEEM Trading Update
Welcome to the Daily Crypto News: A complete Press Review, Coin Calendar and Trading Analysis. Enjoy!
A bloody Monday for the equity and oil markets, as Europe stock markets are dropping by 8%, while oil has seen a drop of 30%. But it's not only equity markets as the crypto market is also experiencing the same pain with Bitcoin (BTC) dropping $1,500 during the weekend.
Wouldn't it be expected to see Bitcoin move up during economic instabilities? The opposite seems so, while gold has been showing strength over the past weeks.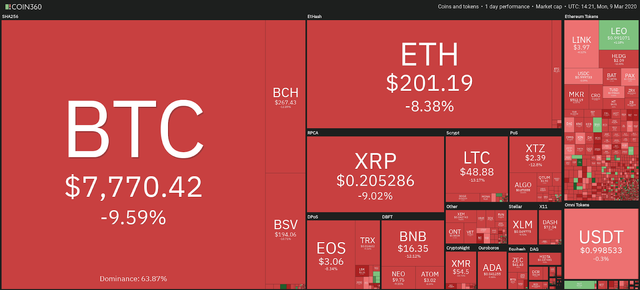 Bitcoin can't break through $9,150 and retraces to $7,500
The price of Bitcoin made a significant drop two weeks ago, as the market experienced a similar $1,500 decline during that week. However, some relief was found during last week, after which another crash occurred following a rejection of $9,150 during the weekend
https://s3.cointelegraph.com/storage/uploads/view/e07294570cbbe97178d7e7626fd1eede.
A United States congressman is the latest working to clarify determine which U.S. regulator is responsible for which digital assets.
On March 9, Representative Paul Gosar (R-AZ) introduced the "Crypto-Currency Act of 2020," a bill that looks to choreograph a wide range of digital assets to answer to the appropriate regulator.
The proposed regulatory schema
As Will Stechschulte, Gosar's legislative assistant, explained to Cointelegraph, "the bill looks to provide not only clarity, but legitimacy to crypto assets in the United States."
The cryptocurrency-powered internet browser Brave seems to be gaining in popularity, surpassing four million daily users.
Brendan Eich, the co-founder and chief executive of Brave and former CEO of Mozilla, recently tweeted that Brave also has 12.2 million monthly users. As such, roughly 30% of Brave's monthly users utilize the browser daily.
Brave has also seen a steady increase in the number of its publishers — with nearly 447,000 publishers currently participating in the Brave network.
Noelle Acheson is a veteran of company analysis and CoinDesk's director of research. The opinions expressed in this article are the author's own.
The following article originally appeared in Institutional Crypto by CoinDesk, a weekly newsletter focused on institutional investment in crypto assets. Sign up for free here.
Anyone seen the movie "Parasite"? You know, the one about class mobility, creative solutions and scary basements.
I thought of that film after reading Jill Carlson's op-ed a couple of days ago – she looks at our collective surprise that bitcoin is not a safe haven, and in a gentle way asks "well what did you expect?" She highlights that bitcoin (BTC) is too young to be considered a safe haven because its narrative is not yet formed. That doesn't mean it won't eventually get there, though.
Frances Coppola, a CoinDesk columnist, is a freelance writer and speaker on banking, finance and economics.
Let me tell you about a lovely dream. In some utopian future, all assets will be represented as tokens on blockchains. Everyone will issue their own tokens, backed by their own assets. And because those tokens are backed by assets, and their ownership is transparently recorded on an immutable decentralized blockchain, everyone will accept everyone else's token as money. There will be no need for trusted central institutions to issue money. In the new world of tokens and blockchains, private asset-backed money will be ubiquitous, and everyone will be their own bank.
Currently, the principal use of asset-backed tokens is to make illiquid things liquid. Say you have a stash of something valuable but difficult to transport. Twelve-foot steel girders, for example. You put up an advert on Craigslist saying "steel girders for sale, buyer collects". And you wait. For a long time.
🗞 Daily Crypto News, March, 9th💰
"The SelfKey Mobile Wallet will be released in 5 days [from March 3rd]."
Agrello (DLT), General Event (CRYPTO), Maker (MKR), Ontology (ONT), Ontology Gas (ONG), Solaris (XLR)
Crypto Assets Conference from March 9th - 10th in Frankfurt.
"Azbit team will continue to destroy tokens from the project's profit until AZ number is reduced to 10% of the initial supply."
"... We are introducing additional policies to the AdEx Adview, coming into effect on Monday, March 9, 2020."
STEEM Trading Update by my friend @cryptopassion
Here is the chart of my last analysis :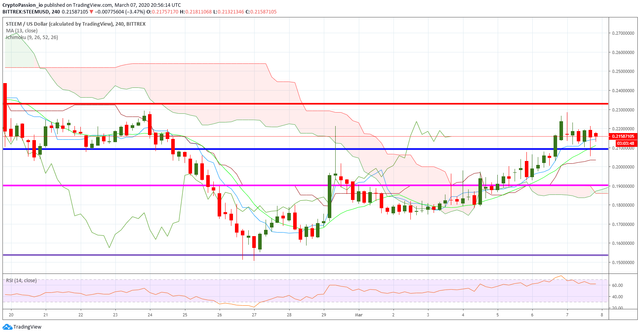 Here is the current chart :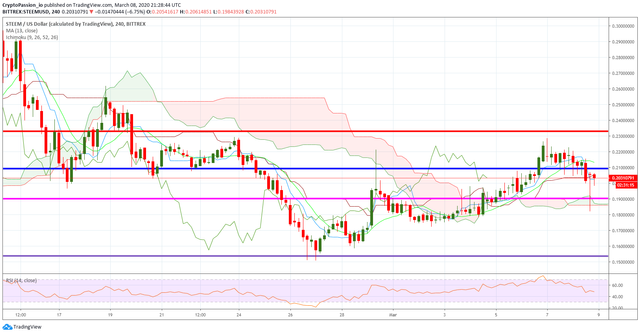 The BTC correction has been massive today and the support line at 0.21$ didn't support us enough to avoid a correction. However, compared to the BTC, the correction on the STEEM is not so much powerfull and this is due mostly because we are still in the middle of the tron drama where both parties are buying STEEM to position their witness. Let's hope that a huge correction won't happen when that fight will be done.
Last Updates

You don't want to miss a Crypto news?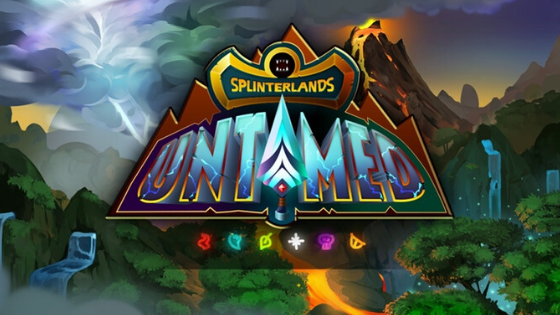 Come try out the new STEEM blockchain game: HolyBread