Now as you may be aware (or not, so you are in the right place) the databits that you purchased in the Augmentors ICO will be sent to your Counterparty wallet via your Counterparty Bitcoin address . 
If you do not know what the Augmentors Game ICO is, please see my Blog Post here:
https://steemit.com/bitcoin/@vintagebazaar/successfully-invest-bitcoin-with-augmentors-game-ico
The unique feature of Counter Wallet is that is allows tokens (mostly gaming tokens) to be sent to a Counterparty Wallet Bitcoin address. Some of you, like myself who had never previously used Counterparty wallet, might find this a little strange, but that's how it works. The same for XCP Counterparty tokens, they are sent to your wallet using the Bitcoin address. Step 1 - Go here https://counterwallet.io/ This will give you two server options. Sometimes the main site might be down and you can use this other server CoinDaddy. Do not let the name confuse you, it is still "Counterparty Wallet". As seen in this image below, you can easily see if one of the servers is not working, so you know you can chose this other option.
The Augmentors Game ICO has now successfully ended, now is the time to understand or create a Counter wallet.
Firstly, a big congratulations to all of those who participated in the Augmentors ICO. It was a huge success, managing to reach a total of 895 BTC investment, which was no small feat in the face of a this amazing Bitcoin Bull run.  
Lets set up Counter Party Wallet
PRO TIP: Bookmark the link to: https://counterwallet.io/
Step 2
You will be taken to the screen for you to "Create New Wallet"

Once you click "Create new wallet" you will be given a 12 word password. IMPORTANT Write this 12 word password down in several places, offline IE: do not keep password on your computer! Then you will be asked if you want to create a quick access URL, its really up to you, i choose not to, i feel its more secure. PRO TIP When entering your 12 word password make sure to include spaces when typing words. (Ooh the fun i had before i figured that out)
Step 3 You will be taken to the Home Screen with your Bitcoin Address. REMEMBER This address is "Universal" With this Bitcoin address for Counterparty You can send XCP tokens from exchanges to Counterparty to buy other tokens hosted on the counter party website. More on this later.
Very Important To read the messages on screen here as they explain a lot of how the site works and why things in the Counterparty wallet work at a slow pace.
Step 4 Lets send some Bitcoin to your new counterpart wallet. Why? I hear you ask.... As this platform is decentralized each transaction costs a small amount of Bitcoin around 10 cents. So every time you 1- place an order to buy or sell and even cancel order you will be charged this small fee. So keep this in mind when making orders.
When i sent some BTC to my counter party wallet the transaction took less than 5 mins (sent from an exchange) Do not worry if your transaction takes longer, it is normal, if it takes more than a few hours contact the support.
Step 5 Lets buy some XCP (Counterparty Tokens).
Why? You will need counterparty tokens to buy the tokens on the counterparty platform, in our example and as this is Augmentors Game related, we will be buying DATABITS. Test ! QUESTION: What Address do you sen your XCP tokens to?
ANSWER: Correct Your Bitcoin address. IMPORTANT NEVER EVER try and send anything other than Bitcoin to any other Bitcoin address outside of counterparty wallet. I can not stress this enough . Counterparty wallet is unique in allowing other tokens/coins to be sent to this Bitcoin address. Step 6 Once your XCP has arrived in your wallet, you can then head on over to "Exchange"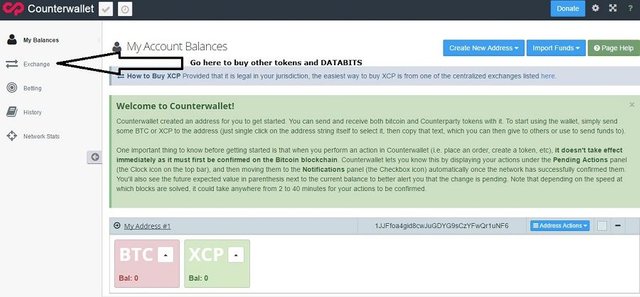 Now this is where things can get a little tricky and the site tends to work in slow motion (i am sure they are working on things). Once you click on the EXCHANGE heading/tab it gives you a drop down menu, now select MARKETS.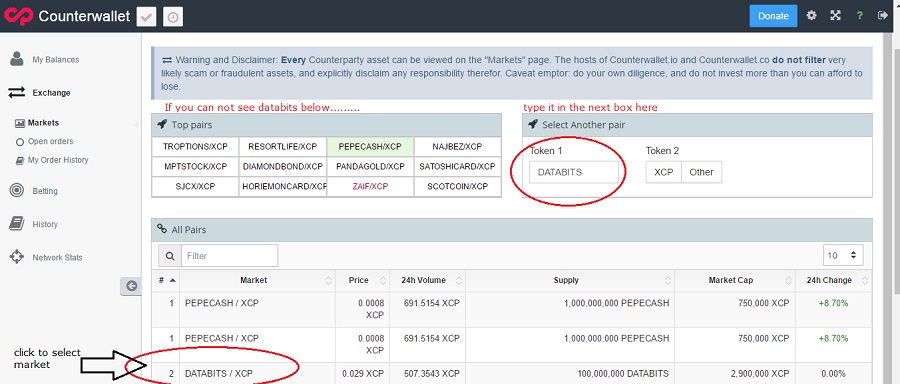 Now this is where things get a little tricky. You can now place orders (when you see the screen in the image below)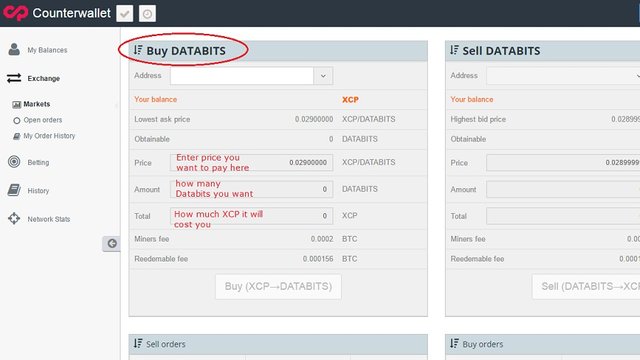 The "orders" you make, Buying, Selling and even cancelling, cost a small bitcoin fee to make and cancel, around 10 cents, so make sure you also have a little bit of Bitcoin in your Balance. Now, do not expect the transaction to take place like it does on a exchange like Poloniex. Counterparty wallet treats each "order" as a transaction, so each order is broadscast on the blockchain, so when you place your orders, it will take a little time for the transaction to clear on the blockchain, i found it takes around 5-15mins. So you simply create your order then forget about it for a while, make a nice cup of coffee to celebrate your first databits purchase.
You will get a desktop alert, to alert you when the transaction/order has been a success.
SUMMARY
You now should have been able to: 1- set up new counterparty wallet 2- sent bitcoin to the Bitcoin address. 3- Sent XCP (counterparty tokens) to your counterpart wallet/website 4- Been able to purchase databits and have a nice databit balance also. 5- You now have a Counterparty wallet address for when the Augmentors Team needs to send your ICO tokens to you.
Please Bookmark the Augmentors Website to keep up to date with developments :
http://www.augmentorsgame.com/
Also make sure to join in the FUN at the Slack chat, request access here > https://augmentorsgame.signup.team/
Slack chat is the No.1 place to speak directly with the hardworking and downright Awesome Game developers.
I hope you have found this guide useful, i know it certainly would of saved me a lot of time and headaches, so happy to be able to use Steemit to write this guide and give people a smooth sailing in these Altcoin waters.
UPDATE: You can also Buy databits OTC (over The Counter) via Bitcoin talk thread.(BCT) Using a team member as escrow so 100% safe and secure transaction.  Please see.
https://bitcointalk.org/index.php?topic=1820332.new#new
and
The Tux Exchange.  
The Databits market here is warming up. 
https://tuxexchange.com/trade?coin=DTB&market=BTC&ref=b825b44804
https://twitter.com/vintagebazaarOB/status/845255895386914817