Personally I didn't lose much because I invested it back into Steempower, which over short term will make money back.
Is SEGWIT going to crash the price of Bitcoin in short term and long term? I think it will. SEGWIT once put into action will have devastating consequences for centralizing miners more and giving them control.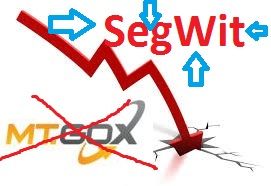 Did you know there are costs and negatives about SEGWIT? Probably not right? Nobody talks about those... Here, check out what the developers of Bitcoin Core say.
One of the worst risks, is that when SEGWIT is fully implemented, any transactions done on the sidechain can be completely reversed by just one 51%attack. The data moves so fast in SEGWIT that it can wipe out years of transactions within minutes. If you use SEGWIT to transfer coins know that you risk having everything you ever did be reversed. If you do it onthe BTC blockchain itself, a 51% attack from miners can only go backwards in time by 2 or 3 or 4 blocks (20 to 40 minutes) because of they need to continuously solve new blocks, that is not the case on SEGWIT.
BE CAREFUL

Some extra reading here
https://www.reddit.com/r/btc/comments/6nk2ul/segwit2x_seems_kind_of_stupid_to_me_so_we_must/?st=j56rmyu9&sh=79164aa9
https://www.reddit.com/r/litecoin/comments/6nipwt/how_is_segwit_going/dk9vxz2/?st=j56rn7u9&sh=22036464
Price seems to be going up a bit now, buy now or cry later is what I always say hehe.
Tweeter: https://twitter.com/TruthForceSteem
Facebook: https://www.facebook.com/TruthForceFollowMeOnSteemit/
Minds: https://www.minds.com/truthforce