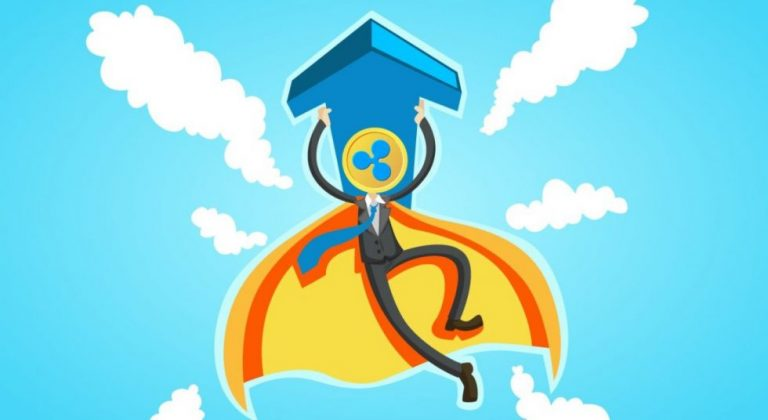 There is no doubt that 2017 was the year of Bitcoin. The first digital currency to rely on blockchain technology soared, up 1300% over the year. An outstanding performance ... that Ripple managed to match in a month.
Will 2018 be Ripple's year? Between the criticisms made by some investors against a cryptocurrency that they consider too far from the decentralized ideal of Bitcoin and the optimism of its CEO, here is an overview of the prospects available. to XRP.
From $ 0.24 to $ 3.02 in the space of a month - hard to blame XRP cryptocurrency for any accounting purpose. Since December 6, the digital currency has increased by almost 1,200%: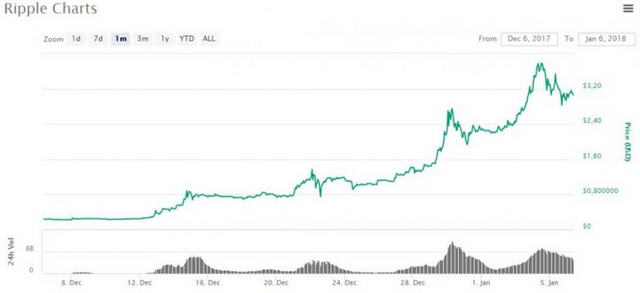 And throughout the year 2017, it's even more dizzying, since Ripple has appreciated more than 36,000%.
At the writing of this article, the cryptocurrency seemed able to keep, in the short term, the place of dolphin she had stolen a few days ago at Ethereum:

The total value of all XRP was equal to more than 116 billion dolalrs - against 236 million dollars just a year ago.
Too much centralization?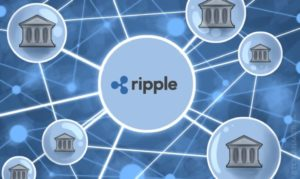 If Ripple and Bitcoin are side by side in the ranking established by CoinMarketCap, it seems that everything opposes them.
For many observers, Ripple would be at odds with the libertarian ideal that led to the creation of Bitcoin - a currency that wants to be decentralized, and that allows everyone to have access to basic financial services , without having to rely on a bank.
While the identity of the creator (s) of Bitcoin is still unknown, XRP digital currency is centralized around a San Francisco-based company. It would hold about 60% of XRP's available supply, obtained under what is known as a "pre-mine".
Min Park, which presents itself as a "Blockchain Marketing Specialist", presented last October, in an article published on the Medium platform, the various risks related to this strong centralization:
"First, the company could try to resell its possessions, causing a 'crash' in the market. However, it is very unlikely. Ripple has recently implemented actions to promote the XRP market, and has placed the majority of its XRP in escrow (the latter releases 1 billion XRP every month for the next ~ 4.5 years - we could do better ).
Then, since the network fees are paid by "burning" XRP, they enrich users in proportion to the number of XRP they hold (if 1% of tokens are "burned", the remaining tokens are worth 1% moreover, if the market price does not change in the meantime). This means that Ripple Labs earns 60% of network fees. This is certainly not a big deal right now, but it could become much more important in the future.
Finally, the number of XRPs held by the company is damaging to its reputation. Many people in the ecosystem criticize Ripple from the outset, calling it "pre-mined ScamCoin", simply because of the number of corners held by Ripple.
On Twitter, many traders regularly criticize XRP - and the partnerships that were recently announced were not enough to convince them.
Yet, the soaring price of the XRP reflects a sharp rise in demand for this currency. We can think that a large part of these investors have finally decided to turn to Ripple. They would not be motivated by any ideal, but would rather (and legitimately) in search of profit - far from the altruistic vision that the creators of Bitcoin had imagined by proposing a "peer-to-peer electronic cash system ".
We can easily understand them - it is difficult to stay abreast of such perspectives: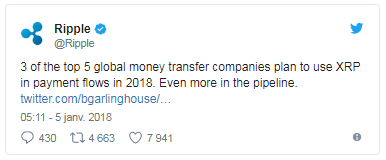 Transactions 1000 times faster and 1000 times less expensive
According to reports relayed by many media, Brad Garlinghouse, the CEO of Ripple, said:
"The reason XRP is unique is that it allows for a transfer in three seconds - so no risk is run in relation to volatility, while Bitcoin takes several hours. We are about 1000 times faster than Bitcoin, and transactions on the Ripple network are 1000 times cheaper. All the speculation that has recently prevailed around XRP is related to the fact that individuals realize that Bitcoin is not the panacea of ​​a 'whole blockchain' that we thought it could become. "
According to Mr. Garlinghouse, more than a hundred banks around the world would already use the Ripple blockchain. He recently told CNBC that others should follow:
"I think the vast majority of banks, 99.9% of banks, have to pay other banks, global 'money shippers' such as JPMorgan or Citibank to do these transactions. Many banks are enthusiastic about the possibility of democratizing these global payment flows. "
Whether or not we like the proposed Ripple technology, the network can no longer be ignored.
And the company seems to be succeeding its bet, which aims to "disrupt" the sector of interbank clearing through the blockchain.
Although some observers blame it on its centralized nature, Ripple is keeping its promises so far by allowing financial institutions to break free of a slow and expensive transfer system.
Do not hesitate to read the article related to this tweet, in which the Ripple company gives us its predictions for 2018: