Germany appears to be one of the leading countries with adopting Bitcoin and Blockchain technology. Except, it has some high restrictions that makes it quite difficult to buy BTC.
I started this series in order to get a feel about the progress the community is making to raise current acceptance in everyday life.
To make the adoption grade comparable, I use a calculation key I call Blockchain Adoption Score. It is considering these criteria:
---
Buying Bitcoin: How easy is it to buy Bitcoin?
Paying with Bitcoin: How about paying opportunities with Bitcoin?
Blockchain-economy: Start-up scene, community, corporations adopting blockchain & educational opportunities.
Search Trends: How popular is Bitcoin & Blockchain in the population?
Governance: How is the state dealing with cryptos and Blockchain?
---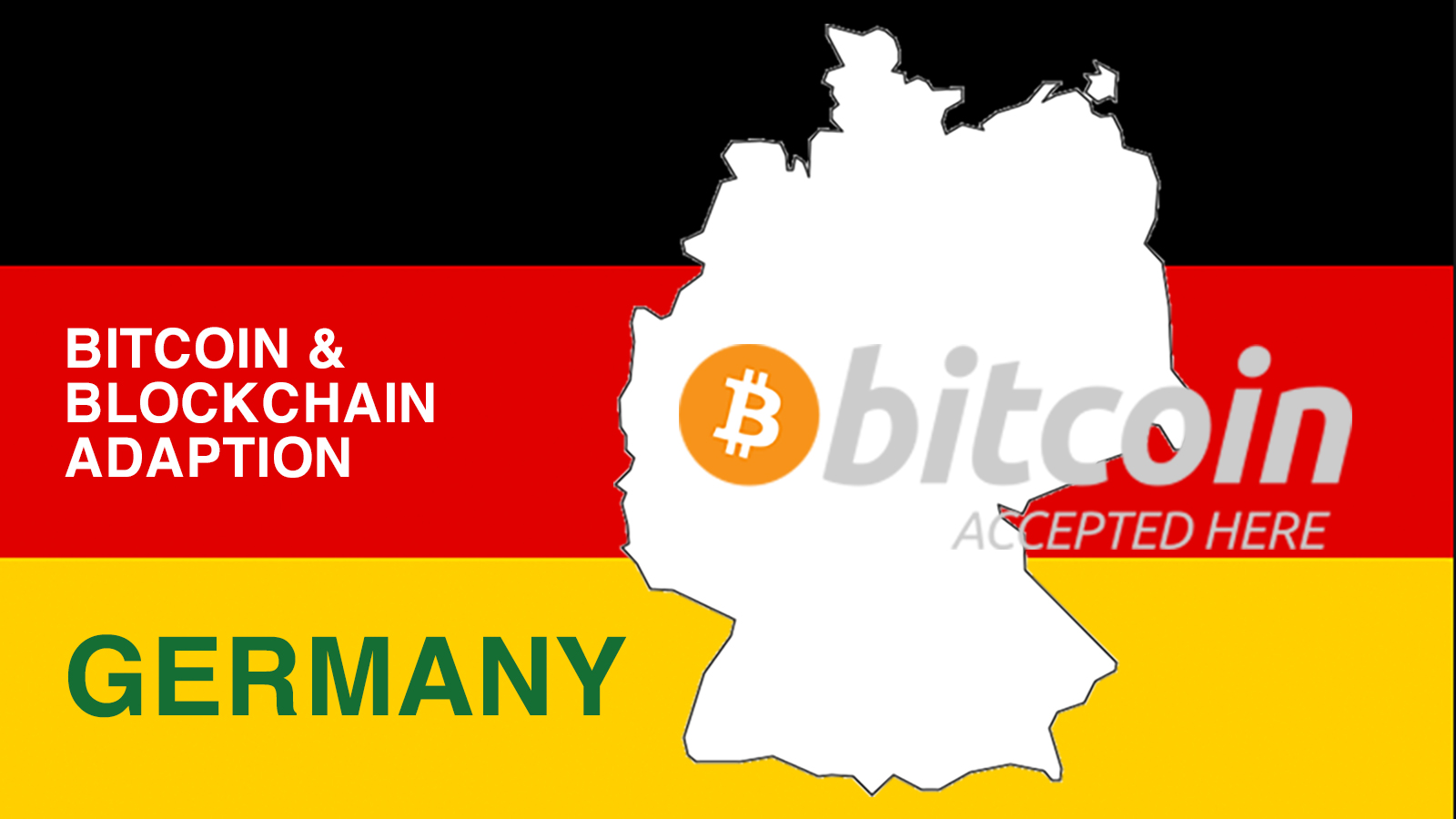 ---
If you have any missing info on this topic, please post it in the comments.
---
1. Buy and trade Bitcoin in Germany (score 2/10)
Some german platforms have established besides international Bitcoin trading platforms buybitcoinworldwide.com, localbitcoins.com, mycelium.
To name a few: bitcoin.de, happycoins.com, bit4coin.net.
ATM situation:
That is quite a surprise: Apparently there are ZERO Bitcoin ATMs in Germany. The reason for this is financial regulation: The German Federal Financial Supervisory Authority states, that a banking license is obligatory for providing financial services. So a banking license is needed to host a bitcoin ATM. That means owners would need to have EUR 700.000.- base capital. A high hurdle indeed. But what is interesting about this: Obviously Bitcoin is considered a financial commodity...
ATM density: 0.00 (ATM/ million residents)
Find BTC ATMs globally here:Global Bitcoin ATM map.
---
2. Pay with Bitcoin (score 3/10)
Coinmap.org is revealing only about 250 entries in Germany which is not quite much. The hot-spots with most widespread Bitcoin facilities are the capital Berlin with 70, follwed by Hannover with 50 and Hamburg with 20 spots. Several restaurants, bars, shops and stores accept Bitcoin, like the bar Room 77, Fantasy Bookshop Otherland, and the Geocaching gaming hoster Geheimpunkt.de based in Hannover, or architectural ceramics company.
For a more complete list of international and local Bitcoin accepting options check Bitcoin Wiki or for the DACH region.
(This overview is only including local facilities accepting Bitcoin. Probably incomplete, so please post your links in the comments.)
---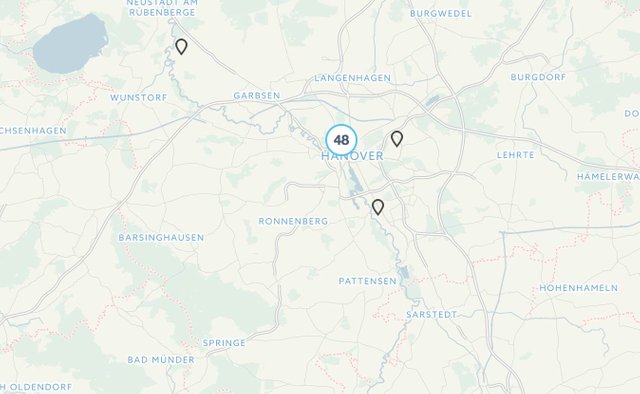 ---
3. Blockchain Economy (score 8/10)
Community:
Bundesverband Bitcoin - supporting and lobbying for Bitcoin and other cryptocurrencys. With an office at the Bundestag.
Epicenter.TV is a podcast about BTC and blockchain.
Blockchain-Meetup-Berlin has almost 2500 members.
BlockchainHub Berlin.
The Innovationsforum Blockchain is based Hambug and is partly funded by BM für Bildung und Forschung (German Ministry of Education and Science).
Start-ups:
The Blockchain Start-up scene in germany is strong, especially in Berlin:
Bitcoinsberlin.com is a european Blochchain incubator.
Blueyard Capital another Blockchain venture capitalist.
all4btc allows to pay with BTC in stores like Amazon and Ebay.
Ascribe.io a marketplace for artists and developers.
Bitbond is offering BTC loans.
BCI Building infrastructure for public and private Blockchains.
Bitwala for easy money transfers.
Electrum the popular Bitcoin wallet is based in Berlin.
Esatus Offering security solutions based on Blockchain.
Ethcore/Parity is an Ethereum Browser.
Etherisc, a decentralized insurance.
IOTA an Altcoin for the IoT, one of the Top 10 Altcoins in market capitalisation.
IPDP, an interplanetary database.
Jolocom - decentralized data sharing and collaboration tool.
Leondrino - wallet and token exchange.
Lisk, a Blockchain application platform.
Monax developed the blockchain platform eris.
Neufund is bridging blockchain world with venture capital.
Pey blockchain solutions.
Satoshipay- App for making nanopayments.
Slock.it Rent, share, sell anything here.
Valtoro trading gold with BTC.
Xtech, a BTC-Wallet and payment gateway.
For more Info on Blockchain landscape in Germany check this article.
Corporate initiatives:
Listed Members: Merck KGaA, BigchainDB, Blockchain Hub Limited, CYPHA GmbH, Datarella, Etherisc
Education
In 2017 at the Hochschule Mittweida, University of Applied Science a Blockchain competence center opened.
---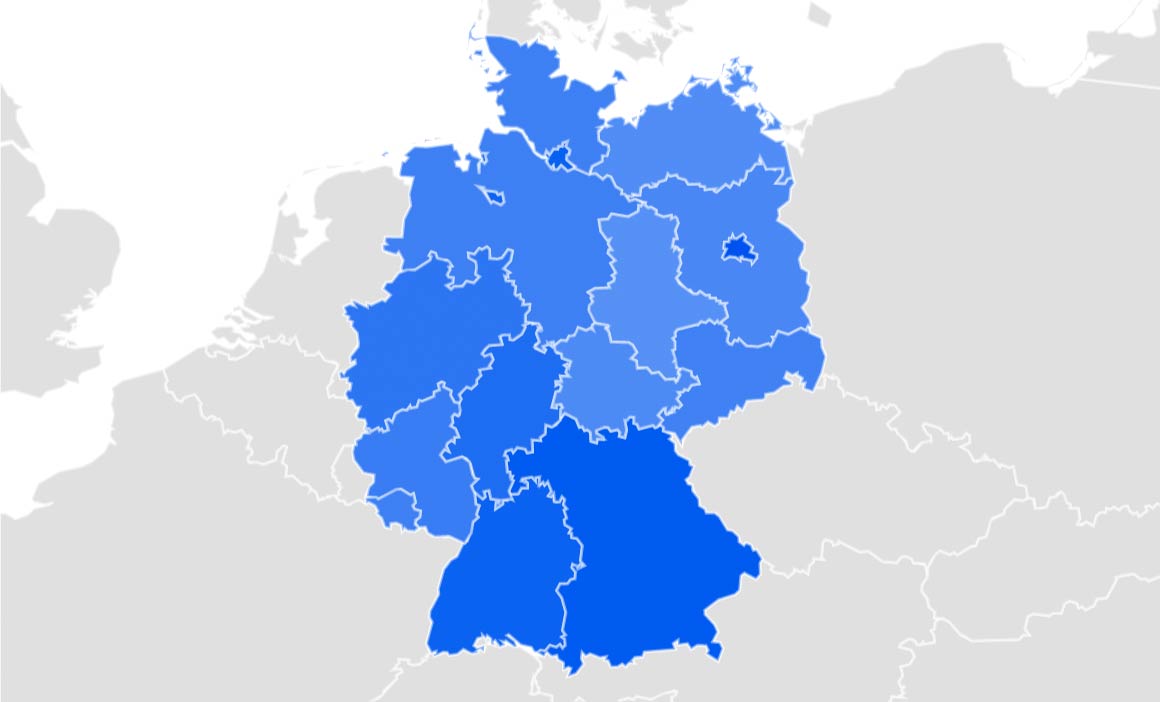 ---
4. Search Trends Germany (score 3/10)
Google Trends is a decent source to get a glimpse of the popularity of certain terms. I checked how Germany was performing here in the last 7 days, in comparison with the global community. There is a surprisingly low mainstream interest for a country with such a vibrant Blockchain community:
Bitcoin: 33.
Ethereum: 19.
Steemit: 41.
Blockchain: 17.
5. Government and Central Bank activities (score 6/10)
Anyhow there are NO Bitcoin ATMs because of strict financial regulations in Germany.
And the Deutsche Bundesbank, German central bank, is warning to use cryptocurrencies.
---
Score overview:
1. Buy and Trade Bitcoin: (score 2/10)
2. Pay with Bitcoin (score 3/10)
3. Blockchain economy (score 8/10)
4. Google Trends Germany (score 3/10)
5. Governance (score 6/10)
---
---
The next country I will check is the Netherlands.
Thanks for reading!
I appreciate your upvotes & comments!