VIDEO EPISODE#7: BITCOIN COMPLETE PICTURE current price $2,030.00, 15 July 2017 https://steemit.com/@supertrader
http://www.cryptotradingmastery.com/
*** please RESTEEM and VOTEUP if you like this post.
*** REMEMBER I AM TELLING YOU ALL OF THIS IN ADVANCE.
THIS IS NOT HINDSIGHT TRADING THAT SO CALLED "GURUS" GO THROUGH ***
In today's analysis, I'm going to give you a COMPLETE PICTURE of Bitcoin as I see it, in the coming months ahead.
PLEASE WATCH VIDEO BELOW:

Most traders, if not all traders, are far too focussed on looking at their 60minute, 5minute, 3minute and even 1 minute charts! The expression "can't see the woods from the trees" comes to mind, meaning to have an unbiased objective view you need to take an aerial view and see the bigger picture. In this article, I wil teach you the value of saying to yourself STOP ! And to constantly ask yourself "What is the bigger picture?" The best traders always know where we are in the bigger picture, that's how we make big money.
Lets us first look at an article illustrating the stages of a Bubble. Full credit is given to Professor Jean-Paul Rodrigues of Hofstra University who is the creator of this illustration: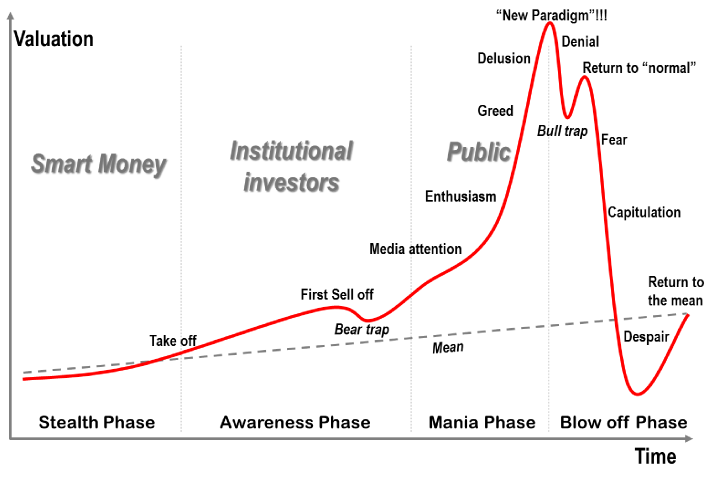 Professor Rodrigues talks of 4 distinct stages of a Bubble - Stealth Phase, Awareness Phase, Mania Phase and Blow Off Phase.
I will leave you to consume this illustration and you are all smart enough to read these 4 stages this article is simply drawing to your attention an almost "copy cat" image of the current Bitcoin prices, on a bigger picture. When we compare this illustration to the actually live charts of Bitcoin it is alarmingly similar! :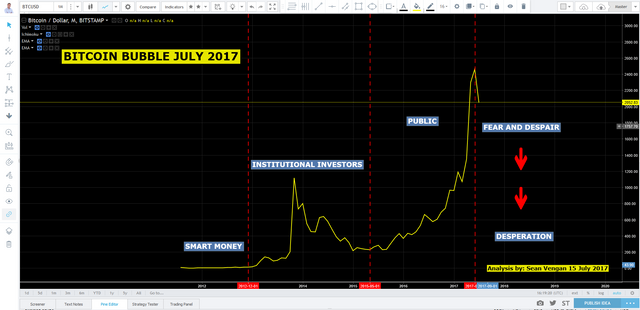 What is clear to me, is that we have peaked and moving to the Bull Trap phase which (without having seen the Professsors illustration) I had already predicted and produced a video in advance, on 4th July. Here is my video analysis, if you hadn't seen it:
https://steemit.com/cryptocurrency/@supertrader/bitcoin-bull-trap-buyers-beware-supertrader-4-july-2017
The "Return to "normal"" phase, is known in Technical Charting terms as a "Dead Cat Bounce" (sorry not my term, I'm an animal lover).
You now know IN ADVANCE what I am expecting, depending if we have reached the Bull Trap phase :
a) a move to "Return to "normal" phase" foloowed by
b) FEAR followed by
c) CAPITULATION followed by
d) DESPAIR
I have stated, prior to this happening, how I will trade this with specific, entries, stop loss and targets.
Please see my video :
https://steemit.com/bitcoin/@supertrader/video-episode-4-bitcoin-crash-fall-to-usd1-650-current-price-usd-2504-10-july-2017-https-steemit-com-supertrader
So you can see I am prepared, in control and looking to make $$$. You can too if you plan your trade with risk management.
Now be aware, markets don't just go straight down and there wil be violent swings both up and down on a daily, hourly and lower time frame charts. We are in for volatile times ahead - this is the calm before the storm. So get ready I am forewarning you.
Money can be made in short term trades and long term trades. You just have to plan and have excellent risk and money management. For speculators, there are exciting times ahead to profit from.
In this article today, my analysis presents you a BIG PICTURE and as long as you stay focussed you are now empowered to make good money.
*** REMEMBER I AM TELLING YOU ALL OF THIS IN ADVANCE *** So you can
a) plan your trade
b) stay calm, whilst others are panicking
c) be in full control to profit from information given in advance
You are receiving from me 10+ years of successfully trading experience in muliptle financial markets, which I am freely sharing with you. All I ask in return is you simply press the button to Resteem this post and subscribe to my YouTube and Facebook Channels. That's it.
Hope this helps.
Analysis: by Sean Vengan , 15 July 2017
If you like this post feel free to "Resteem"this post , "Voteup" and follow me at "https://steemit.com/@supertrader"
Sean Vengan, Cryptotrading Mastery.com
http://cryptotradingmastery.com/
https://www.youtube.com/playlist?list=PLn7YikUv2BchBGW8Gza0o6uOPAb3Sop9Z
https://www.facebook.com/Cryptotrading-Mastery-1545586335493276/
https://twitter.com/cryptoNo1trader
https://www.pinterest.com/cryptotradingmastery/pins/PLn7YikUv2BchBGW8Gza0o6uOPAb3Sop9Z
https://www.instagram.com/cryptotradingmastery/?hl=en