The biggest giveaway in Bitcoin history will take place in just 9 days. Byteball currently ranked #28 on cmc has a simple marketing strategy► They reward Bitcoin holders to make their crypto known to the world.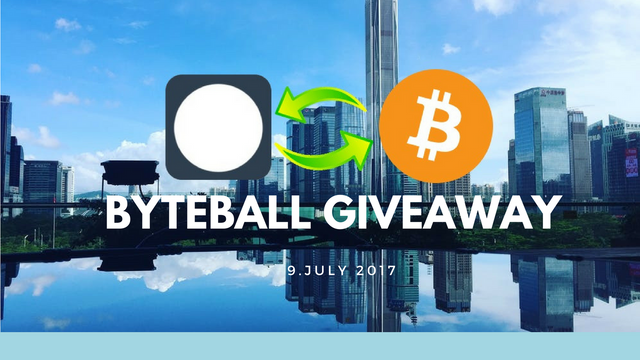 On 9th of July every bitcoin holder gets rewarded 62 500 000 bytes, thats 52$ per single bitcoin with the price of today. With 20 Bitcoin that would be a grand or in other words its 2% of your total btc-stack! Its massive and there is no rub in it. You have to claim youre byteball and sign to proof its your btc address.
How to do get your free Byteball (worth 52$ per Bitcoin)►►
https://freedomnode.com/blog/76/how-to-get-free-bitcoins-with-byteball-and-stellar-lumens-giveaways
This dude explains it really well.
Its not the first time a crypto does this.
Stellar lumen did it just 2days ago►
https://steemit.com/bitcoin/@steemboys/stellar-lumen-giveaway-16-billion-for-all-bitcoin-or-ripple-holders-how-to ).
It is true, i thought alright, sell as fast as you can, there will be a massive decline in lumen or byteball price, but to my surprise the market cap even went up.
If you made some money through this blogpost show some love @steemboys.
Cheers guys and have an awesome day!