Have you guys heard of BitRadio? If not, you need to check it out!
Hi all,
I just wanted to let everyone know of a sweet music service I found recently.
This one actually PAYS YOU FOR LISTENING!
I'm sure some of you already use it; but for the people who have never heard of it.. you need to check this out!
Bitrad.io is the name, and it just recently left Beta phase.
There are over 50,000+ Online Radio Stations which you can listen to, each of them allow you to gain BitRadio Coins (BRO) by just listening! The "BRO" Coins are also now tradeable on the Cryptopia exchange! They were just added within the past few days!
Now you can easily turn the BRO coins into Bitcoins and vice versa.
Check my screenshot and you can see that Bitradio Coins have been going up a lot lately, with over 100% increase in just the last week. They are currently sitting at ~$0.23-25 each. The market cap has also TRIPLED!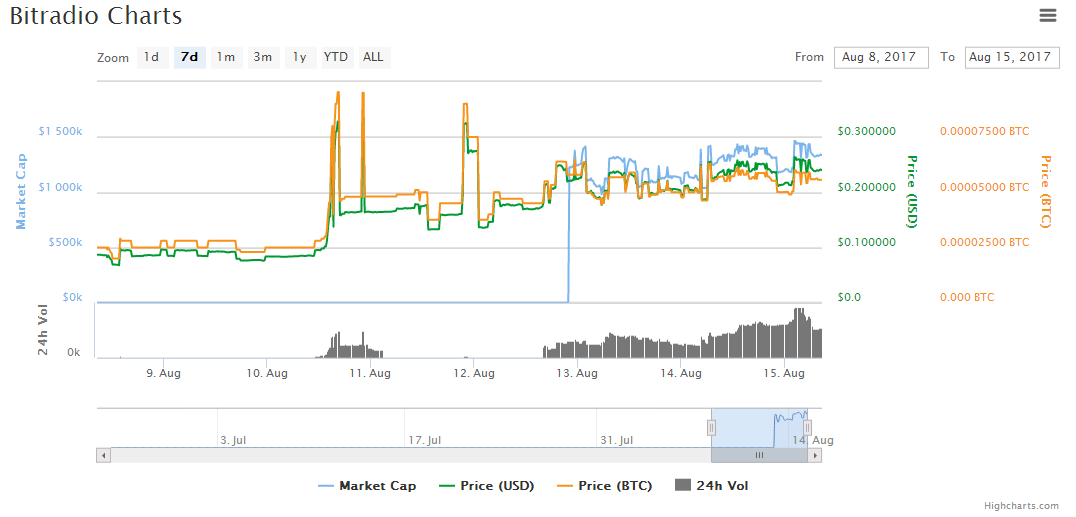 You can easily earn 1-2+ BRO per day just by listening, no problem. When the price goes up, that's a lot. They also have a referral system in which you earn 5% of the BRO of the people that you refer, and 2% of who they prefer, 1% after that.
The wallet is very sleek and efficient. I like it a lot. It updated very fast.
After a few hours of listening, you simply just need to complete a captcha to continue listening! Easy!
Things to Remember:
Only (1) Income Stream allowed per IP Address
You need to Download the BRO wallet and paste your receiving address into your profile on the website to get paid
You may exchange BRO for BTC or DOGE on Cryptopia
Sign up >> HERE <<
Link to SteemFollower, Get More Followers and Upvotes
Check out my Bitcoin Art Series - Series #1!
Series #2
www.thebestbitcoin.website
instagram
twitter
facebook
follow me and I'll follow you ❤