How to get maximum benefit from single position in forex
Hello Steemains
Hope everyone doing well.
I want to talk about maximum benefit(Profit) from a single position.
Here we take example of our recent trade. USDJPY
https://steemit.com/usdjpy/@salahuddin2004/usdjpy-buy-setup-forex-prediction-2-approx-total-profit-usd2400
What's my strategy for forex?
I bought USDJPY at 104.862 on last friday with target of 106.00
(expect target will be hit within 8 days)
That trade will be for a week.
But on same time I will trade buy positions on USDJPY daily for scalping.
e.g one buy position at 104.862, I will not touch that position until it hit my target 106.00.
Daily buy positions will be open at 104.900,104.987 & close at 105.085,105.215 etc (IN & OUT)
3 to 5 trades daily to get maximum benefit.
But for that you need good tactics means entry & exists points.
No worries I will help you in day trading as well.
You need to be more active on your whatsapp for daily trades.(Entry & Exist points)
Join me at my whatsapp : +61411206866
Our long position still open: $405 (In profit)

Today profit on 3 closed positions are : $530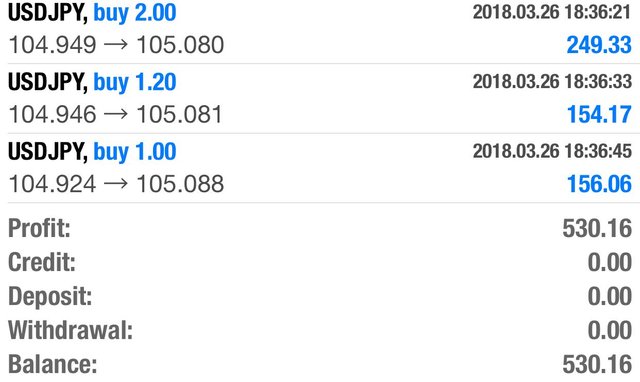 Want to join forex trading?
Here is best broker with zero spread & method how to join a forex broker.
https://steemit.com/forex/@salahuddin2004/new-feature-forex-ta
For any help, contact me on whatsapp:
+61411206866
For short term trading scalping etc
Join my whatsapp group for random signals
Whatsapp me for more detail
Don't Forget to Resteem.
Thank you.
Take care.