Hey everyone. Today I will be doing a cryptocurrency post about Bitcoin and Goldman Sachs. This post will be a breakdown of an article that I researched on Medium. Below is a link to the article. Lets get on with the post...
https://medium.com/cindx/case-study-goldman-sachs-into-bitcoin-trading-operation-the-start-of-a-new-future-cc2ed365eb2d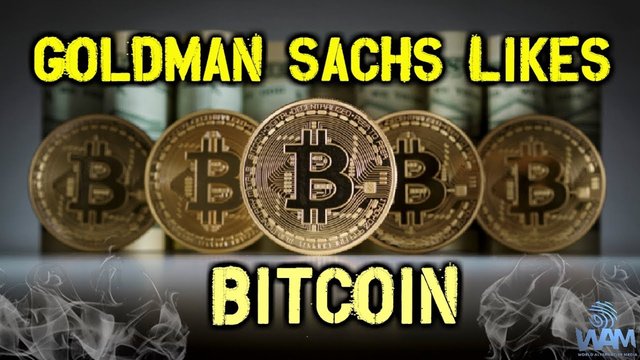 It has been a tough couple of months for HODLers of cryptocurrency. Some would say it's a correction, others a bear market, and I have even heard that the Bitcoin bubble has burst. Regardless of what you believe, we are still in the early phases of crypto currency and the blockchain has potential not yet imaginable. The next generation of the Internet will be incorporating the Internet, Blockchain technology, and crypto currencies. Many banks are predicting BTC to fail. However, there is one bank that is interested in blockchain technology...Goldman Sachs.
On May 2nd, the New York Times reported that Goldman Sachs believed Bitcoin is not a "fraud" and has decided to open a trading mechanism for its clients that want to get involved in the crypto world. "Goldman will initially offer a variety of contracts with Bitcoin exposure in an aim to address the ever-growing and 'inundating' requests from its clients." This could be a very positive feature for Bitcoin. If Goldman proves successful, then other banks will surely follow.
This can be a great financial tool for investors that are not tech savvy. Instead of having to purchase BTC via Coinbase and then sending their BTC from the exchange to their cold wallet, they can just have Goldman Sachs take care of all the work. These investors will be investing like they would other common securities and commodities. This is also another tool to get crypto currency adapted into the mainstream.
I know it has been a rough couple of months if you are long bitcoin and alts, however, I see this article as positive news. Once new investors begin investing in BTC we will see prices rise and demand will return. Old investors who took profits off of the table back in December and January, are also waiting on the sidelines for BTC to bottom out and then they will get back into the game. Patience is going to be needed, but I feel confident that cryptos will rise again. Good luck out there and thank you for stopping by.