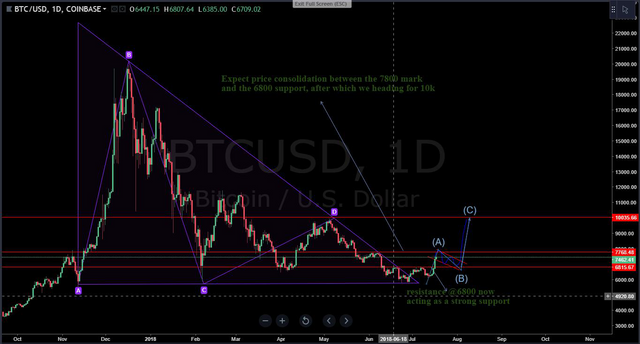 Yesterday it was amazing to be live online watching Bitcoin break through the resistance level @6800, not long after we saw another rapid spike to the 7.5k mark after which bitcoin took a break relaxing @ the $7400 level.
No doubt Bitcoin has been a bad boy, hahaha, i could still remember the thrills we had late last year during the early start of the bitcoin rally, every morning was a new High, and all price level forecasts broken and crushed, it was one of the most amazing time of my life.
Today we seeing the same thing happening though in a more local, technical and solid manner, i expect bitcoin to consolidate between the $7800 level and the $6800 level which is now acting as a strong support, in order to complete the ABC Elliot wave pattern.
However Bitcoin isnt always a fan of protocols and order, we may see some spikes today, popping up, nothing can be predictable. But the good thing in mind to know is the bull run has begun and anytime from now we likely wont see bitcoin around this level again.
If you still haven't taken a leap into the market trust me you should now. Don't wait for retrace you may not see it. too many positive news for BTC guys, i believe we may see Bitcoin hitting 50k this year i strongly believe.
WHATS YOUR VIEW OF THE MARKET??
DO YOU THINK THIS IS THE BULL RUN OR JUST A BULLISH TRAP??
drop a comment below
and lol in nigeria pidgin: Obob, How una see the market na, wetin go sup bros bitcoin go fly go up or go fall kpasala for ground again, abeg yan me tori for the comment box wey dey look you for down..
hahahahahhha
Love you all guys.
Disclaimer: i am not a financial adviser and all information here is only intended for educative purpose please do your own research before taking any investment.
BONUS NEWS:
The first purchase of the company for crypto-currency has been held in Hong Kong. 💪
Singapore startup CyClean bought the Ketch'Up bike-sharing company from Hong Kong. 📢 The payment was made in tokens CyClean (50%) and coins JPAY (50%).
read more here>>
Lol really funny to see japan who was once the major resists to crypto and bitcoin in particular now leading the world in crypto-currency and statistics shows its the most active country in blockchain techs...
Thanks for reading
Best regards
Nicholas Ilechie
---
---
---
SPANISH
---
---
Hola steemians,
Ayer fue increíble estar en línea viendo Bitcoin romper el nivel de resistencia @ 6800, no mucho después de que vimos otro pico rápido a la marca de 7.5k después de lo cual bitcoin tomó un descanso relajante en el nivel de $ 7400.
Sin duda, Bitcoin ha sido un chico malo, jajaja, todavía recuerdo la emoción que tuvimos el año pasado durante el comienzo temprano del rally de bitcoin, cada mañana era un nuevo High, y todos los pronósticos de nivel de precios rotos y aplastados, era uno del momento más increíble de mi vida.
Hoy vemos lo mismo que ocurre de una manera más local, técnica y sólida, espero que bitcoin se consolide entre el nivel de $ 7800 y el nivel de $ 6800 que ahora actúa como un fuerte soporte, para completar el patrón de onda ABC Elliot.
Sin embargo, Bitcoin no siempre es un fanático de los protocolos y el orden, podemos ver algunos picos hoy, apareciendo, nada puede ser predecible. Pero lo bueno de saber es que la corrida ha comenzado y en cualquier momento a partir de ahora es probable que no veamos bitcoin en este nivel nuevamente.
Si todavía no has dado un salto en el mercado, créeme, deberías hacerlo ahora. No espere a que vuelva a aparecer, puede que no lo vea.
CUÁL ES SU OPINIÓN DEL MERCADO?
PIENSA QUE ESTE ES EL CORREDOR O SOLO UNA TRAMPA ACECHADA?
soltar un comentario a continuación
Descargo de responsabilidad: no soy un asesor financiero y toda la información aquí es solo para fines educativos por favor haga su propia investigación antes de tomar cualquier inversión.
NOTICIAS DE BONIFICACIÓN:
La primera compra de la empresa para crypto-currency se realizó en Hong Kong. 💪
La startup CyClean de Singapur compró la compañía de bicicletas compartidas Ketch'Up de Hong Kong. 📢 El pago se realizó en tokens CyClean (50%) y monedas JPAY (50%).
leer más aquí >>
Gracias poor leer informacione
acclamente
Nicholas Ilechie
---