OmiseGo is the first plasma.io project!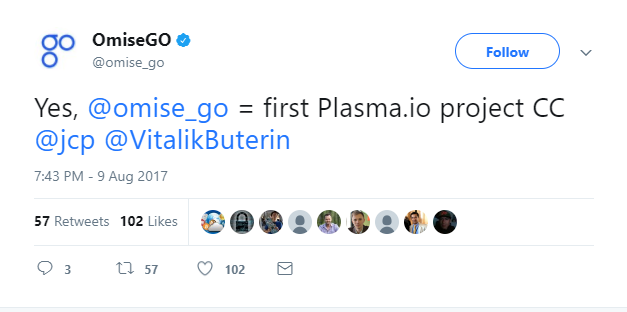 ---
More great news for OMG it was only 3 days ago I wrote about why I invested in them. The significance of this news is that plasma quoted from there site
"Plasma is a proposed framework for incentivized and enforced execution of smart contracts which is scalable to a significant amount of state updates per second (potentially billions) enabling the blockchain to be able to represent a significant amount of decentralized financial applications worldwide. These smart contracts are incentivized to continue operation autonomously via network transaction fees, which is ultimately reliant upon the underlying blockchain (e.g. Ethereum) to enforce transactional state transitions."
When OMG gets its own separate blockchain that runs Proof-of-Stake, you will be able to stake your coins to help secure the blockchain and this will earn you some % of your tokens over a period of time. Since the OmiseGo blockchain will be closely integrated into Ethereum mainnet, this will greatly benefit there project.

---


http://plasma.io/