Today will be the first weekly update of the Diversification Protocol. This protocol is designed to allocate a weekly income or funds to be invested mostly to BTC when it is undervalued and mostly to gold and optional stable coins when BTC is overvalued. It also tells you to spend gold for living when BTC is undervalued and BTC for living when it is overvalued. This will create higher returns on your investment through a full cycle and reduce stress in a bear market. HERE you can read the protocol in dept.
The valuation is done by using the Mayer Multiple and compare it to historical values. The Mayer Multiple is the current BTC price divided by the 200 day moving average. We use data from mayermultiple.com. When you want to be updated on the multiple several times a day you can follow THIS twitter account.
Because I just started the protocol, I didn't accumulate gold and stable coins yet. In this update I will exactly follow the protocol, but since I only start saving gold and stable coins from a multiple of 1.6, I will only be able to execute it 100% according the rules after that point is broken. Funds invested in BTC today will eventually at least partly be converted to gold, since the BTC accumulates in the same wallet and a percentage of the total BTC in this wallet will be allocated to gold at higher valuations.
The current multiple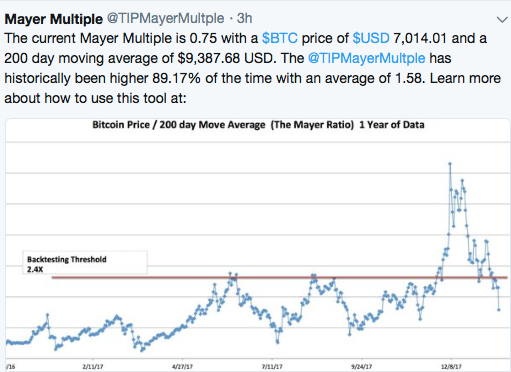 Weekly allocations of funds


The protocol will be slightly boring till we get to a multiple of 1.6, till then we allocate 100% in BTC because it is undervalued. With the current 200 day moving average we need a BTC price of over 15.020 USD to start allocating to gold and Stable coins. This can take days or months, but it is good to be prepared already.
Important news of the week
Price tanking without fundamental reason
This week the price fell from 8589 to 6978 USD per BTC, this is a drop of 18.75%. I didn't really see a reason for this drop, I think it was mostly fear for a long term bear market that could be indicated by the approaching dead cross. Actually all the fundamental news was good.
Dead cross approaching
A dead cross happens when the MA50 and the MA200 cross each other. A dead cross indicates a long term bear market, but is seen by many as unreliable. In the history of BTC it even happened that the dead cross was followed by a huge bull market. What the result will be this time is to be seen, but I am not too worried. If a bear market appears, you will be able to pick up a lot of cheap BTC using the protocol!
Tommy Lee and Abra CEO extremely bullish
Respected figures like Tommy Lee and Bill Barhydt are extremely bullish on BTC and say that now is a good time to buy. Tommy Lee said you will miss out on the biggest spikes if you wait for signals and Bill Barhydt said that it goes nuts once the money that is waiting along the sidelines start to flow in.
Watch Tommy Lee:

Fundamentals and valuation
In the history of BTC the multiple was lower than today only 11% of the time. Since the multiple today is 0.75 while the moderate is 1.58, there is more than 50% discount on BTC according to this valuation method! The price tanked this week while the fundamentals got better, so the discount is getting bigger!
Long term the prospects are still extremely bullish. Lightning Network can boost adoption for day to day payments and Wallstreet, governments and central banks could inject huge amounts of money.
Disclaimer
This is no financial advice, just my view on the market.
Never stress in a bear market anymore: Follow my diversification protocol
Store your Bitcoins securely
Ledger hardware wallet
Trezor hardware wallet
Protect your privacy with VPN and pay with crypto
Torguard
Buy gold securely with Bitcoin and store in Singapore
Bullionstar
Like this post? RESTEEM AND UPVOTE!
Something to add? LEAVE A COMMENT!