Diversification Protocol - No Stress In A Bear Market - Always Funds For Living - Money On The Sidelines To Buy Cheap! - Update Every Week!
In the previous Bitcoin bear market I was all in crypto (mostly BTC) and faced many uncomfortable results of that. Income from online work in the Bitcoin space is way more volatile than the Bitcoin price itself, in the bull run it is earning money like water and in the bear market almost nothing. I faced 3 mayor causes of stress:
I have to live from my online income. Because of the negative sentiment my income almost dried up. This forced me to live off my savings, my savings were about 100% crypto. I was forced to sell my BTC for living for a really low price. This gave stress because of uncertainty for the future and frustration because I knew it was the worse time to sell, but had to. Last but not least, it cost me money!

When the Bitcoin price was down to around 8000 USD it became very cheap in all possible measures. I am following Bitcoin intensively for years, and over the whole crash I didn't see any negative fundamentals. There was even a lot of good news coming out like signs of adoption by powerful and wealthy entities and the roll out of important tech. I saw the same HUGE buying opportunity as in 2014 at 200 USD but could't buy any because I was all in already. It was extremely frustrating to see the perfect trade while being unable to invest! (and still is today)

Although I fully believe in Bitcoin and I am sure it will be here to stay and conquer the world extremely bearish moments brought some doubt and because I was all in one asset that is only 9 years old this brought a lot of stress. Having another asset beside your main investment that is also outside the financial system but more safe and stable will give a lot of rest.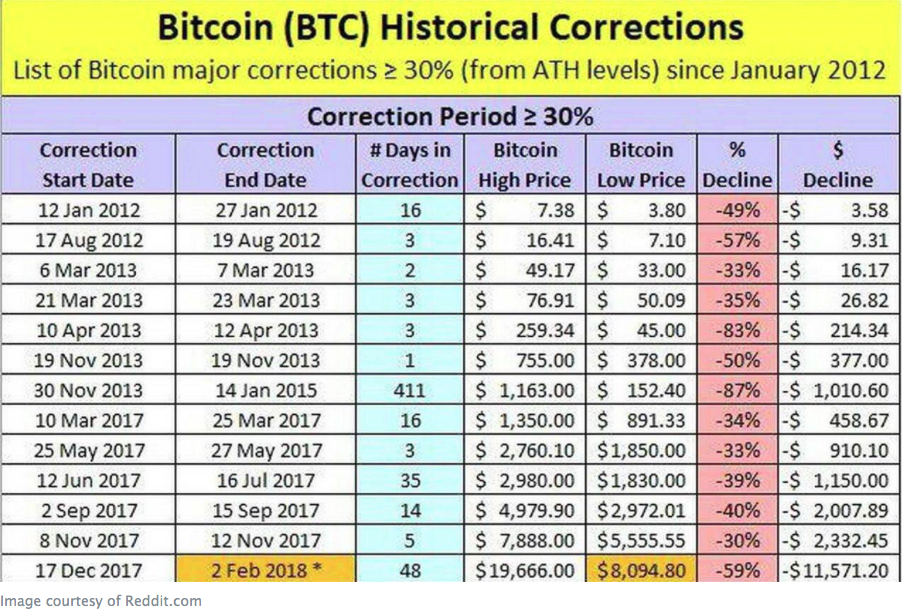 Bitcoin has grown through cycles, the next crash will not freak you out if you follow this protocol
The goal of this protocol
Based on the experience and lessons I learned in the last bear market I created a system that will reduce stress, ensure money for living and deliver funds to buy BTC when it is heavily undervalued throughout a full cycle. By allocating funds to the right asset in the right amount following strict rules the net worth of the total portfolio will be theoretically way higher after a full cycle than when trading the hype of the day or just HODLing.
It will extremely reduce stress, because you will not have to worry about complicated trading situations because your actions are pre-decided. You will never have to alter your actions. Instead of watching charts all day you can relax and just follow some simple rules every week. Throughout the cycle you don't have to worry about cost of living and how much money to keep on the sidelines to invest at perfect moments
Who can use the protocol?
The protocol is created for people who want to invest in Bitcoin (or other coins like Steem, but then you have to go after some details yourself) and other assets that are not correlated to the regular markets like Bitcoin, not require KYC and AML and not seizable. I do it to allocate my income and store my HODLings apart, but it is also useful when you have another profile:
When your income is in crypto, you don't have to spend everything for living and you want to eliminate the extreme volatility

When you earn fiat and you want to invest every week or month a certain amount in Bitcoin

Steemians who make a living off Steemit and want to decrease the volatility of their income

Everyone who can adjust this protocol for his own situation
The assets we will use:
Bitcoin
BTC is the main asset, the other assets are mainly meant to carry value that will finally be injected in Bitcoin again or used for living. Bitcoin is the most exiting asset, but also very volatile and this can be a very negative fact for some. I will hold the Bitcoin on a hardware wallet (Ledger or Trezor). One wallet will be created to receive all the funds and one (preferable a hidden wallet) to store the BTC after each cycle.
Gold
Gold will be used as the stable asset to allocate funds to when BTC comes in overvalued territories. The more overvalued Bitcoin gets, the more will be hold in gold. Gold is like Bitcoin not affected by inflation, uncorrelated with the financial markets and when held properly not seizable. I will use gold for living when the Bitcoin price is low and accumulate the rest. The idea is to also accumulate a nice stack of gold over multiple cycles.
I choose to buy the gold at Bullionstar in Singapore. Trade in precious metals is not taxed here and there is no KYC / AML involved. Singapore is an extremely rich and safe country so although the funds are insured the chance of theft or seizure is extremely low. Precious metals can be bought directly with Bitcoin from your hardware wallet (YES BITCOIN ACCEPTED!).
Gold can be sold and the money or the gold itself can be send to you. It is also possible to pick up or buy gold in the shop. Creating an account is extremely fast and easy since there is no bureaucratic bullshit and verification process you have to go through. The reserves are audited by Bureau Veritas, a reputable global auditor and when you buy a bar you will get a picture with the serial number send to you.
Stablecoins
I will also use stable coins as a stable asset, but only to hold for a short period (within one cycle) because it is quite risky. I use it because it makes it easier to trade back to Bitcoin, but when you think the risk is too big you can replace it for gold. Stable coins are cryptocurrencies pegged to a stable asset. The way they are pegged is different for every stablecoin, so the risk profile too. Diversification is advisable. These are the choices:
Tether:
Tether is pegged to the USD and available on multiple exchanges. Tether is backed by real dollars on a bank account, this makes it secure in the sense that the peg. will not break easily (they can just send more or less dollars to the account), but risky because there is a central point to shut down by a government (many centralized e-currencies are shut down in the past).
You can buy Tether at Binance
DGX
DGX is pegged to gold, is created by Digixdao and works as a smart contract on the ETH platform. This coin is secure in the sense that it is decentralized, but risky in the sense that the peg can break and it will crash alongside the other crypto's. Also a failure or bug in the ETH blockchain could happen. Will be available soon
Bitshares assets
Bitshares is a decentralized exchange where you can trade multiple stable assets like Bitgold, Bitsilver, BitUSD and more. This platform is secure in the sense that it is decentralized, but risky because a peg could break or the volume could be too low to sell. To buy Bitassets you need to download the DEX.
DAI
DAI is a stablecoin created by the MakerDao on the ETH blockchain and pegged to USD. This coin is secure because it is decentralized, but risky because the peg could break or the ETH blockchain could fail. You can buy DAI at Bibox.
The protocol:
This protocol is focussed on Bitcoin as a volatile asset. Because 10% is a lot in gold and 10X is normal in crypto the volatility of gold is ignored here. This means that value is stored in gold and stable coins on the way up to later be used for living and to buy cheap BTC around the bottom.
For the protocol we will use the Mayer multiple to measure the valuation of Bitcoin. The Mayer multiple is calculated by dividing the current price by the 200 day moving average. When the multiple is high BTC is more overvalued, so the chance for a crash is bigger. The protocol will allocate more to gold when the multiple gets higher. When the multiple is low, BTC is undervalued and the chance for gains is bigger. The protocol will allocate more to BTC at a low multiple.
The protocol will also describe what asset to cash out for living at a certain multiple. When the multiple is low it is a bad idea to sell BTC and I will use gold. When the multiple is high I will use Bitcoin for living. Also stable coins will be reinvested in BTC when the multiple is low. This way we stored value that we got from high priced BTC in the bull run and use it to buy cheap Bitcoin around the bottom. The gold that is left when the BTC price goes back up will be hold for the long term too.
The protocol only works when you strictly follow the pre-decided rules!
This table describes the allocation for every asset at a certain multiple: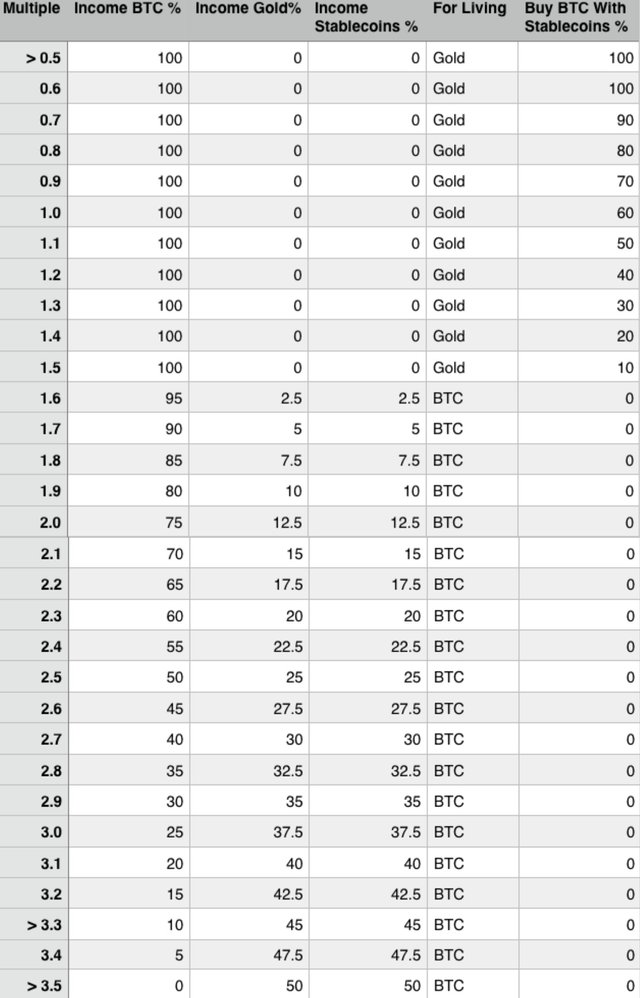 After calculating the multiple, look in the table how much to allocate in BTC, gold and stable coins. Furthermore you can see here if you have to use gold or BTC for living. At the lowest multiples a certain percentage of stable coins will be used to buy cheap BTC.
Important: In a bull run the amount that is allocated to Bitcoin will remain in the wallet and the income of the next week will be added to that. The percentage of BTC allocation will be taken from the total accumulated Bitcoin stack. For example: When the income for the week is 100 USD and the multiple is 1.6 there will be BTC with a value of 95 USD kept on the wallet. When next week the multiple is 1.7 the 100 USD income will be added to the recent 95 USD. This means that 90% of the 190 USD is allocated to BTC and stays in the wallet to be added to the next week and the other 10% is divided to gold and stable coins
Adjust the protocol to your situation or vision
This protocol is designed on the view that there will be more cycles driven by new phases of adoption where the price of every cycle is higher after the last cycle than after the previous one. Finally at mass adoption the volatility flattens out and a big crash will not appear anymore.
When you for example think that the current crash was like the .com bubble and we will have a multi year uptrend from now you can allocate some less to gold on the way up, so that you will gain more on the lasting bull run. Also if other situations differ, just alter it. For example, you can use the 200 day moving average of Steem when you are only invested in Steem, and of course this can be done with any coin.
Furthermore, when you don't want to use stable coins you can just allocate the figures for stable coins to gold. Important is to set your changes before you start and not alter it every time during the cycle, because then emotions will get involved and the protocol will probably not work how designed.
Words of appreciation
I want to thank Trace Mayer @tracemayer to develop the extremely useful Mayer multiple. If you want to see more content of this Austrian Economics legend and entrepreneur, visit 'The Bitcoin Knowledge Podcast'
Disclaimer
This is no trading advice, but only for educational purpose. When you follow this protocol it is fully your own responsibility, this protocol is new and not yet tested through a full cycle, so only works theoretically. Furthermore this page can't be changed after one week (it will be fixed on the Steem blockchain), so always check if the information is up to date!
Supporting Information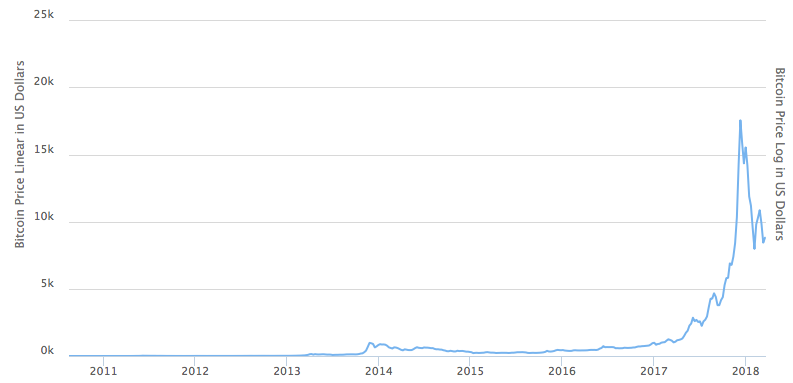 As you can see the value of Bitcoin grows in cycles. Especially the bear markets can be overwhelming, but try to zoom out and remember that all bitcoin millionaires have been through at least one of these cycles!
![Gold and Bitcoin properties.png]
(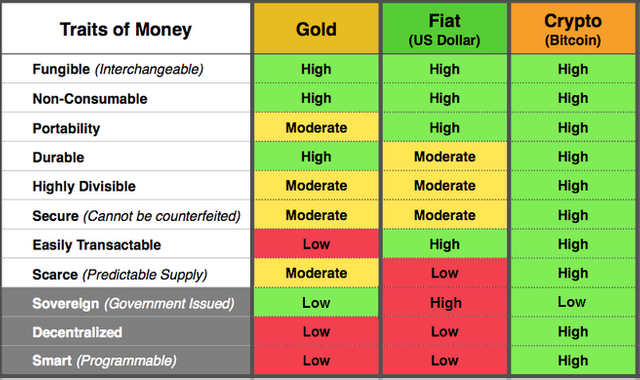 )
Bitcoin and gold share many properties. By combining them you enjoy the same features, but make your portfolio way stronger!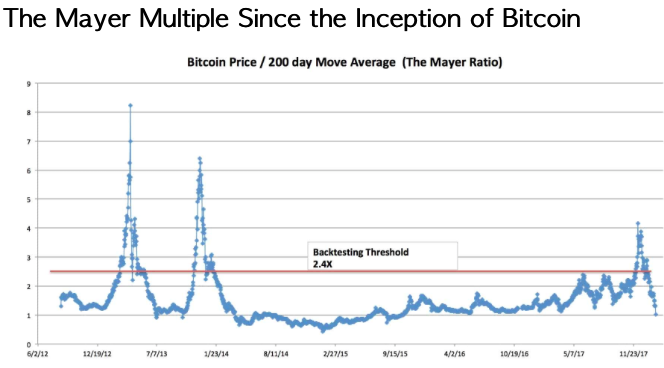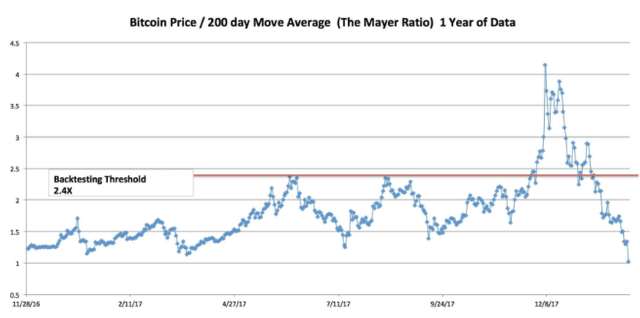 If you match this with the protocol you will see that we will always buy more Bitcoin before the price goes up and more gold before the price goes down.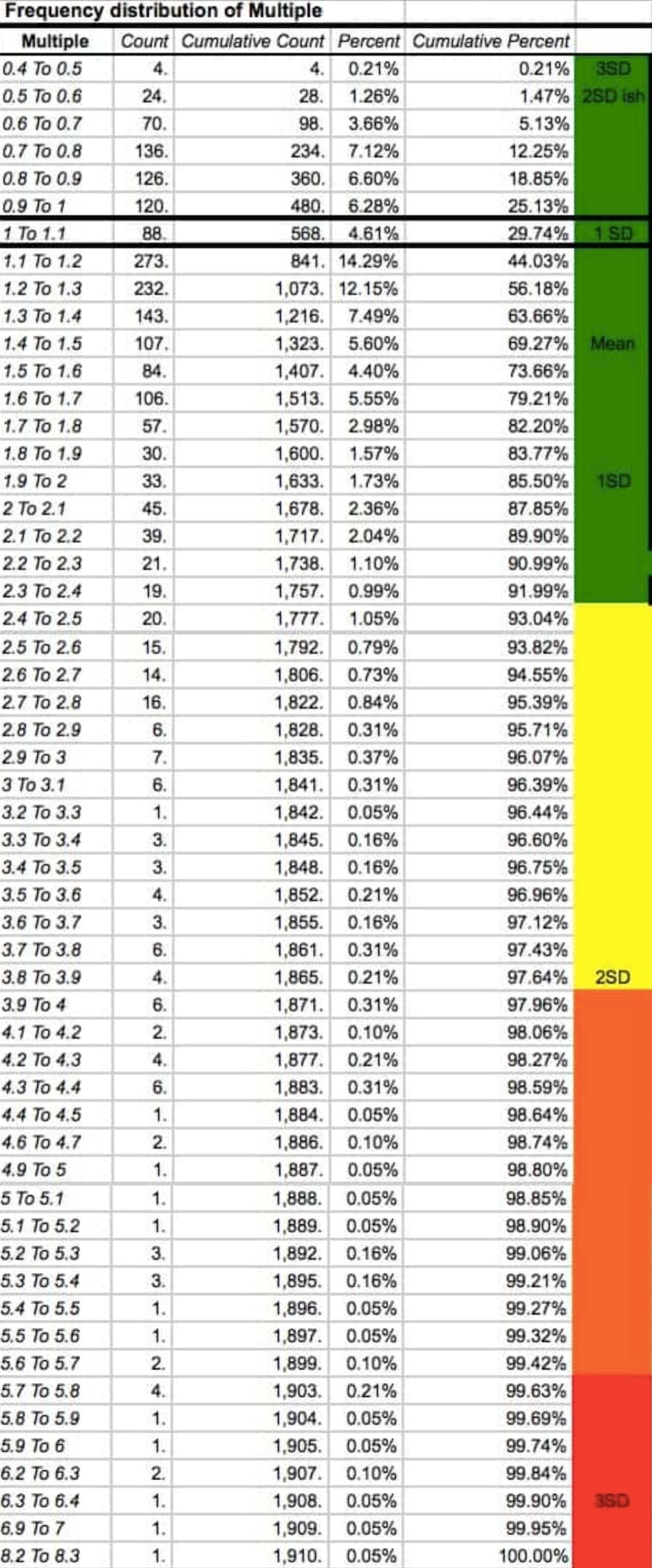 As you can see, at an extreme low multiple the price always rose very quick and at an extreme high multiple the crash always came soon in the entire history of Bitcoin.
Useful products:
Trezor hardware wallet to store your bitcoins secure
Ledger hardware wallet with more altcoin support
Torguard VPN to ensure your privacy (BITCOIN ACCEPTED)
Bullionstar to buy precious metals with bitcoin
Binance exchange great cryptocurrency exchange
FOLLOW ME FOR THE WEEKLY UPDATE OF THE MULTIPLE AND THE ALLOCATION OF FUNDS!