Just to be clear my friends, I'm not much of Peterson fan, but I do respect some of his ideas. In other words, he's not without his merits, but in my personal opinion he is quite overrated as an intellectual. However, seeing this, watching him and other opinionated personalities talk about the censorship issue is a good thing, and I believe these are steps in the right direction.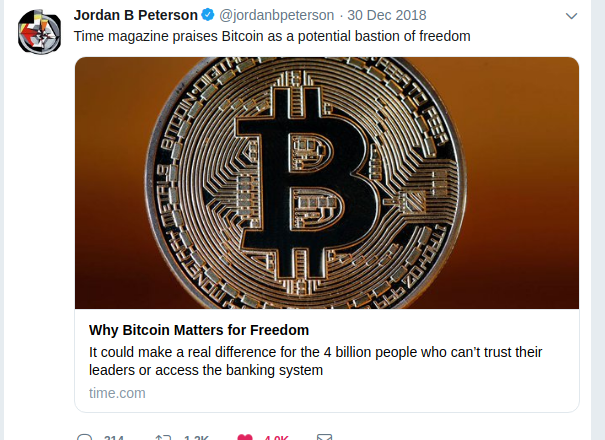 You might be aware that Patreon lately has been chopping some heads. That is to say, that they've started to kick people off their platform if they believe the content creator is toxic to their label. In one hand I can understand it, meaning that, it makes sense that as a company that can get lawsuits you would do whatever it takes to avoid losing money in such a silly way. That being said, some of the people that have gotten banned or more accurately kicked off, were not necessarily toxic so to speak.
In solidarity some prominent people have spoken up against this move from Patreon and in my opinion they will probably be remembered in good light for doing so, among them of course is Jordan Peterson, the man behind the tweet I found on my feed today.
I'm not fully aware of the numbers, but last I heard, which was months ago, he was one of the most rewarded people on that platform and thus one would assume that him speaking out would be dumb, but I respect a man that stands by his sense of ethics and does not succumb to greed.
I'm of the opinion that this somewhat new discovery of "censorship resistance platforms", the ones being built everyday on different blockchains around the world, will eventually attract enough leaders of thought as to really the legacy systems in place, but how far are we from that day? that, I really don't know.
That being said, I'm happy the conversations are happening, I'm glad the focus is not just on the "moon" and the lambos but on the value proposition of immutable sound money.