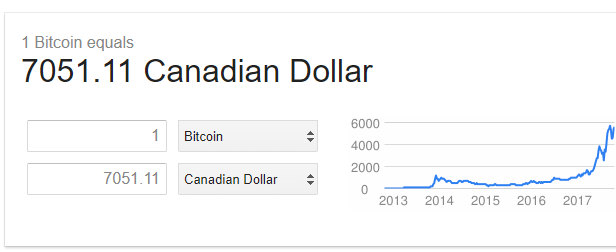 ( Image stolen from google )
Never thought I'd see the day... But the gold standard of Crypto just hit $7000 Canadian dollars a pop overnight... I've no proper words to express how I feel at this moment towards this!
Can remember the first time I bought BTC and it was roughly ~$120 CAD a coin... Seeing the market today kind of kicking myself in the nuts for not buying more at the cheap prices I remember! Oh well, can't play "what ifs" in crypto.. Would simply drive you mad..!
Glad to see that crypto-currency is finally getting some attention! Rarely a day goes by at this point where some hopeful isn't contacting me to learn more about this incredible means of escaping the central bank. Hoping that this trend continues and STEEM follows suit, after all the technology we sit on with our network is space age compared to the archaic proof of concept that BTC is. May your future be lucrative and fulfilling!
---