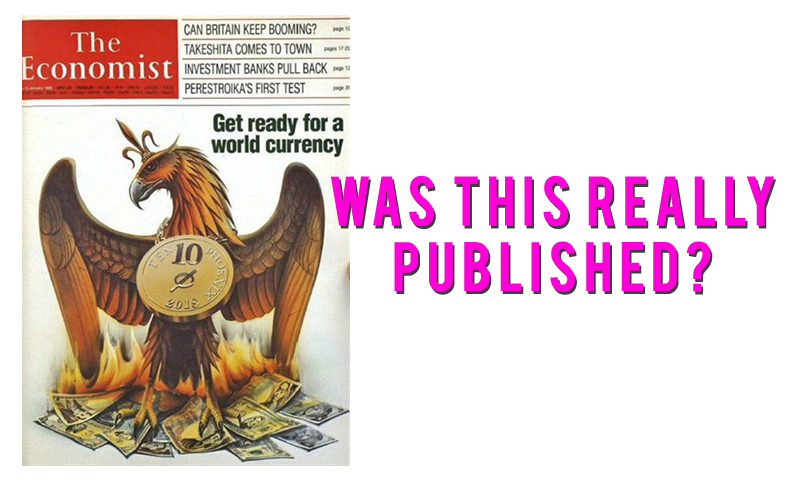 Recently I came across this image used by @dollarvigilante in his post The Globalist Plan To Blame Bitcoin for Biblical Level Collapse in 2018. First of all, I would like to say that I think the world is chaotic and messy enough, making it rather impossible to fall under anyone's control, especially 30 years in the making. The doomporn and globalist conspiracy narrative is fun and all, but I really think it should just fall under the tag "entertainment" to be honest.
Nothing against good entertainers, but I just have a beef when it comes to weak journalism that takes advantage of people's fears and insecurities. @dollarvigilante weaved a story with the usual conspiracy theory narrative to appeal to cognitive biases and mentioned "As always, I look for the clues directly from those who currently control the world for the answers. And I keep gravitating back to this Rothschild owned Economist magazine front cover from 1988" before dropping the image above.
I thought having the 2018 text on the phoenix's emblem was a little too coincidental. Anyone that can plan 30 years ahead and execute their globalist plans to the dot must be gods! So I did some magic internet research. No substantial source at all even with so many Youtubers and doom preppers eating up that image and fitting it into their neat conspiracy theories. Everything that I found, even Zero Hedge's article on it cites The Economist's publication on January 9, 1988, Vol. 306, pp 9-10, but the links only point to this 1998 article on The Economist which has nothing to do with the image above.
Even what seems to be the original source of reporting is sketchy as well. I know I shouldn't appeal to the authority of nice website URLs and aesthetics, but look at this "Socio-Economics History Blog" and tell me. There's nothing to be found!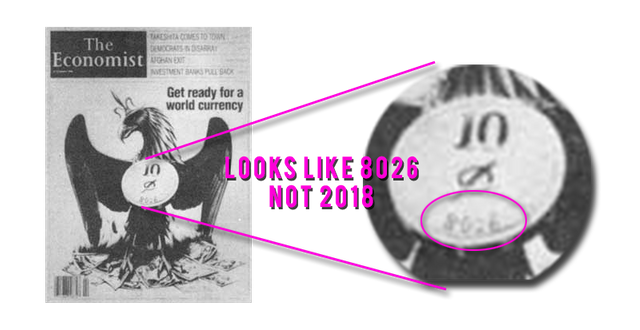 Except this one, but I'm not even sure if it's the real thing since it's on a blog called "The Endtime Observer". I'll take it though since it's the only lead that looks different from the rest. There are also no such covers for The Economist magazines ranging from year 1980 - 1995 on eBay. So the question begs, why would anyone do this?
Easy, although I'm saying this without much research at all. The most backdated timestamp of the magazine cover only emerged back in 2013/2014. It's likely to be the work of 4chan trolls and Bitcoiners. It's a fact that 4chan trolls have been hard at work poisoning the well, feeding the minds of gullible information consumers on the Internet ever since it became a thing. The emotionally-sensitive are just too primed to fall for neatly-packaged stories that empower their own biased narratives all too often. So @dollarvigilante, please use the "entertainment" tag more liberally. I really enjoy that aspect of your shows, but I've never seen that tag used before.
Okay I'll go on a little bit more on a more lengthy rant here because I have some issues with some parts of the "truther" / "conspiracy-theorist" community. Pretty sure some do great work in exposing the injustices that might be going on, but seriously there's no greater appeal to authority than attempting to strengthen one's arguments by pointing at anything remotely close to confirming one's beliefs. Appeal to numerology and imagery comes to mind.
Plus for all the warnings of evil politicians and globalists trying to take over the world, has anyone ever noticed that 99% of us just don't give a shit? I wonder why the conspiracy-community is so obsessed with these people in places of power that they keep on talking about them, as if to give these people in places of power, more power? Something to sell I guess.
But here's a better form of power for the people: how about we just do our own thing, move on, and build something better for ourselves? Switch the channel. Rumour and gossip mongering is a huge waste of time.
So is the magazine cover the real deal? It doesn't matter. The world is too messy for any pre-planned collapse of the economy and it's impossible to predict what's going to happen in the future. So why am I ranting about this? I guess I just have a problem with all sorts of propaganda.. and not just what @dollarvigilante has been trying to sell.
If you're up for something that's better without all the boo-boo, but have guessed the emergence of Bitcoin since 1997 through analysis of technological progress and megapolitical shifts, check this book out - The Sovereign Individual: Mastering the Transition to the Information Age. It's way more realistic and critical, in my opinion.