Bitcoin is likely to start moving up again shortly.
We are now only 14 months away from bitcoin's next block reward halving event.
It is projected to happen in May of 2020.
This is where the block rewards will be cut in half.
They will drop from 12.5 currently to 6.25.
Why is this important?
Beyond the obvious where the inflation rate will be slowing down...
This is interesting because it will make the yearly inflation rate on bitcoin LOWER than that of the USD for the first time ever.
That is when it gets really interesting as a store of value, at least in my opinion.
Not only that, but the last two times this halving event happened the price of bitcoin responded very favorably around the event.
Check out the chart: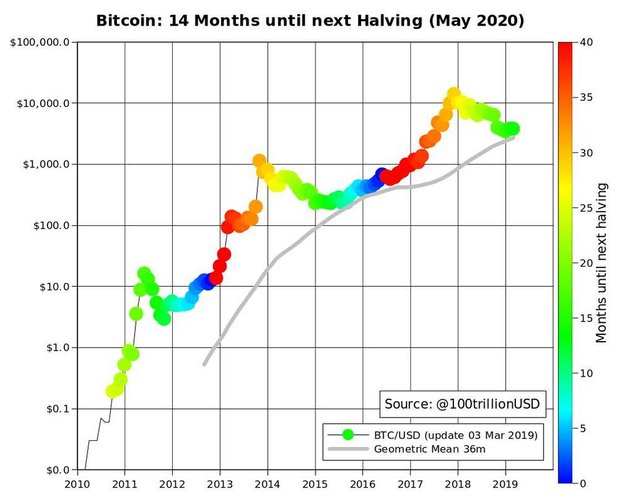 (Source: https://twitter.com/100trillionUSD/status/1102122695683133440)
What happened the other 2 times around the halving event?
As you can see on the chart above, price bottomed well in advance and started turning up prior to the event.
In 2011, prices started turning up around 12 months prior to the event.
In 2015, prices started turning up around 10 months prior to the event.
As I mentioned above, we are roughly 14 months away from the next halving currently.
If past two patterns repeat here, we could be only a few months away from prices starting to go up again!
Stay informed my friends.
-Doc