According to Robert Sluymer, bitcoin is in the first stage of a 3 stage bottoming process.
Bitcoin has had a rough 2018 to put it mildly, but Robert Sluymer of Fundstrat Global Advisors says there may be some light at the end of the tunnel.
He said that when you step back and look at the chart you can see a trend starting to establish itself where prices are bouncing off a similar support area, that area being around $7k.
Sluymer says that is the first step you want to see in a bottoming process, some sort of consolidation or a basing taking hold.
There are also some momentum indicators indicating that bitcoin may soon be about to turn.
Here is a detailed chart showing what Sluymer is talking about: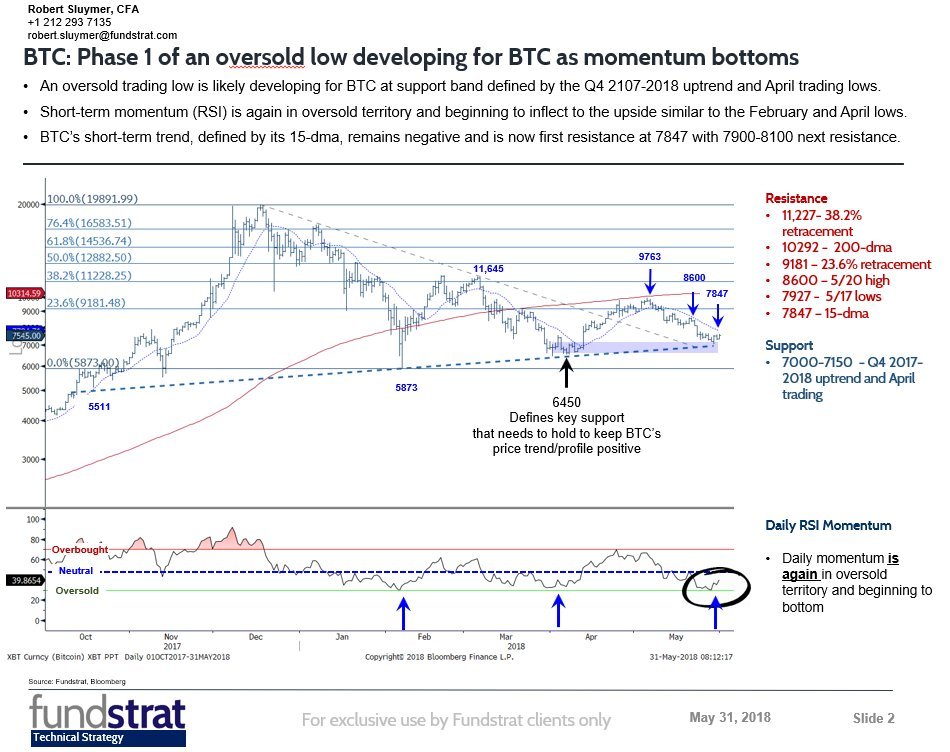 (Source: https://twitter.com/rsluymer/status/1002223563414343680)
As you can see on the chart at the bottom, the RSI indicator is near oversold territory and is starting to turn back upwards, another good indicator that a bottom is being put in.
Typically a level of 30 indicates oversold conditions. Bitcoin currently is showing a 40, after bouncing up from sub-30 levels just recently.
This is a similar setup to what happened during the February and April bottoms.
What needs to happen next?
In order for this bottom to be confirmed according to Sluymer, prices need to start moving up through the recent downtrend.
Specifically, Sluymer says he would like to see prices break through the 15-day moving average which is currently around $7,800.
Once prices get through that level, it will be another confirmation that a bottoming process is taking hold.
Overall, Sluymer says the setup right now is very attract as an entry point for long investors, saying this:
"We think the setup is very attractive here. If you're short we think you should be very careful and reduce your short exposure. I think if you're looking to be long this is where you start adding here to your long exposure."
(Source: https://www.cnbc.com/2018/05/31/bitcoin-finds-a-bottom-after-plunging-from-highs-technician.html)
There you have it, the head of technical strategy at Fundstrat Global Advisors says now is the time you should be buying.
Stay informed my friends.
Follow me: @jrcornel