Newsflash: Bitcoin breaks through $3,700
Bitcoin seeing some very bullish price action today.
Just when everyone and their dog started talking about how bitcoin was going to break its lows, bitcoin reversed.
And, it reversed in a pretty significant way!
After prices were hovering around $3,350 for much of the morning, prices hopped on a rocket and took the elevator up: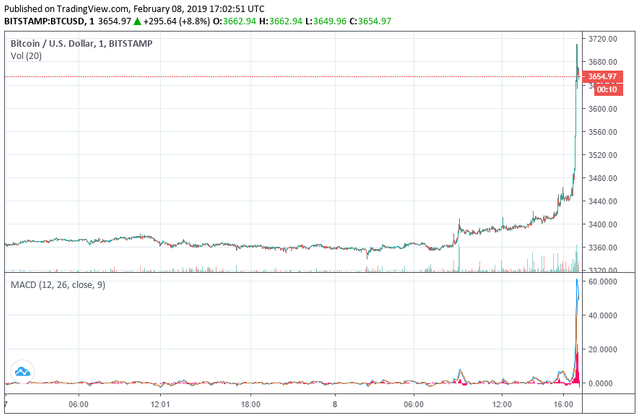 (Source: https://www.ccn.com/newsflash-bitcoin-price-smashes-past-3700-how-high-will-it-go)
The entire crypto market added about $10 billion in the process.
Like most times when bitcoin pops or drops, it is not entirely clear why bitcoin is rallying.
Though, some are attributing it to what is going on with litecoin and Mimblewimble.
More about that can be seen here:
https://www.forbes.com/sites/billybambrough/2019/02/08/litecoin-is-surging-boosting-ethereum-ripples-xrp-and-bitcoin-heres-why/#4abbd92551f6
Either way it is nice change of pace for prices to go up every once and a while.
I'd like to see prices break $4k before I am ready to say this surge is for real or not.
Stay informed my friends.
Follow me: @jrcornel