A new day and a new plunge for bitcoin.
How low will we go?
That is the question on everyone's mind, and I do mean everyone in crypto as just about every single altcoin project seems to be tethered (no pun intended) to the hip of the price movements of bitcoin.
When bitcoin falls 5%, every other project falls 5-15%.
This isn't anything new, it has been this way for some time now and was the case when bitcoin ran up in late 2017 as well.
How low will we go currently?
Looking a chart of bitcoin, the first thing that sticks out is the previous low during this bear cycle.
Which, depending on what chart you look at, comes in somewhere around $3,100.
Once that breaks, and I think it might, we are looking at some psychological support at $3k. Then a good amount of support in the $2,800-$2,500 region.
From there, $2k looks as though it would be the next really solid major support.
Will we get there?
Honestly your guess is as good as mine.
Judging from what I am seeing in the price action, IE bounces being sold off every time and having very little gusto, I would not be surprised to see lower lows in the next few weeks/months.
There has just been nothing in the price action so far that has shown me that we are ready to bottom yet.
The scary thing for me is that the price action has been so weak that we may be a ways off from a bottom...
I'm looking at you $1k-$2k.
I hope we don't get there and I don't really think we will, but at this point I think we hit $2,500 and possibly $2,000.
What that means for steem might not be pretty.
Could we take out the all time lows on a btc plunge to $2k?
Possibly...
The good news is that we are starting to see some anomalies on the charts.
For example we now have 6 red candles in a row: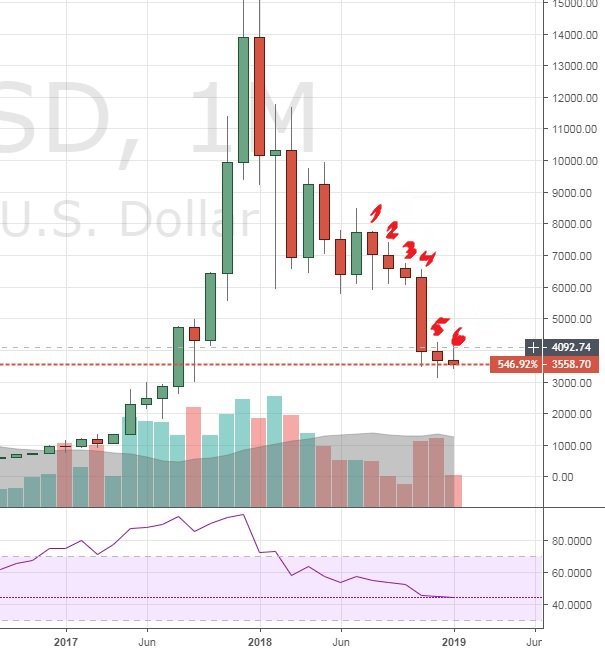 (Source: https://twitter.com/Philsabang/status/1088714471764307969)
We are due for a green one.
Whether we get one in February or not remains to be seen, but this is shaping up to be a not so fun start to 2019.
Stay informed my friends.
Follow me: @jrcornel