BTC - Mining difficulty adjustment downwards indicates we bottomed in December
A non-price metric indicates Bitcoin likely bottomed in December of last year
All kinds of charts and trading indicators are pointing to the fact that bitcoin likely made it's lows for the foreseeable future.
And now we can add one more validation.
Bitcoin mining difficulty.
Historically, there have not been many adjustments downwards, 8 monthly downward adjustments total in fact, but when there are, it has happened at or near bottoms in price.
Don't believe me?
Check out this chart: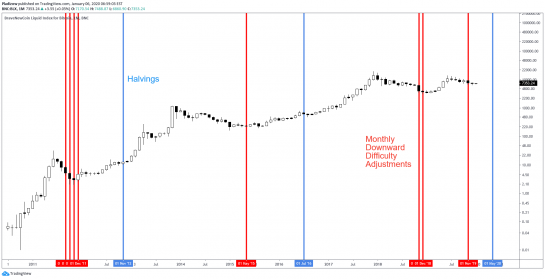 (Source: https://twitter.com/Pladizow/status/1214155531117576192)
You can see very clearly that when mining difficulty adjust downwards, a move up soon followed.
Not an exact science, but definitely a trend...
It didn't happen exactly at the lows but it did happen very near them.
Our most recent difficulty adjustment down happened in November of last year and if you look at the pattern, these adjustments down happened on average a month or two before prices started turning up.
With the most recent setup looking very much like that downward adjustment seen in 2015.
If that pattern repeats again here, that would mean the lows are in and we are on the way up.
Which is more or less what we are seeing start to happen right now.
Stay informed my friends.
-Doc