People like to call Bitcoin digital gold, but what would it be worth if it actually was?
Currently the gold market is said to be valued between $8 and $9 trillion, depending on which data you look at and which day you look.
The entire market valuation tends to fluctuate due to the price of gold on any given day.
To be safe (conservative), we will us the $8 trillion number.
Currently one bitcoin is worth $7,200 and there are only ever going to be 21 million of them.
Taking that $8 trillion number as our end target and working backwards, we can see that in order to get the total bitcoin market cap to that valuation, we would have to see each bitcoin worth roughly $400k.
Check it out: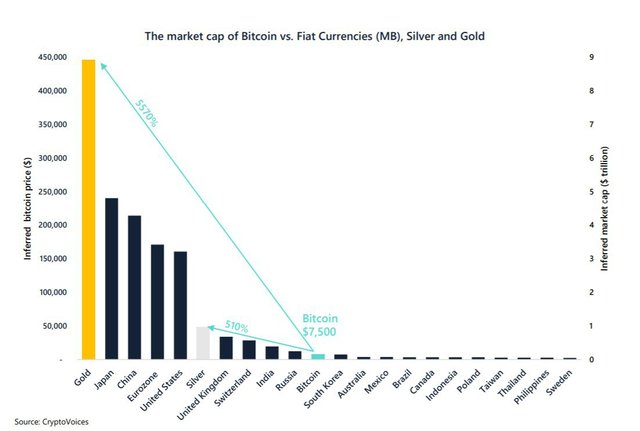 (Source: https://twitter.com/IldarOKEx/status/1205245394491510785)
Will that ever actually happen?
Honestly, I don't think bitcoin will ever fully replace the gold market, as in the gold market completely going away.
Gold has been a store of value for thousands of years, I don't see that changing completely within the next decade or two.
However, that doesn't mean Bitcoin couldn't still get to $400k regardless.
I think bitcoin will end up pulling value out of more than just the gold market.
It will pull value out of every store of value market that currently exists.
I'm talking about all kinds of precious metals, real estate, collectibles, etc etc...
When you factor in taking some from each of those categories it gets very easy to imagine a very high price per bitcoin.
And remember, those high numbers are even with bitcoin never becoming a widely used global currency.
Stay informed my friends.
-Doc