Bitcoin to $500,000 within 3 years or he'll eat his what?!
Legendary Cyber Security founder bets his manhood on it.
John McAfee said in a tweet yesterday that if Bitcoin doesn't reach $500,000 per coin within the next 3 years he will eat his dick on national television.
Don't believe me?
Check it out: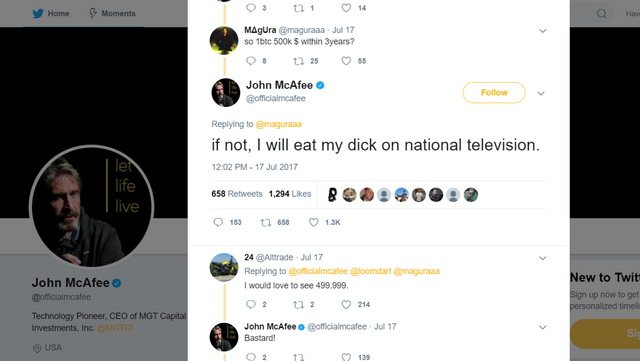 Rut roh, it's now on the blockchain John...
I am not sure how that is anatomically possible, and I am sure it is likely to be taken with a giant grain of salt, but that just goes to show the kind of conviction he has about the future price of Bitcoin.
The name sounds very familiar...
You may have heard of John McAfee, he is the original founder of McAfee Associates, which created the very first commercial antivirus software by the same name. 
Still haven't heard of him? 
Well, go check your old laptop or computer, you have likely used McAfee antivirus software at some point in your life.
The blockchain doesn't forget.
Unfortunately for him this tweet is now going viral and I am sure 3 years from now, it will be brought up again.
For his sake, and even more for all of our sake's, I hope Bitcoin is above $500,000 per coin by then. 
Not only because it would make us rich, but because I really don't want to see that...
Can you image what the price of steem might be in that scenario?
Stay informed my friends!
Sources:
https://en.wikipedia.org/wiki/John_McAfee
http://www.marketwatch.com/story/cybersecurity-legend-bets-his-manhood-that-bitcoin-reaches-500000-mark-with-three-years-2017-07-18
Image Sources:
https://twitter.com/officialmcafee
Follow me: @jrcornel