Bitcoin often makes new highs shortly after its halving event.
In my post yesterday, I mentioned how we are now roughly only 14 months away from bitcoin's next block reward halving.
Block rewards are going to go from 12.5 to 6.25 per block.
This is significant because it will be the first time in bitcoin's history that its annual inflation rate will be lower than that of the USD.
Likely making it even more attractive as a store of value.
More from that post can be seen here:
https://steemit.com/bitcoin/@jrcornel/we-are-now-only-14-months-away-from-bitcoin-s-next-halving
What does the halving event mean for bitcoin's prices?
This is the part where we are all most interested in I am sure...
If you look back at prior halvings we can see that prices tended to start moving up roughly 12 and 10 months prior to each halving event.
They tended to move up anywhere from 200-300% when they started to move up till the actual halving event.
Not a bad return!
However, post halving is when the price action gets really interesting...
In both previous halving events, prices hit their highs roughly 1 after the halving event.
Check it out: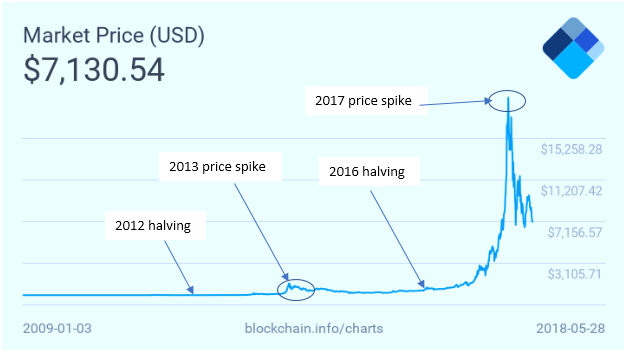 (Source: https://bitcoinist.com/bitcoin-halving-2020-what-will-the-price-of-bitcoin-be/)
Which means...
That means that if the next halving event is projected to be May of 2020, we can expect the peak of this next bullish phase to happen somewhere around May of 2021!
Not only that, but we can project that high to be somewhere well north of the previous high, which was around $20k.
Put that in your pipe and smoke it!
There is no guarantee it all plays out like this of course as history rarely repeats itself perfectly...
However, it does often rhyme.
Which means, I would not be shocked to see something at least remotely similar to this play out over the next 2-3 years.
Now is a good time to be buying if history is any indication!
Stay informed my friends.
-Doc