Bitcoin's dominance has been well down from previous levels, but over the past few months it has started climbing again.
Ever since Bitcoin peaked in December of 2017, it's total percentage of the crypto market cap has been falling.
It peaked around 65% in December and then bottomed around 32% in January when altcoins went on their bullish surge.
That 65% may sound like a high number but when you zoom out and look at bitcoin's entire history, it actually consistently traded with more than a 80% market dominance for many years: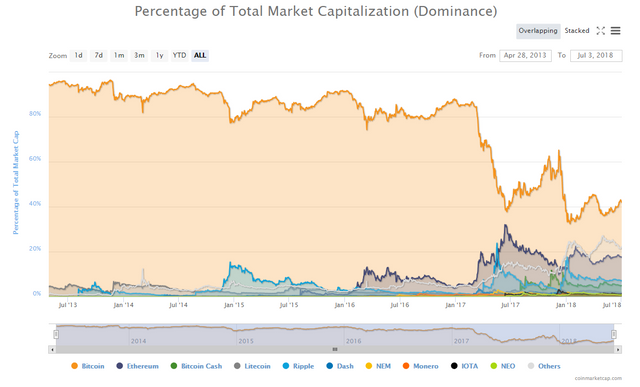 (Source: https://coinmarketcap.com/charts/#dominance-percentage)
Though, as you can see, the chart did seem to be sloping down ever so slightly from left to right.
Why this climb now is interesting to me.
This climb we are seeing currently is interesting because a few months back Goldman Sachs put out a note that said Bitcoin's dominance tends to decline in bear markets and increase in bull markets.
The conclusion was something along the lines of this:
Usually, when the dominance index of bitcoin is low, the market is in a bear cycle and when the dominance index of bitcoin is high, the market enters a bull market.
Go figure, right?
Given the current rise in the bitcoin dominance indicator, does that mean that we are on the verge of another bull market?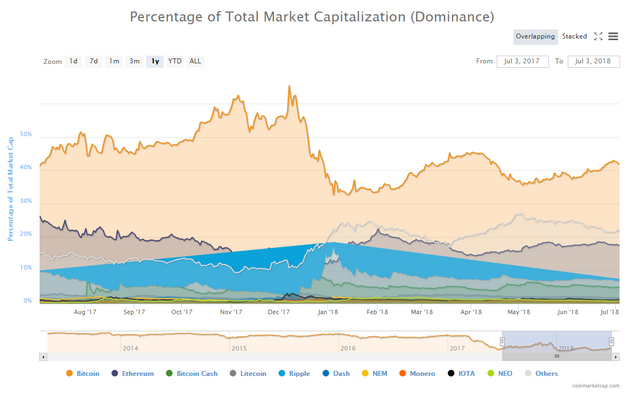 (Source: https://coinmarketcap.com/charts/#dominance-percentage)
While it is not clear whether this is a leading indicator or not, that chart above does look like it is about to make a move back to a higher dominance level for bitcoin.
This would also jive with the fact that over 800 coins are now considered "dead".
Meaning they trade for less than a penny, and/or the development team has abandoned the project, and/or the project has been deemed a scam, according to deadcoins.com.
https://www.cnbc.com/2018/07/02/over-800-cryptocurrencies-are-now-dead-as-bitcoin-feels-pressure.html
This is probably a good thing, as strange as that sounds, as there needs to be some major house cleaning in terms of valuations in the crypto space.
Once this house cleaning is done, the legitimate projects will collect the lion's share of investment dollars, very similar to what happened in the dotcom bubble days.
As the house cleaning continues I think existing legitimate projects, like bitcoin, as well as many other coins in the top 50 or so will continue to attract investing dollars as many of the others continue to die away.
Luckily for us, it looks like steem can be included in that first list.
Stay informed my friends.
Image Source:
Follow me: @jrcornel