I noticed an unusual article in the newspaper today.
"Bitcoin slide continues"
A headline like that is certainly catchy.
It goes on to talk about how Bitcoin isn't doing so well lately.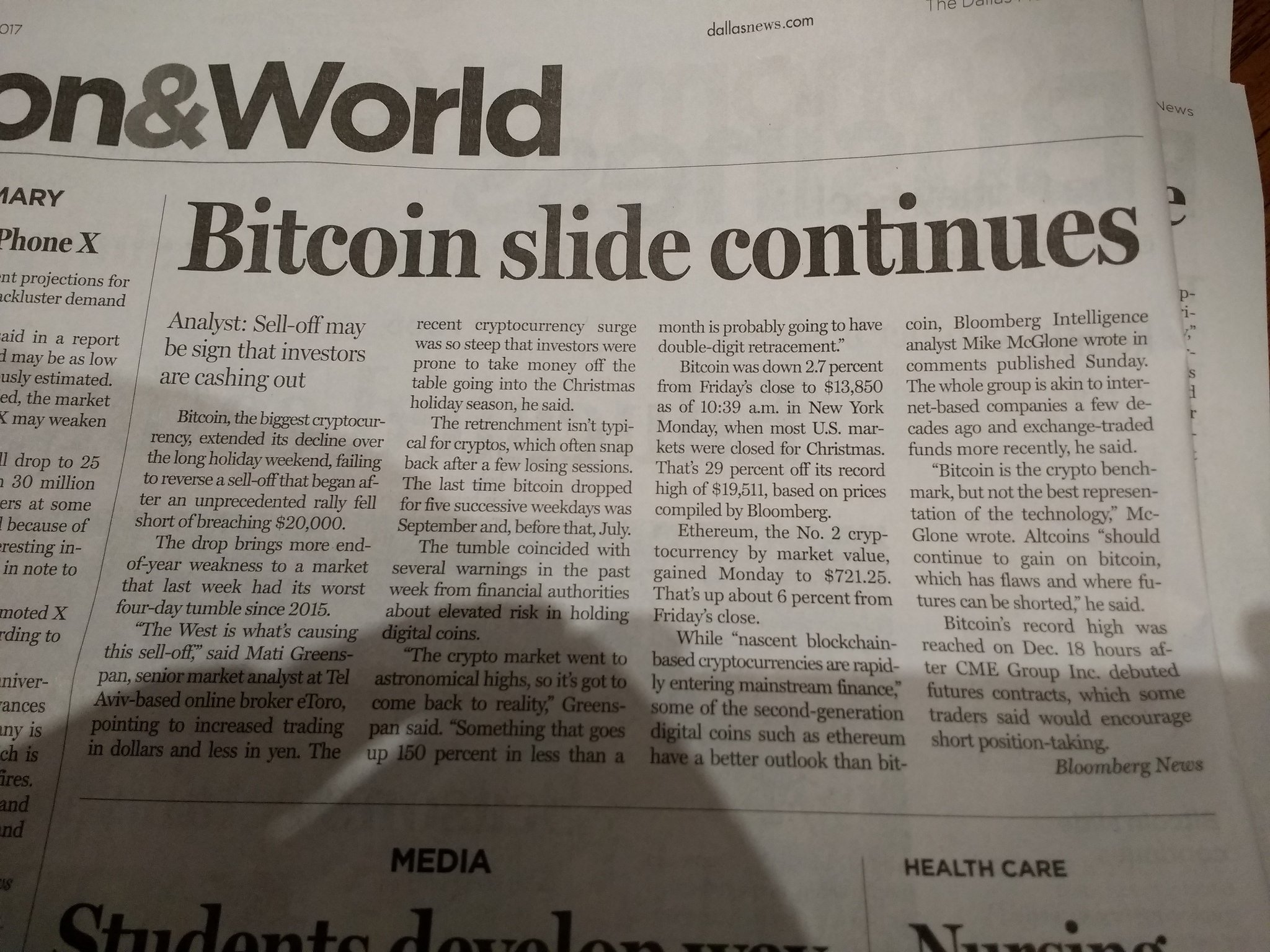 The article says that Bitcoin failed to reverse a sell off.
Oh no!
It talks about more end-of-the-year weakness for Bitcoin.
End-of-the-year weakness!
Bitcoin is falling! Look Out Below!
The article then says that Bitcoin is having its worst four day tumble since 2015.
Holy crap everybody! Sell all of your Bitcoin!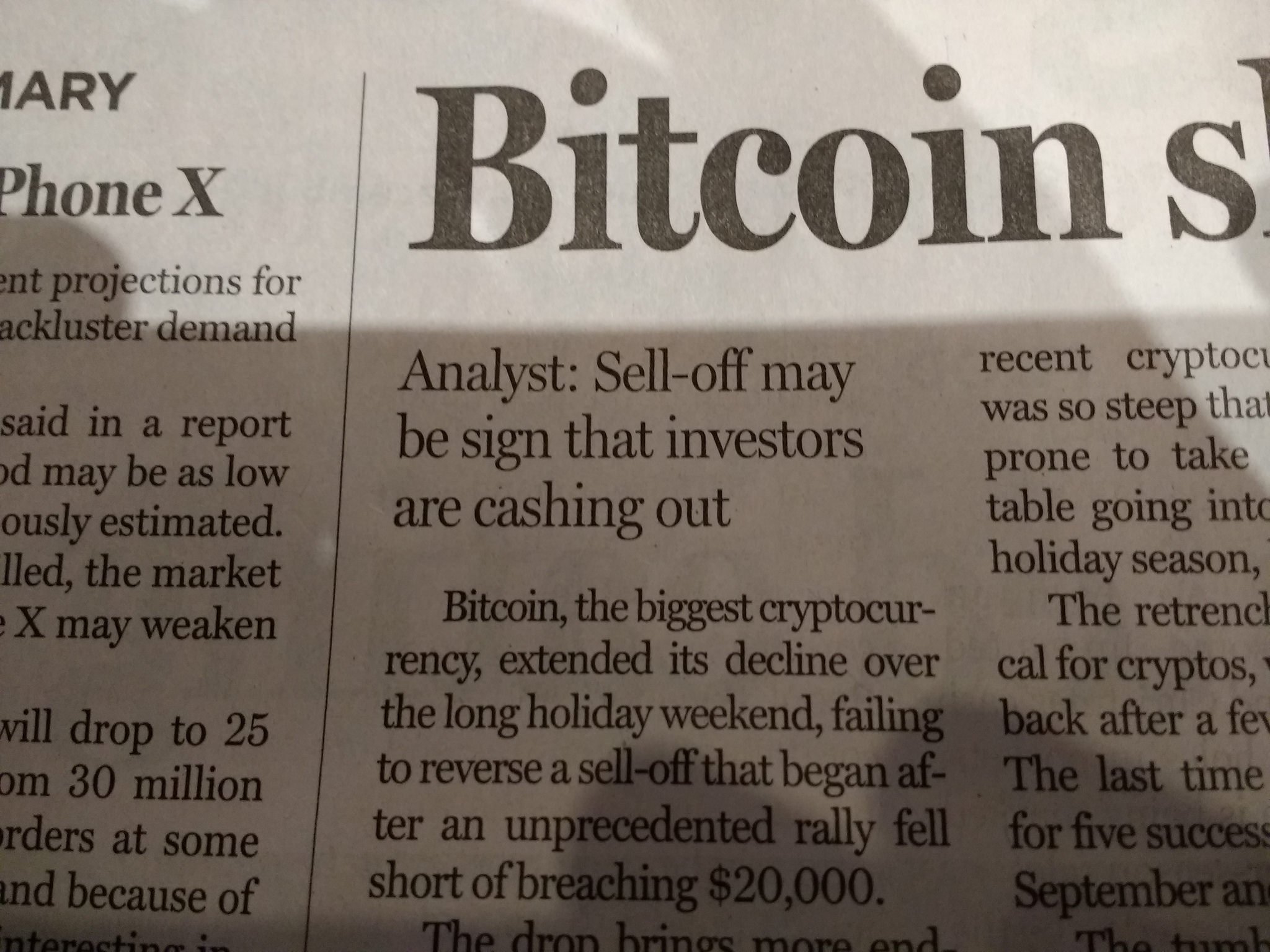 I love this part here.
Sell off may be sign that investors are cashing out.
As I write this Bitcoin is priced at $15,570.
I actually bought some Bitcoin a few days ago when it was priced at around $16,780.
The truth is that it had fallen down to $14,480 when I purchased it on Coinbase, however, the transaction said I got it at $16,780.
That's because Coinbase is a bit on the unreliable side...... but what are you going to do? Nothing.
It'll go back up.
The strange thing is that this newspaper article claims that Bitcoin is on it's worst decline since 2015...... yet it's only undergoing a slight correction here.
Sometimes when I talk to my friends at work or my roommates they will tell me....
"Hey..... too bad about Bitcoin"
When I ask "What happened to Bitcoin?" they say "The newspaper says it's dead bro"..... or something like that.
I have to ask myself if the people writing these newspaper articles really believe the crap that they're saying?
Do they really think Bitcoin is going to fail? Do they just not understand normal and healthy Market Corrections?
Is it possible that something more sinister is going on?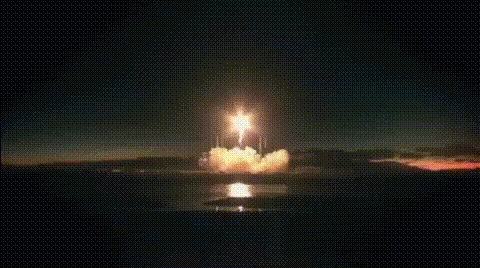 Source: Giphy.com
Are whales controlling the newspaper and putting out FUD in order to try to get the price of Bitcoin to fall so they can buy in cheaper?
That seems inconceivable but I wouldn't put anything past anyone these days.
Markets rise and markets fall but anyone in the cryptocurrency world knows...... you gotta know when to HODL em.
Just the other day I was in one of the forums I browse and a newer member said "Holy smokes! I just bought into cryptocurrency a few days ago and I'm already down 25%!"
Of course the general response was "LOL noob."
Anyone who gets out of Bitcoin because it falls for a few days has no idea how the cryptocurrency world works.
So why does the newspaper want to constantly talk about Bitcoin failing?
The government doesn't want you to have Bitcoin.
The banks don't want you to have Bitcoin.
They want you to believe that Bitcoin, and cryptocurrency in general, is a fad and that you are making a mistake throwing your money away.
You can still find people all over the internet who say stuff like "Bitcoin isn't worth anything....... you'll see."
They just can't wait to show you that they were right.
Don't trust your local newspaper and don't trust some random guy on the internet.
Bitcoin may not live forever.....
For all we know Bitcoin Cash or some other coin may completely take Bitcoin over at some point in the future.
If that happens it's still going to be all about cryptocurrency.
Despite what the newspaper may tell you, cryptocurrency isn't going anywhere.