Trump's new tax law makes all crypto currency trades a taxable event. You'll be expected to pay a capital gains tax every time you trade one currency for another. Up until now, capital gains tax was only due when you CASHED IN your crypto for dollars or another fiat currency. But now EVERY crypto trade will be subject to a capital gains tax.
Of course they calculate that tax on the appreciation of that cryptocurrency in US dollars. So if you for example bought one litecoin for $200 and a bit later used that 1 LTC to buy 0.01 bitcoin, and the price of that 1 LTC is now $250, then you'll owe capital gains tax on that $50.
 From the Fortune.com article:
Digital currency owners are currently obliged to pay taxes when they exchange it for dollars or physical goods, but the new rule now effectively means all crypto transactions are a taxable event.  
The tax act in Sec. 13303 amends IRC Section 1031 (a)(1) to delete "property" and replace it with "real property" … So, you can see that now I can no longer take the position that my Bitcoin to Litecoin exchange was a like kind one under Sec. 1031, and I have to recognize the gain when I do it. 
http://fortune.com/2017/12/21/bitcoin-tax/ 
Yep, it applies to US citizens and residents. But what most people don't realize is that US citizenship is CORPORATE (by contract) and can be easily quit, and that residency means having an address with a ZIP code, which can be easily quit also.
And that's because United States means United States government, which ONLY has jurisdiction over District of Columbia and territories, which includes all ZIP code areas. And that EXCLUDES LAND of the states of the Union.
Remember, the IRS will NEVER send you mail to California (=state of the Union), but ONLY to a FEDERAL STATE "CA" which is located in a FEDERAL ZONE (is in a ZIP code).
Or that the IRS and BATF, i.e. the agencies that enforce federal tax and gun laws, were created by the US Secretary of the TREASURY, so they ONLY apply to those who voluntarily use the PRODUCT of that Treasury, which si FIAT MONEY, i.e. the Federal Reserve Notes, which are the INTERNAL (NOT national) currency of the US gov't.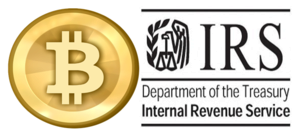 And OBVIOUSLY, if you use BITCOIN instead of that US internal currency, you CAN'T be subject to the RULES (Codes) that apply to the USERS of that PRIVATE SCRIP. Remember, United States gov't is a FOREIGN CORPORATION with respect to a State. THAT'S a LAW.
And if US gov't is a foreign corporation with respect to say, California, then the "laws" that govern its INTERNAL currency, DO NOT apply to you if your "income" is in BITCOIN (or gold) and you live in California, and NOT in "CA".
In other words, the EMPEROR HAS NO CLOTHES (authority), unless you willingly give it to him/it.
In other words, if you develop an "income" in bitcoin or other crypto, or if you got enough crypto to stop working, you can QUIT corporate US citizenship and stop using ZIP codes, and be FREE of income taxation as well as of being subject to most Statutes and Codes in US. And that's because you WON'T be in US (CA, FL, NY, TX, etc.) but in California or Florida, etc. where federal law DOESN'T APPLY, unless you engage in interstate commerce.
*************
BTW, it's the law that if you become a NON-RESIDENT alien (such as a State Citizen or Inhabitant), the IRS will change status of your SSN to an ITIN. I.e. no longer a federal subject who's eligible for gov't benefits, but for which he has to pay in the form of income tax.