Bitcoin Halving One Year Away!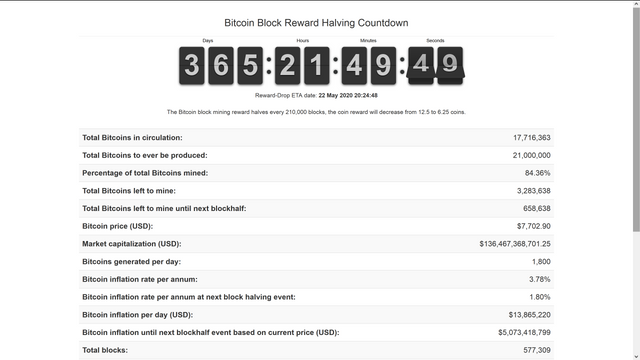 You can check out the countdown over here:
T- minus 365 days to liftoff!
Meanwhile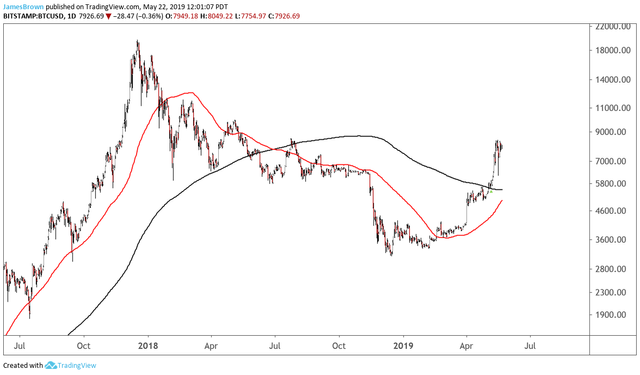 https://www.tradingview.com/x/VMFhukAg/
Bitcoin is trading well above its "yearly moving average" (black line), or 365 day Simple Moving Average (SMA) and the "quarterly moving average" (red line), 91 SMA, is days away from crossing above it, termed a "golden cross". Historically, any time that bitcoin has had at least 8 closes above the 365 SMA it has went on to make hundreds of percent in gains. That may not be saying a whole lot, though, considering this is only the third time in Bitstamp's history that price has crossed above this average (failing once already in this last bear market).
The more important thing to look out for is a change over in the 365 SMA from descending to ascending which it has yet to accomplish, but it's VERY close to reaching that point. The last two closes happened at $5,509.02 and $5,507.83, respectively, a drop of less than $2 per day. Another week's worth of closes above $6K should be sufficient to get it rolling in a positive direction and that would certainly be a bullish signal.
Historically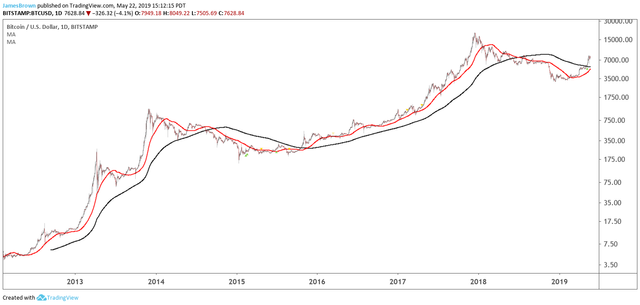 https://www.tradingview.com/x/AlH1UYUO/
You can clearly see that the golden and "death" (bearish version) crosses of these two moving averages has so far been a reliable indicator of bull and bear market cycles with not a single "false signal" to date, albeit a very small sample size (only three crosses so far in bitcoin's history, with a fourth in the pipeline).
Chalk up another point team bull!
Also
Historically (I know, it's my new favorite word :), the best time to buy bitcoin, in terms of maximal profits in minimal time (two year hold), has been around 1 year before a bitcoin halving event, give or take a couple of months.
Add it all together =
Lambos for everyone!
Warning!
Not a single word or letter in this post is intended as financial advice. Don't be stupid or lazy. Do your own due diligence and educate yourself enough to be confident in making your own financial decisions before you even think about pulling the trigger on a trade or investment. #wisdom
Other than that
Have a nice day!