Hello all,
I've been in Exp Asset and some other platforms that provide passive income for awhile. I'm currently a 6-figure a year earner in cryptocurrency and I wanted to share some reasons why I think Exp Asset is great for those of you looking to make passive income and/or money online with this company that pays out in Bitcoin.
I'm not going to go too in-depth because Exp Asset is pretty complicated. If you really want to learn all about it check out this extensive guide to Exp Asset.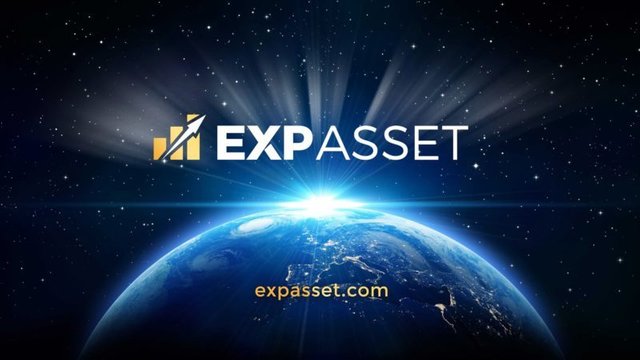 Exp Asset is an educational/training platform geared towards traders. It's been around for well over a year and is run by Patryk Krupiński, a seasoned trader from Poland. The company itself is very transparent with what they do and they even have been audited and have a legal opinion paper you can read here. 
Here are a few reasons why I think you should look into Exp Asset before it takes off in 2019.
1. The passive income (Great for beginners)
Exp Asset offers a very simple way to earn passive income with the platform. Basically you buy a Binary Plan using Bitcoin and you earn an average of 1% every trading day (Monday through Friday) for 120 trading days. At the end of the period you'll have gotten a 120% return on your plan. 
Now the real money starts to accumulate when you start compounding your profits. You can hold up to 99 Binary plans at a time and they range from $100 up to $1000.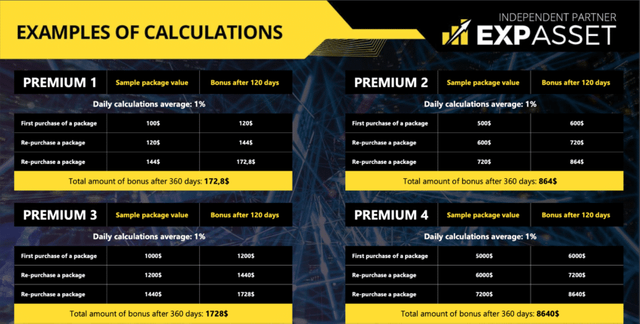 So for instance if you put in $1000 you'll have purchased the top Binary plan ($1000). And every work day (Mon-Fri) on average you'll get $10. So you'll get about $50 per week for 120 days. 
Exp Asset has never missed a payment to it's customers and the passive income is paid out every Friday to your in-platform wallet.
2. You can make a TON of money as a marketer
If you're good at marketing, networking, and the likes, then you can make a massive amount of money with Exp Asset. There are people cashing out 1-2 million dollars annually with their payouts! 
There are two ways to make a lot of money with Exp Asset. The passive income you get from the Binary plans is strictly for people who have no desire to promote. You can just purchase a Binary plan a get passive income. 
But if you want to make big money, you can build a team or refer people to be on your Binary team and earn 10% on the revenue generated by your team. You also have the opportunity to earn an 8% direct bonus for everyone you sign up.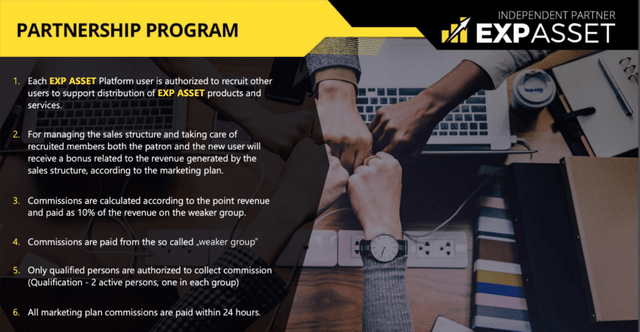 Again, I'm not going to go into great detail because this post would be way too long. Check out the guide I linked to above if you want to learn more.
The second way to earn a lot of money with Exp Asset (and the most lucrative) is through the Matrix plans. Now, this is a whole separate thing from the Binary plans. The Matrix plans are for people who only want to promote/market Exp Asset. And this is where you can make your millions. The Matrix has 10 levels that are filled out with signups. 
For every signup that you or anyone above you has filled you'll get a 5% commission on whatever they spend. Again, this is really hard to explain and I'd refer you to the guide I linked to above. Just know that if you're a good marketer, you can make A LOT of money with the Matrix plans. 
3. Exp Asset offers real products
So whenever you purchase a Binary or Matrix plan you actually receive a product or products with your purchase. Each plan is associated with a variety of useful products for people interested in traditional/crypto trading.
Some of the products include Webinars, educational resources, trading signals, over-the-shoulder live trading, and even an in person Trading Camp.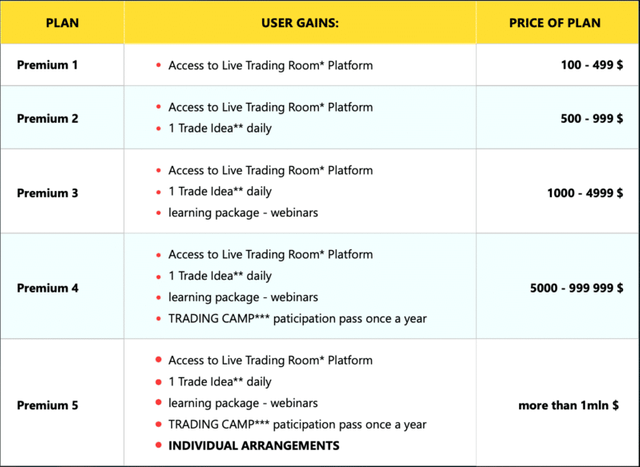 There are a lot more products I didn't list so if you're a trader or interested in learning how to trade, these products should be of great interest to you.
4. It's a real company!
For those of you who have been involved with crypto for awhile, you'll notice a pattern of platforms, companies, dapps, etc. that come out run by people who don't show their faces or reveal their real names. 
Not so with Exp Asset.
The company has a real CEO you can look up, find info on the internet about him, and even meet him in person. Patryk Krupiński is a well known trader and entrepreneur in Europe and he travels the world promoting Exp Asset. There are also people who work for the company that are very public.
They even have encouraged people to visit their offices to see that they are legit.
5. The company is expanding
Exp Asset is planning on rolling out Arbitraging, their own crypto coin, their own cash ATM, and their own exchange in 2019 and beyond. 
The company has a lot of big plans and they've been gaining a lot of traction in the world of investment and cryptocurrency. 
----------------------
Thanks for taking the time to read this. If you are remotely interested in learning about Exp Asset I highly recommend it! It's already making me money and it could turn out to be one of the biggest things happening in cryptocurrency in 2019. 
Good luck!