FREE BITSHARES (BTS) DRAW & GIVE AWAY!! GET FREE BTS SENT TO YOUR WALLET!
As promised I am holding a draw to win FREE Bitshares. NEW to Bitshares? That's OK....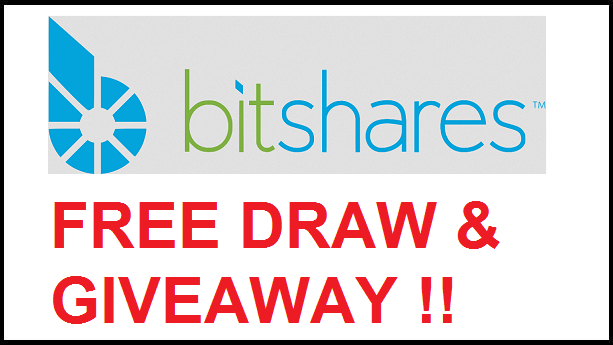 As a follow up to my last post, which explains how to get a FREE Bitshares Wallet, and a FREE Bitshares account, I thought it was only appropriate to give some free BTS funds to some lucky people who participate in this post.
I AM GIVING AWAY SOME FREE BITSHARES (BTS) FOR COMMENTERS WHO CAN WIN!
Let's get some important details out of the way...
(1) My last post was a simple tutorial on how you can get a FREE Bitshares Account, for trading on a decentralized exchange, which has similar power to places like Bittrex, Poloniex, and Coinbase

(2) If you don't already have a Bitshares wallet, once you create an account with my previous tutorial, now you can receive bitshares from anyone. It's free to get one, so why not?

(3) Going forward I will be doing more tutorials and explanations on how Bitshares works, in a very simple and understandable way. So don't worry, I'm here to answer your questions and help.
QUESTION:
Why would I care about Bitshares in the first place?
ANSWER:
Read my last post here. It helps you, a LOT today and in the future as cryptocurrency changes, the ways to move your STEEM and SBD changes... It's good to get knowledge early.
So.. if you are one of the lucky few reading this post that DOES HAVE a Bitshares account and a free wallet to receive funds, you could totally win some free Bitshares!
I implore all of you to consider adding a Bitshares wallet (and software) to your computer, so you can experience the next generation of cryptocurrency trading that is becoming increasingly more important every day.
For those of you that have gone through the first step.... Here we go...
I'm going to be voting up good comments below, and running them through and randomizer to fairly decide WHO wins what...
You do not have to re-steem this post to be eligible to win...
EXTRA BONUS OPPORTUNITY: If you do re-steem this post, you will be guaranteed to win something. The value of what I'll be giving away to all participants who do re-steem (and have a bitshares wallet) will be calculated based on the number of participants.
Don't worry... I won't let you down. This is a worthwhile venture to upvote, comment and to re-steem this post.
If you choose to ONLY comment and upvote (and have a bitshares wallet) you still could win some free bitshares.
HERE IS HOW YOU PARTICIPATE TO WIN FREE BTS:
Simply leave your Bitshares account / username below WITH a comment of some sort.
Wait 2 days to hear the results on Thursday, January 18, 2018 when I will announce the winners, who participated, and how the payouts work. This gives plenty of time for everyone to enter!
The mystery of what you could win, or what people get by re-steeming this post, is all up to the amount of participants I get. This makes it fun. It's free ....you have nothing to lose by participating.
If this works out well, I'll do more of these in the future!
Q: Do I have to be a new Bitshares user?
A: No. Old timers who have a Bitshares account can participate too.
Q: I didn't remember what you said about how to get a Bitshares account and wallet
A: Read my last recent post here
Thanks for the comments, re-steems, upvotes, and just saying hi...