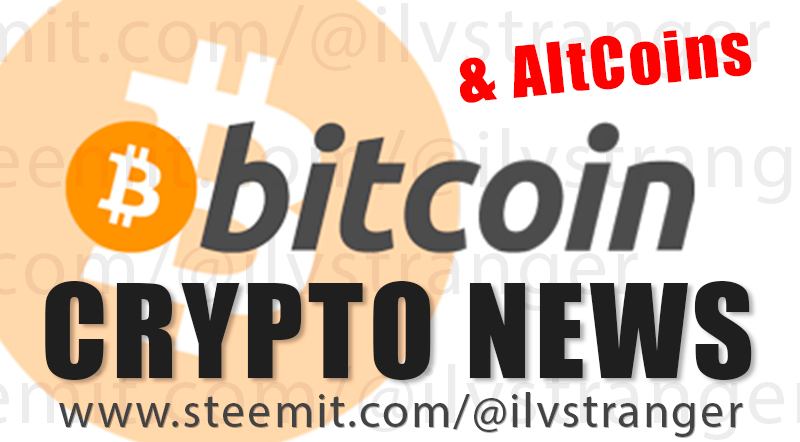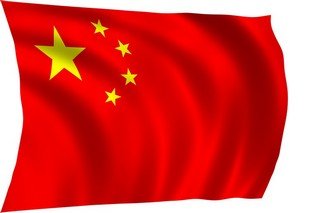 Some quick news regarding China's Bitcoin Exchanges.
Closing date for China's bitcoin (and altcoins) exchanges is september 15 and october 31, 2017.
BTCC and ViaBTC already took steps - Huobi and OKCoin haven't made yet any comments.
Coindesk cites a leaked document - No matter what we have, are scattered from P2PBUCKS - microblogging and
from local exchange executives, issued on condition of anonymity, China's regulators have now issued verbal directives indicating how they expect the businesses to wind down operations due to the fact that they are operating domestically without a formal license.
According to that document, the new regulations have a guidance on how to coordinate with local regulators and how they should handle banking relationships and customer data.
Translated text from the document here: China's Bitcoin Exchanges Receive Shutdown Orders and Closure Timeline - CoinDesk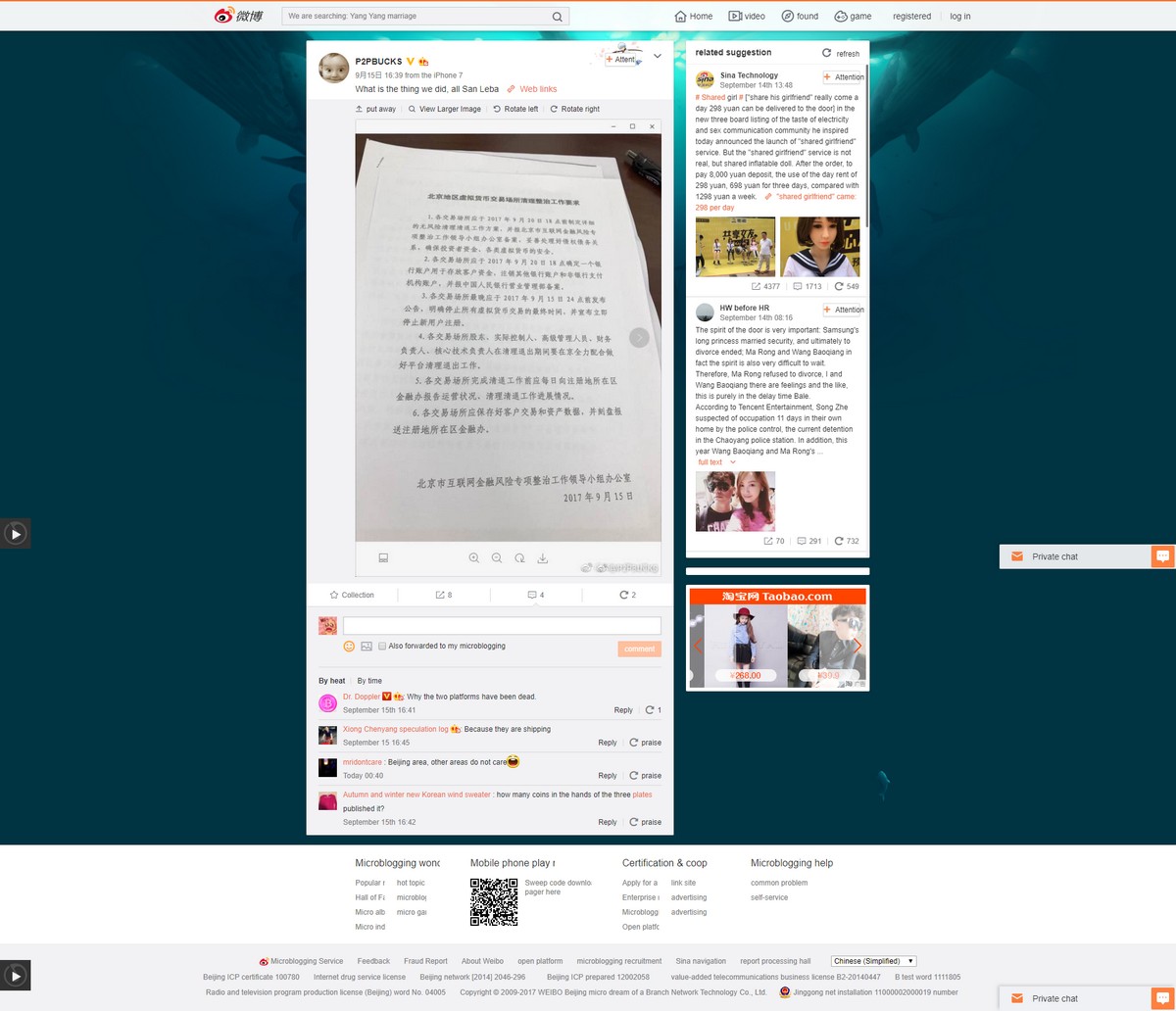 Four exchanges, already made announcements for their closure, citing the statement issued by authorities on september 5 - BTCC, ViaBTC, Huobi and OKCoin.
I put below screenshots with their announcements.
ViaBTC on their website:
AnnouncementAnnouncement on closing ViaBTC exchange platform | ViaBTC-Your Cryptocurrency Expert

and
ViaBTC-Your Cryptocurrency Expert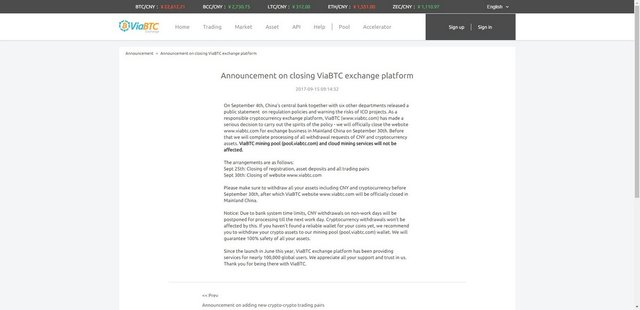 BTCC on twitter:
"4/ BTCChina Exchange and BTCChina Blockchain+ have enough funds to accommodate all customer withdrawals, including CNY, BTC, LTC, BCC, & ETH"

and

BTCC - Your Bitcoin Company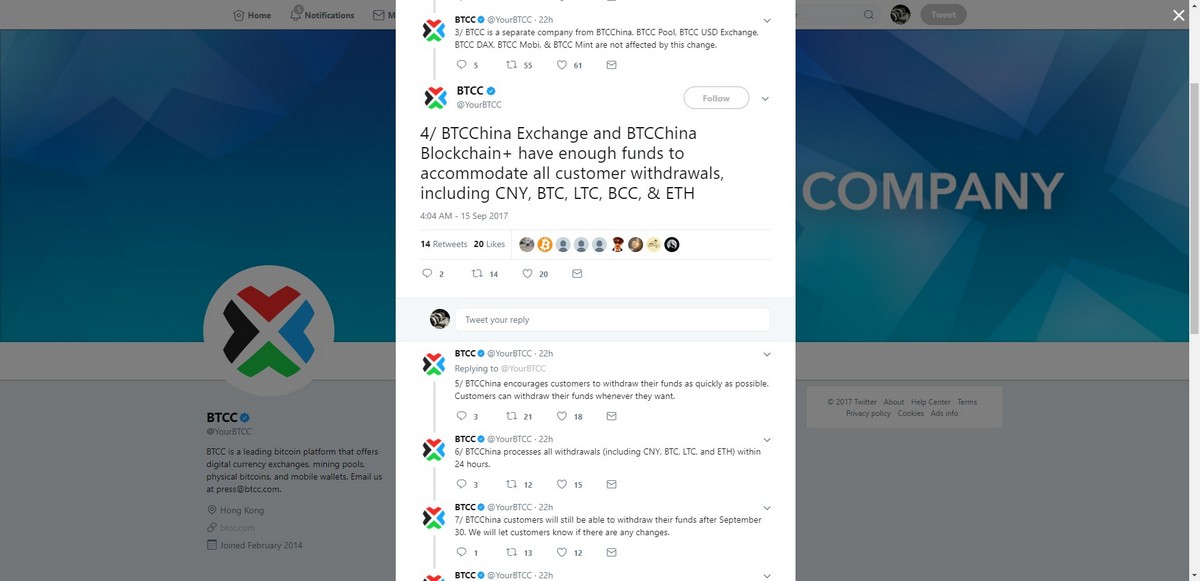 OKCoin.com
Ok okin.cn on the Stop Trading of RMB Transactions The Leading Global Bitcoin Exchange | OKCoin.cn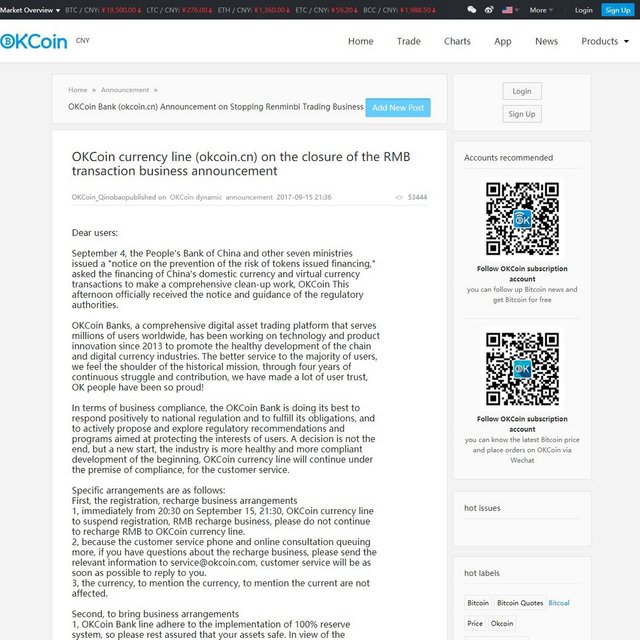 HUOBI
Announcement on the sale of all virtual currency transactions on the bank (huobi.com)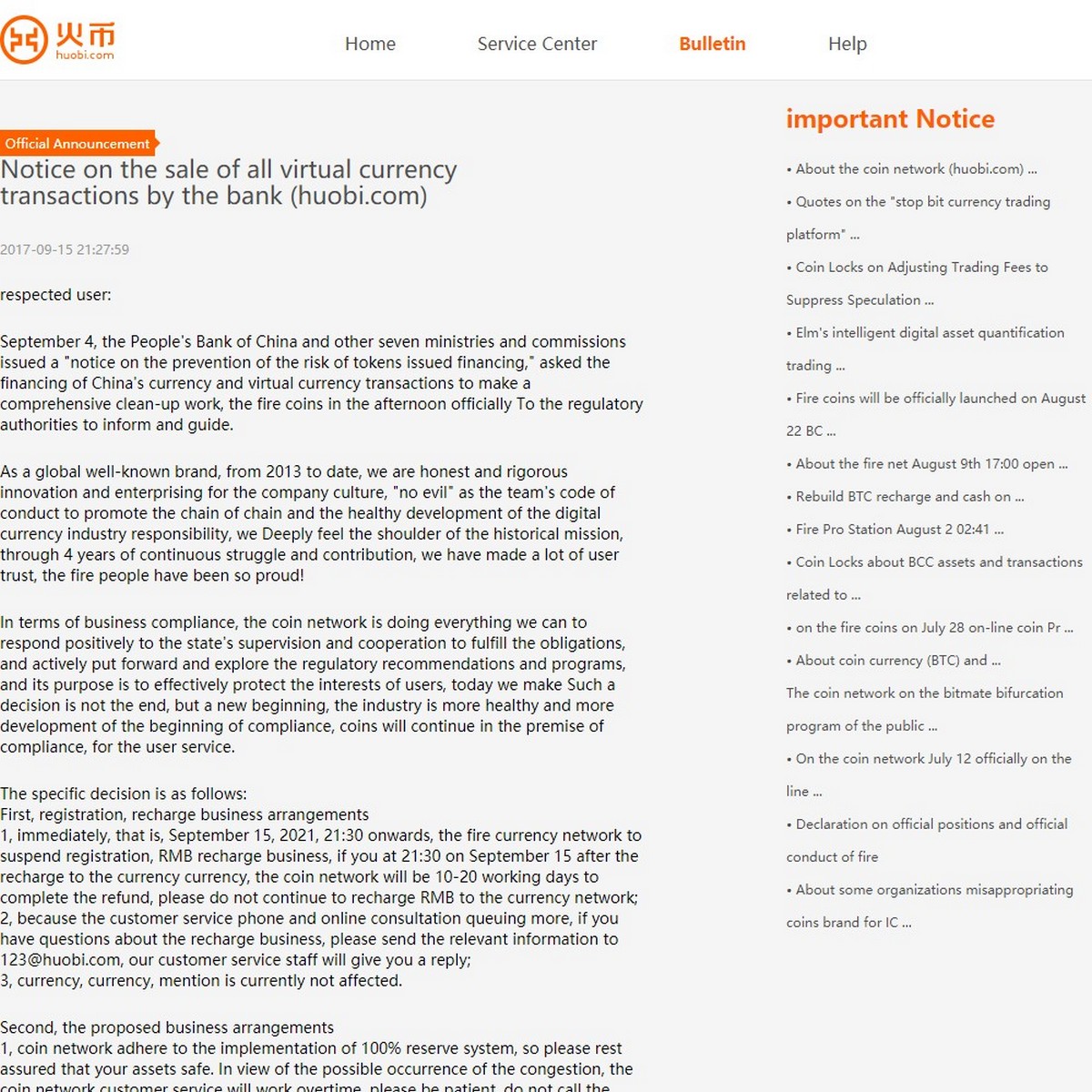 The exchanges are still functional. That will be for clients to have time for fund withdrawals till the deadline made for the exchanges.
On Charlie Lee's twitter we have some retweets about some changes:
cnLedger on Twitter: "OKCoin & Huobi have announced to stop CNY <-> crypto-currency trading services on Oct 31
From exchanges listed on Coinmarketcap any of them could announce their closure tomorrow, next week, next month... who knows. Logically we should see closure to all of them and then a comeback to the accepted ones with proper licenses.
So, from my pov it means that some exchanges may come back with proper licenses and get in the exchange "game" again.
Also, it could appear new ones with same people from closed ones or maybe some operated under government power...
NEWS sources:
It seems that we go on a right path. The changes will come and the bitcoin should be tougher than before.
Feel free to comment and say what you think about it and share the love here with a resteem and on other social media
Cheers to all



my other crypto news:
---
What do you think about my blog? You can subscribe for new solutions at the problems i found or encounter in my digital journey.
https://freewarestyle.blogspot.com
If you got ideas for a post, a problem you have with software, please leave a comment.
---
You can also read this article here
MAIN BLOG:
China Bitcoin's Exchanges news - Shutdown Orders and when they close - september 16, 2017

social:
twitter: @ilvstranger
steemit.com/@ilvstranger: @ilvstranger