About 36 hours ago I changed the secondary title of my livestream(twitch or youtube) to "livestreaming the impending short squeeze of bitcoin" as that was the point I become more than 70% sure it was going to happen. Since then, it's increased to about 90%. The price at the time of writing is $6396. I had been predicting one on twitter since very shortly after the recovery from $6k again, mostly due to what I was seeing in the longs vs shorts battle. I've been expecting another, more significant one since the first one this year in April.
Here's what I wrote on my recent private chart for BTCUSDSHORTS:
I've been watching both BTCUSDSHORTS and BTCUSDLONGS very closely since before I posted the bearish butterly on shorts and the bullish Gartley on longs. The last peak of of BTCUSDSHORTS I predicted on my livestream... I tried calling this one early first as a double top , then at a couple spots on the way to where it reversed, and finally (hopefully) succeeded at the .236 extension of the XA leg of the bearish butterfly from the PRZ, which is the red line it's currently under. It got close enough to the PRZ of the bearish buttefly, one might almost consider it a double top ...
A short squeeze is quite imminent, almost obvious at this point, in my opinion.
Here's a short-term private chart for BTCUSDLONGS too...
It has bounced from the 2.272 extension of it's initial impulse leg down and met the target of the bearish pennant formation, ready for a huge upswing.
Bitcoin itself is in a widening triangle pattern, which is generally quite unpredictable.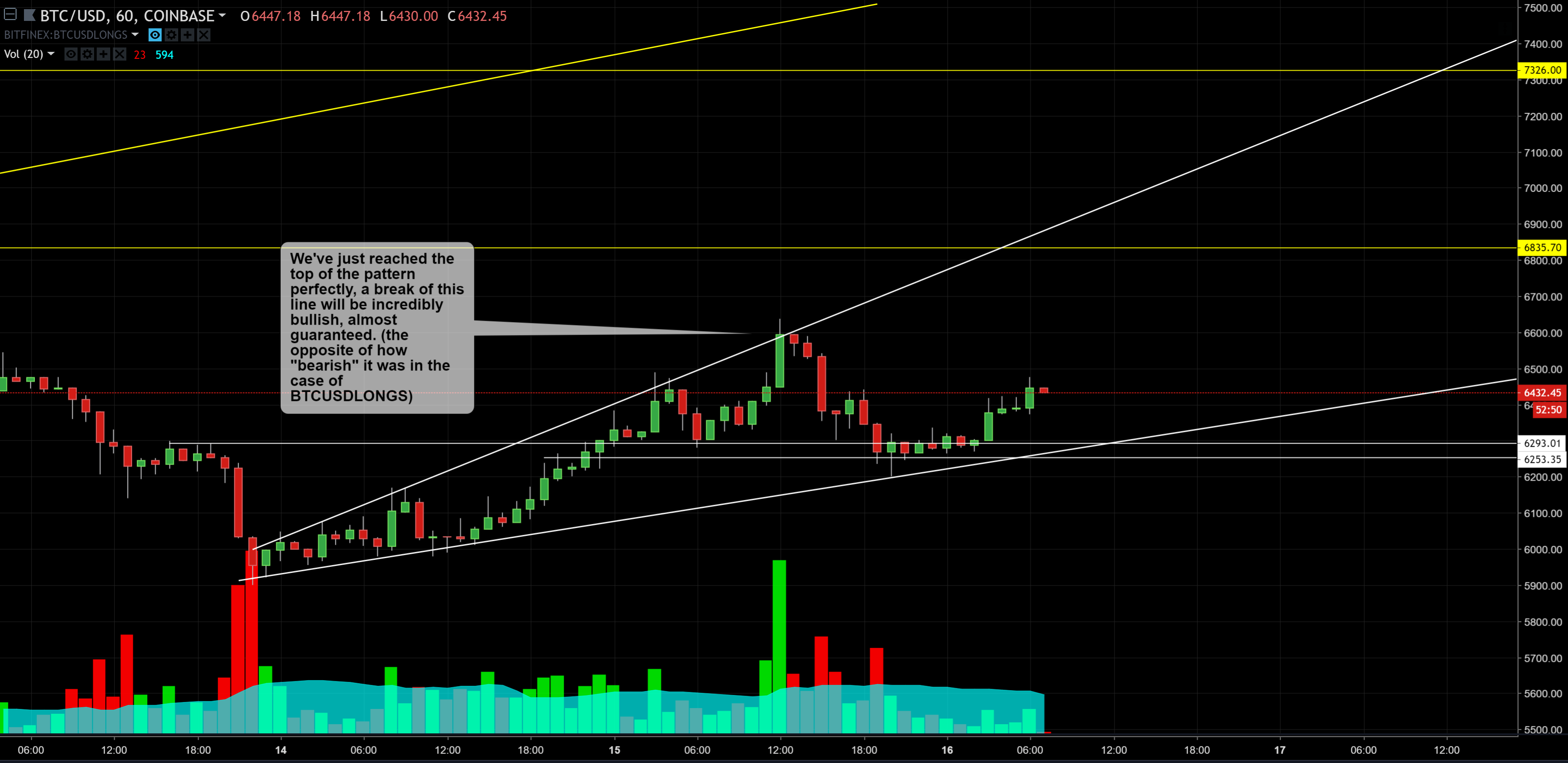 Apart from the narrowing triangles, these can also be formed in a widening shape. This rare formation is also called a megaphone or a broadening top formation. Unlike the normal triangles, where the area keeps reducing over a period, in this case it keeps widening, that is, it looks like an inverted triangle. The volume usually falls when a normal triangle formation occurs, indicating the investor indecision. On the other hand, the volume usually spurts when a widening triangle is created. This is because it is formed when there is a lot of unsettled trading activity in the market. This means that neither the bulls nor bears are in a dominating position and, therefore, they are trying harder to bring things under control. The combination of wide price swings and increasing volume implies a frenzied market that is out of control, which are symptoms of market tops, rather than bottoms. It's because of this that the widening triangle patterns are rarely found during market bottoms.
Retail investors should not try to trade by following this pattern because it is very difficult to identify the final breakout, and if they get it wrong, the widening swings will make sure that they end up losing heavily. According to technical analysis, it is better to concentrate on high probable trades and ignore the low probable ones.
This obviously is far from a "top" though, and bitcoin is no ordinary asset. A breakout of a widening triangle to the upside in bitcoin seems perfectly plausible to me.
Update (6 minutes later): The price has increased to $6460 :)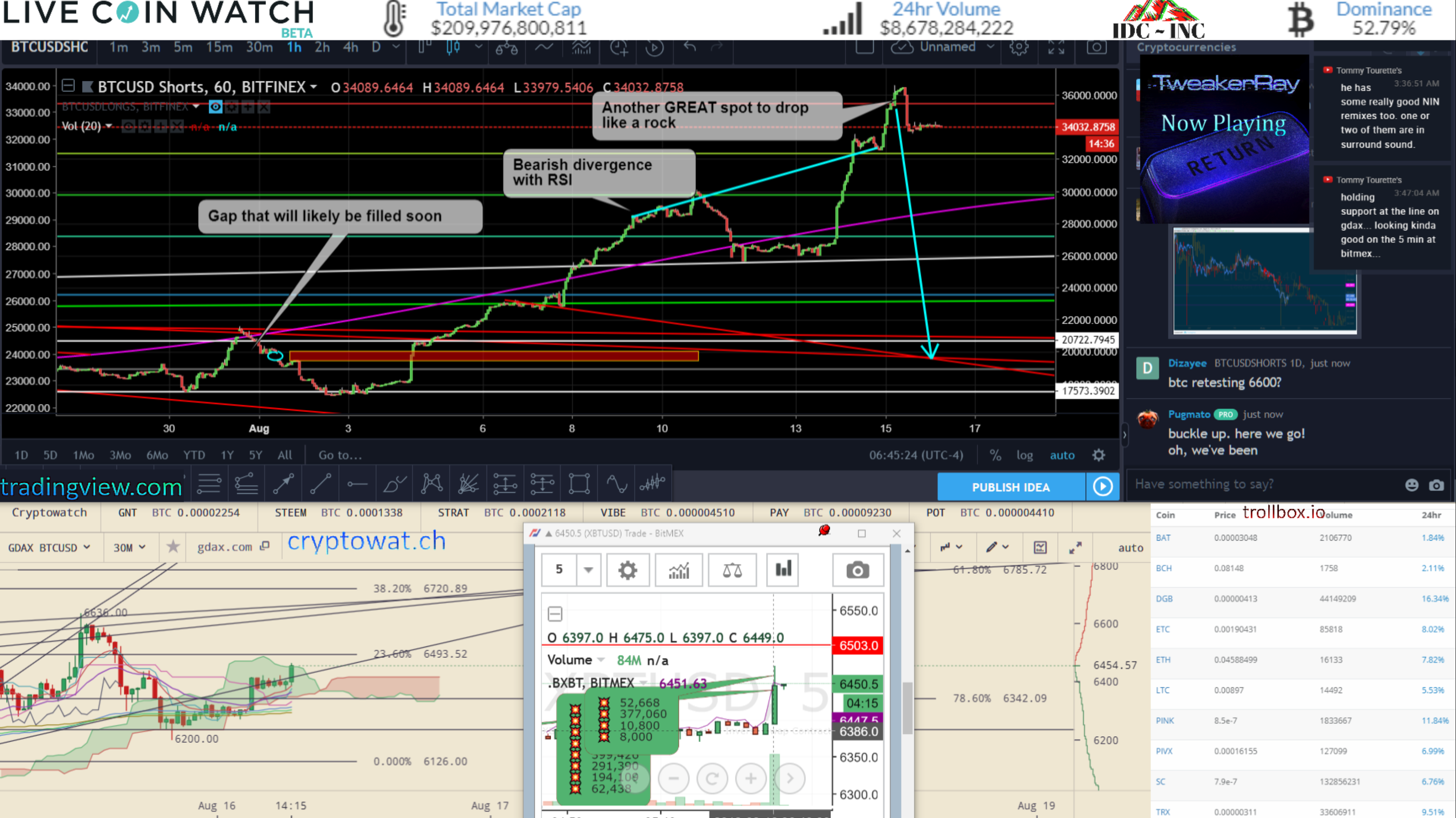 Every screenshot is a link to the full-size image. Best of luck to anyone trading this current mess of a market.
-Tom(@MyEmpireOfShit)
Personal links: Twitter | Tradingview | YouTube | Twitch | Facebook
iDC INC's links: Facebook | Twitter