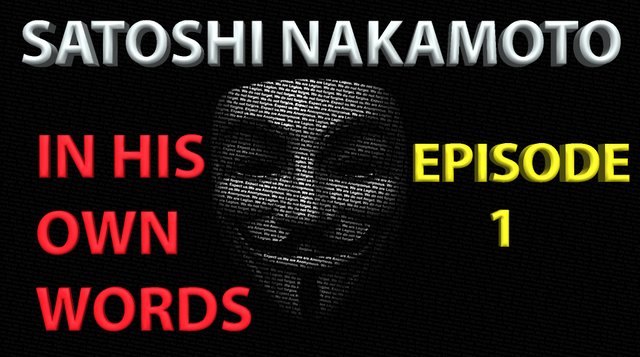 As time continues to move forward as it always does, the "voice" of Satoshi seems to be fading.
Yes, lots of people like to speak on his behalf and claim that they are continuing his legacy, whether they are or not, I feel we're at a point now where the people who are getting into Bitcoin, whether it's through investment or writing click-bait articles for mainstream media outlets, a majority of them aren't even familiar with Satoshi's perspective.
If you want to get a good foundation for understanding Bitcoin and this whole world of cryptocurrencies that it has inspired, I think these quotes are a good place to start.
If you're new to this channel you will soon learn that I'm a fan of reminding my viewers of the philosophy behind the creation of Bitcoin.
It's something that I think gets lost among the hype and obsession of price and attaining governmental regulations. I've already made a video that explains who the cypherpunks are and also have made quite a few videos that spotlight other influential people during the early days of bitcoin. Today's video is the first of many in this new weekly series that's going to cover different posts from Satoshi Nakamoto... because who better to reference than the person who started it all, right?
A lot of the correspondences Satoshi had occurred on anonymous mailing lists like: metzdowd, which you can still subscribe to by the way if you're interested in reading up on what's currently being discussed by other anonymous users. Fun fact that you may not know is that Satoshi also is the one who created the BitcoinTalk forum. You can find a link to the very first post, which was written by Satoshi down below, along with other posts on BitcoinTalk, like the one that resulted in everyone's favorite term HODL.
This "Words from Satoshi" series is pretty self-explanatory, I want to pick a quote from Satoshi and display them for you all. If nothing else, I just want to simply introduce more people to his perspective and motivations for creating a peer-to-peer electronic cash system that doesn't rely on a trusted third party.
Without further adieu, this week's Words from Satoshi:
"A lot of people automatically dismiss e-currency as a lost cause because of all the companies that failed since the 1990's. I hope it's obvious it was only the centrally controlled nature of those systems that doomed them. I think this is the first time we're trying a decentralized, non-trust-based system."
I chose this one because it's pretty obvious the sentiment of Bitcoin and other cryptocurrencies has been on a downtrend much like the price, as is what usually happens.
I want to give a friendly reminder that regardless of the price, you should count yourself privileged to be witnessing this time of innovation and independence.
Satoshi created a tool that either itself or its successor can and will liberate millions of people one day, are you one of them?
If you like this quote, or if you know of one that you'd like to share, feel free to leave it as a comment down below.
Additional Reading/Sources:
Learn about the Cypherpunks
Archive of emails from Satoshi
Cryptography metzdowd mailing list
The birth of HODL
List of Satoshi Quotes
The Destituent Power of Crypto