BitShares (BTS) Analysis: How BTS Can Make NEW Multi Millionaires!

SUMMARY
I am VERY BULLISH on Bitshares (BTS). In this blog post, a log chart is used to analyze Bitshares with Elliott Waves. The below chart shows white roman numeral waves i,ii,iii,iv,v and these are sub waves to the blue wave 1. Elliott Waves states that after five waves, there is a requisite three waves retracement as shown by the red waves a,b,c. These a,b,c waves also compose the sub waves of blue wave 2. As a Technical Analyst, I believe the ideal time to buy is at the terminal end of such an a,b,c correction. This is because there is a high confidence event for a trend change to turn up. Since blue wave 1 is complete and blue wave 2 is also or about to with perhaps one more dip, though not required, the next significant wave to be expected is blue wave 3. This blue wave 3 is expected to take BitShares to never seen price levels. I note that this is a logarithmic chart and not a linear chart so the price ranges are very different. Regardless, Elliott Waves chart five waves. In this chart I have placed also blue waves 4 and 5 which peaks at $342.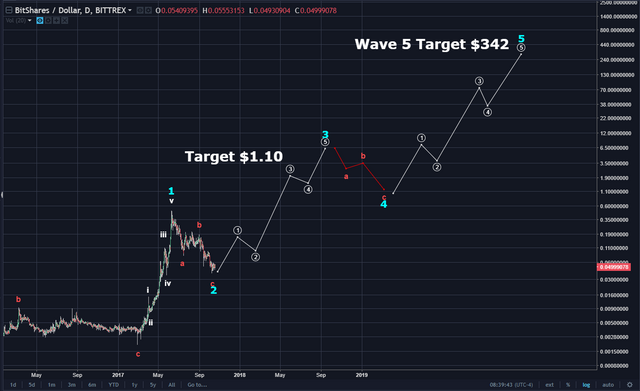 No, I'm not delusional. I'm sane in mind and spirit. My analysis is based on Elliott Waves and Chart Pattern Recognitions. Using these have brought sizable profits. I now hunt for that next MASSIVE profit potential and see BitShares as the prime target.
It is this kind of opportunity that mints new millionaires, regardless of age, race or creed. A high school student who invests $50 to buy 1,000 BTS at $0.05 could be the owner of quite a bit of dollars should blue wave 5 transpire, and I believe it could. An investment of 10,000 BTS could lead to life changing events. Owners of 500,000 or more BTS would perhaps gain unbelievable resources to help others and do no harm.
Elliott Waves states that a news or an event shall arrive to justify the forecast, and not the reverse. So, what event could propel BitShares to such heights? Didn't Bittrex just try and stomp it out of existence by de-listing it? The truth is, I truly don't know what could cause such a bullish rise. Perhaps the government will finally try and start regulating the centralized exchanges in the name of the IRS or SEC. This would cause many wallet holders in these centralized exchanges to suddenly desire de-centralized local wallets!
Please consider viewing my video analysis for the full scope and details:
--

If this blog post has entertained or helped you to profit, please follow, upvote, resteem and/or consider buying me a beer:
BTC Wallet - 15ugC4U4k3qsxEXT5YF7ukz3pjtnw2im8B
ETH Wallet - 0x1Ab87962dD59BBfFe33819772C950F0B38554030
LTC Wallet - LefeWrQXumis3MzrsvxHWzpNBAAFDQbB66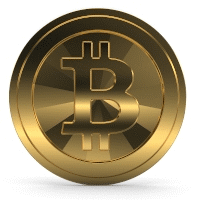 Legal Mumbo Jumbo
: This is only my opinion, make of it what you wish. What does this mean? It means it's not advice nor recommendation to either buy or sell anything! It's only meant for use as informative or entertainment purposes.**