My Top (low market cap) Alt Coin Hodlings
I have had more and more people ask about crypto last days. A reflection of the sentiment & markets reviving. Interest and cash, for the moment, is returning after the shakeout, cool-off, transfer of wealth period. We will see how big money reacts in the coming months to these new levels.
I expect we will see some downdrafts take place over the coming months as we play out a consolidation phase, but I never underestimate the power of fear to switch back to greed after last year's markets. The market could basically shoot up by hundreds of billions in market capitalization over the coming weeks still and as seen in the recent rally, the big gains are coming from alt to very tiny market cap coins. It takes very little interest and a flip from net selling to buying with these depressed prices to ignite huge gains.. multiples returns on your speculative capital.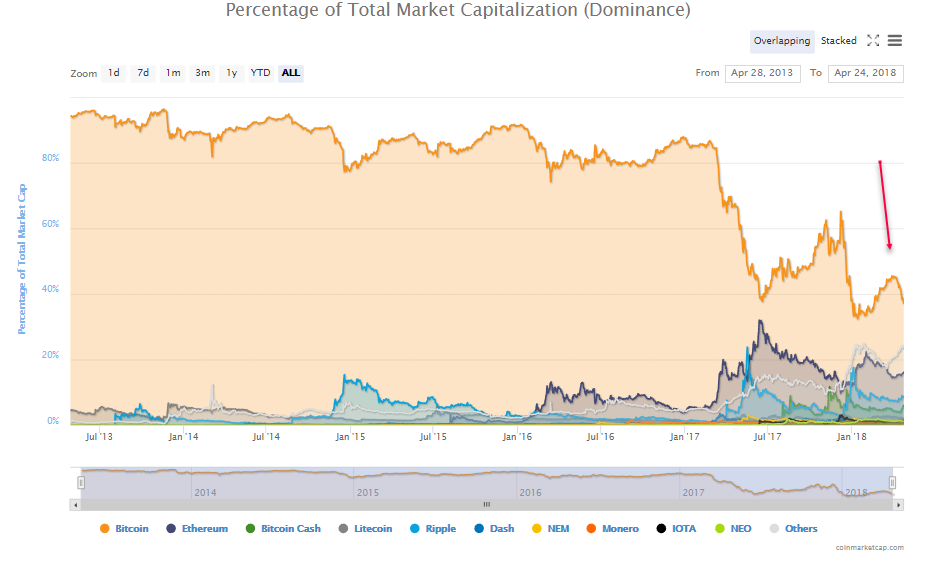 Back to the article, I am happy to do a quick recap on the non-main cryptos that I have decided to keep during the correction & have done so as I believe in their fundamentals. I believe in the projects (potential) and progress moving forward as the market pricing drama plays itself out.
Overall, I have kept a strong focus on crypto exchanges as my investments focused mostly on that Q3/Q4 last year -- traditional to decentralized ones.
Even though I reduced my overall exposure early in year, I still have strong positions I am hodling:
Adbank $ADB -- Launched during meltdown, raised money the night $ETH peaked. This one is revving up now. Team is in Prague today rolling out their marketing tour & product development. Ad network acquisitions underway. Very cheap high risk/reward with ~$12 million market cap -- https://coinmarketcap.com/currencies/adbank
INS Ecosystem $INS -- Also went live as markets were peaking and it has come down a long, long-ways from its highs just months ago. Just raised a lot of capital and looking to do partnerships in the food distribution industry. There are some large players in this one and a very active community. Very oversold and I can see this just on technicals, shooting back to $3-5+ w/ ~$60M market cap -- https://coinmarketcap.com/currencies/ins-ecosystem/
BLOCKTRADE $BTT (former HEDGE TOKEN) $HDG -- This one is "frozen" as the company rebrands and prepares for their platform launch in several weeks. Strong group of large hodlers and was trading around $25M market cap when it was frozen in late February. The new token should be live in mid-May. This one is my top hodling and I can speak more to it if had more time but you can keep updated on their telegram, website and more: https://blocktrade.com
HALO Platform -- This decentralized platform exchange has a broad and ambitious tools with a large development team looking to take this live later in May. ICO was last year in the Fall and expect to hear a lot more as we get to and after launch!
SALT Lending $SALT -- A larger one but having come off its highs this one can easily go up by multiples. Cyrpto currency lending platform, most know about this so wont mention more:
https://coinmarketcap.com/currencies/salt/
PAYPIE $PPP -- Credit Risk Assessment on Business Accounting. Populous and this industry are getting big attention. I should have invested more into this area and will do so if there are some opportunities on pullbacks:
https://coinmarketcap.com/currencies/paypie/
Also...
$XRL - Rialto (need to do an update)
$MSP - MOTHERSHIP (all on-board!?)
... there are some more but will leave at this main ones.