The price of Bitcoin took on added volatility after it was announced that the SEC, once again, rejected applications for a Bitcoin ETF.
This is an ongoing saga between Wall Street institutions that are itching to get into the crytppcurrency market and the government regulator. So far, all applications for ETFs relating to cryptocurrency, Bitcoin in particular, were either outright rejected or the decision was delayed.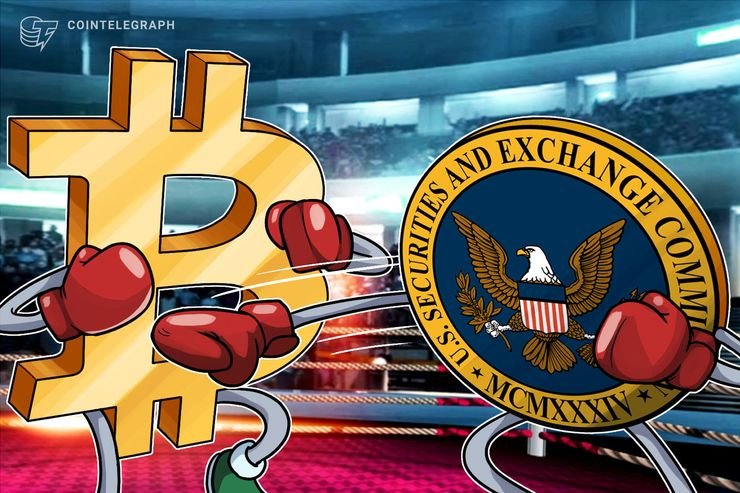 cointelegraph.com
On Wednesday, a day ahead of the deadline, the SEC rejected 9 applications for BTC related ETFs including 2 filed by ProShares.
The SEC stated:
"[T]he Commission is disapproving this proposed rule change because, as discussed below, the Exchange has not met its burden under the Exchange Act and the Commission's Rules of Practice to demonstrate that its proposal is consistent with the requirements of the Exchange Act Section 6(b)(5), in particular the requirement that a national securities exchange's rules be designed to prevent fraudulent and manipulative acts and practices.
"Among other things, the Exchange has offered no record evidence to demonstrate that bitcoin futures markets are 'markets of significant size.' That failure is critical because, as explained below, the Exchange has failed to establish that other means to prevent fraudulent and manipulative acts and practices will be sufficient, and therefore surveillance-sharing with a regulated market of significant size related to bitcoin is necessary."
Thus far, the SEC is not changing the stance it initially took regarding these ETF applications. Overall, they view the Bitcoin market as something small, meaning it is subject to manipulation. On this point, it is hard to argue with them. A $100B+ market is not very big relative to other markets. With the manipulation seen in the gold and forex markets, both significantly larger than Bitcoin, it is easy to see their point.
This is a set back for Wall Street yet not of great surprise. Few expect an approval any time soon from the regulators. While they are not banning Bitcoin and other cryptocurrencies, the SEC is not exactly rushing to approve every fund idea that is put before them.
To get further information on this subject:
https://cointelegraph.com/news/california-police-arrest-teenage-sim-swapper-who-allegedly-stole-crypto-from-cell-phones