Bitcoin TA - summary of analysts - 10. Mar 18
Regular daily update on BTC ta analysts opinions.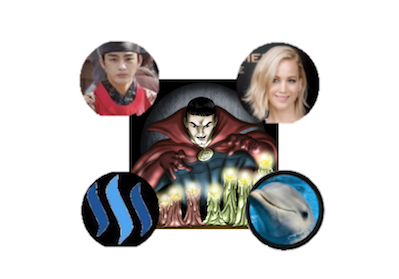 Own comment:
Overnight btc came back up over 9'000 price range which gave us a nice hammer reversal candle. Unfortunately Tone has not yet published his update. But sure is that today needs to bring another significant move to confirm the reversal candle and bring us further back up.
Some are considering the last move to 8'340 as the final wave C, some as "bull wick" and seeing us getting up from here. That are the most bullish scenarios.
-@philakonecrypto sees another wave down after we recovered somewhere between 9-10k which could lead us again significantly down.
-The bounce back of the last hours was very welcome but in my opinion we are not out of the woods.
Analysts key statements:
Tone: - no update yet -
Weekly: starts looking really nasty. needs to pull back up. If weekly closes where it is today everything is in danger.
Daily: He was looking for a 1-4 day pull back but not that significant. That is more a full blown downtrend. The only thing we can hope for is that the current candle gets a reversal doji - if not we have not much support left and we are in deep trouble.
If 7'500 support is broken he sees us going to 5'000.
@haejin: He sees an ABC pattern ongoing which fits into the iSHS pattern he is expecting. So we should see soon bullish momentum kick in.

@ew-and-patterns: He posted several updates over the day to help us understand current move. That was highly appreciated. He sees that the bottom of current correction is likely in @8'360. The current drop he sees as part of wave C which is completed and now let us continue the bull momentum.

@lordoftruth: Bitcoin found support at close to 61.8% retracement level and turned back up to 9'200. He see the trend still bullish. Break of 9'420 is expected. The iSHS and his 15k end of march scenario he still sees in play. Expected trading for today is between 8'340 and 10'150.
@philakonecrypto: His videos is from the time bitcoin at 8'500 and on it way back up. He sees the correction as part of the A! wave which means current pull-back is just wave b followed by another wave down (C). This wave down might lead us back to a double swing bottom (8'340) or to the year-low of 6'000. So he is short term expecting bullish wave B (which came true) and than sees us going down one more time.

Overall sentiment: slightly bullish
(last: slightly bullish)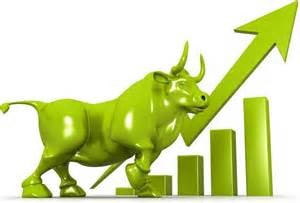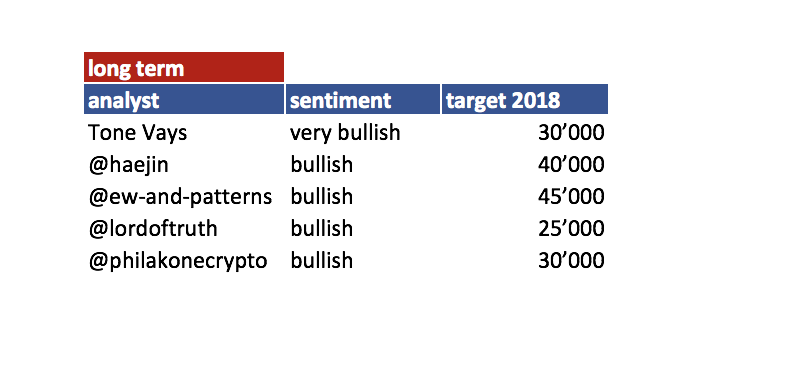 Reference table
Definition
light blue highlighted = all content that changed since last update.
sentiment = how in general the analysts see the current situation (bearish = lower prices more likely / bullish = higher prices more likely)
target 1 = the next price target an analysts mentions
bottom = price target analyst mentions as bottom
Both target are probably short term (so next few days/weeks)
lower/upper barrier = Most significant barriers mentioned by the analysts. If those are breached a significant move to the upside or downside is expected. It does not mean necessary that the sentiment will change due to that (e.g. if upper resistance is breached it does not mean that we automatically turn bullish).
Further links for educational purposes:
From @ToneVays: Learning trading
From @philakonecrypto: Like in every post you find links to his amazing educational videos. For example here
From @lordoftruth: Fibonacci Retracement
From @haejin: Elliott Wave Counting Tutorial
If you like me to add other analysts or add information please let me know in the comments.