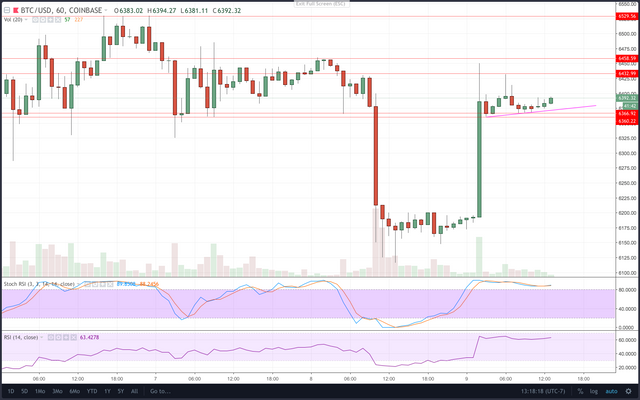 Bitcoin has been consolidating and is now forming another inside bar after the 4th 4-hr inside bar. We are going to see a break here before too long. Indications are favoring a bull push at this point.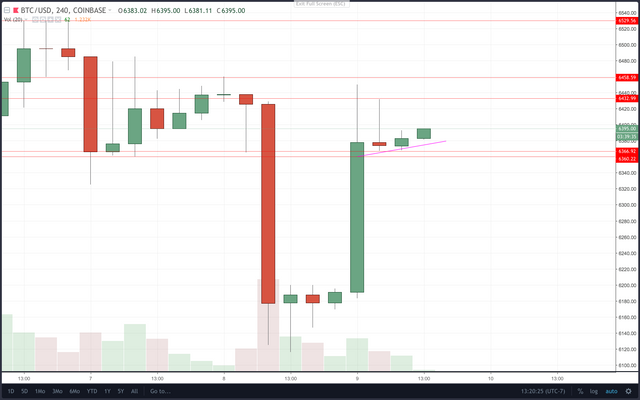 This new bull break is likely to continue as long as we can see some confirmation follow through.
After the last pullback, BTC broke bullish from previous inside bars. The volume was decent but not huge, and has allowed for continued bullish volume.
Support can now be found at the $6,360 level with resistance on top at the $6,432 level. We'd love to see a push and break of resistance at $6,458 which puts us at a new trend higher high. Ultimate goal is a test of the $6,800 level again. I think this might hold up this time since we are still at a consolidation pattern for BTC on the daily and weekly. We should see lower highs with higher lows until we see a big major break of some level.
The ultimate convergence zone for this consolidation is actually targeted for around $6,800. If we get longer term stabilization at this level, then we are likely to see a bullish move. If we consolidate and then immediately break bearish, we are likely to see a big pullback to the $5,000 level. However, the longer we hold at $6,800 (or whatever level consolidation converges at), then we are more and more likely to see a longer bull move and market trend reversal.