VOYAGER No-Fee Fiat Exchange App - a U.S. Competitor to Coinbase offering $25 BTC Signup and Referral Fees!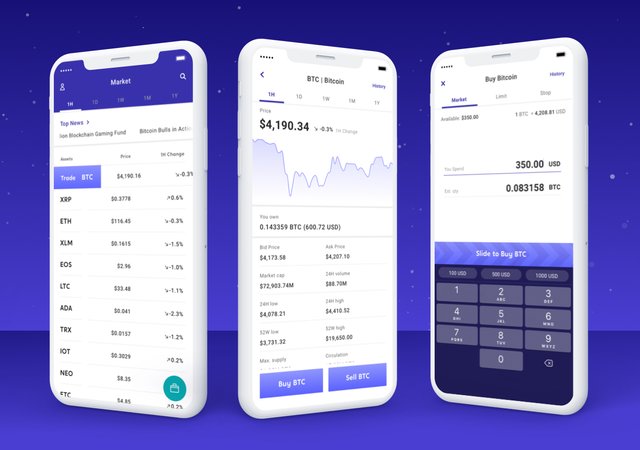 Will smooth functionality, responsive customer service, NO FEES - and perhaps most attention getting, a whopping $25 in Bitcoin referral fee! - allow new exchange/app Voyager to become U.S. cryptocurrency advocates' "go-to" for purchasing crypto with fiat? And for signing up newbies?
Voyager's credentials definitely help make the argument for "maybe" as Uber's founder / E-Trade former CEO Steve Ehrlick is the founder of the new app-based crypto exchange (IOS app only, for now).
I did sign up for Voyager myself already (here's the referral link link https://e.investvoyager.com/4TLA-326U-2MD4BN-2WZGY-1/c.aspx )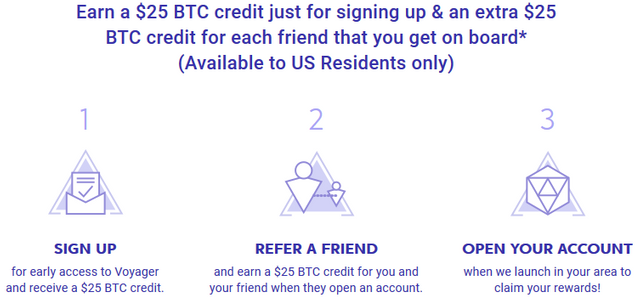 ...just to be eligible for the $25 Sign Up bonus (good thru January 15) and immediately sent a question to their support. It was quickly answered. So IF they can scale, simply replying to their users could be a huge factor in Voyager becoming more popular in 2019 - 2020 than Coinbase, Gemini, Bittrex, etc.
Allowing fiat purchases of Bitcoin, Ethereum (18 total to start) for NO FEES might be enough right off to make me switch my buying habits from Coinbase to Voyager asap ... (perhaps they have a fee for USD withdrawal, like all other exchanges... I'm unsure at this time).
But of course the $25 new user referral fee will likely drive the most early interest. Like many of us in the community, we refer people to Coinbase and help newbies to get through the sign up process, partly to earn their $10 BTC referral fee. Frankly, it's always seemed like a lot of work for $10 right?
Voyager's $25 referral fee for onboarding newbies seems a whole lot attractive! And while they're in beta, U.S. citizens can earn $25BTC just for signing up https://e.investvoyager.com/4TLA-326U-2MD4BN-2WZGY-1/c.aspx
and continue to earn $25BTC when referring new customers to them.
Here's a screenshot of my dashboard, showing the $25btc SIGN UP bonus, which you can earn today (Sign Up bonus expires Jan 15) -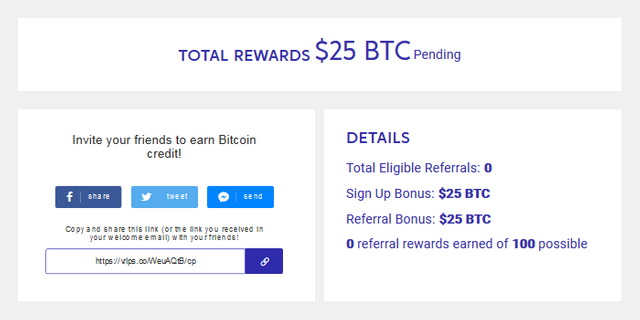 All that is required to earn the $25btc is your name, U.S. state of residence, and email address to get this far - NO purchase.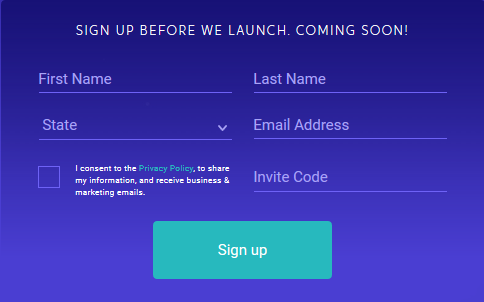 After I filled that out, I received the email with my link to the dashboard (pictured above) and my referral link. The e-mail reads
"As promised, you've received a $25 BTC credit for pre-registering with Voyager. You've also been added to our referral program! For every friend that you get to create a Voyager account with your custom URL (see below), you'll receive an additional $25 BTC credit."
So, how do you earn the ongoing $25 referral fee for signing up new people to Voyager exchange? More specifically, HOW MUCH do they have to spend with Voyager to earn you the $25?
$100, like Coinbase? More? Less?
I wondered that also, and their terms, etc, aren't immediately clear on that point, so I sent another message to customer service.
Here's the reply I received :
"Thanks for the questions. When I first used the beta app it took me probably 2 or 3 minutes to complete the KYC process and link my bank account, it's a very simple and intuitive process. For you to earn referrals from those that signup with your referral link, they will simply need to create a valid Voyager account by submitting the required basic KYC information. No account funding is necessary. Once they are verified we'll have 30 days to credit your account and then you'll have 60 days after you're credited the BTC to trade it within the app before you can withdraw to USD.
​
"If you have any questions, feel free to ask.
​
"​Best Regards,
Sam"
So there you have it .. refer people to Voyager in the future instead of (or maybe in addition to?) Coinbase, and you'll earn $25 in free bitcoin just for the referral, even if they don't make a purchase yet!
"No account funding is necessary" I was told. They just have to do the basic KYC on the app, which I imagine (not sure) is pics of your driver's license and maybe a selfie. And connect a bank account, if I read that correctly. Time is short so if there's more, I'll find out soon and add it to the comments (or edit this page).
Remember the beta-testing $25 in free Bitcoin ENDS JANUARY 15, 2015, so use this link today to earn yours, whether you plan to refer others or not!
https://e.investvoyager.com/4TLA-326U-2MD4BN-2WZGY-1/c.aspx