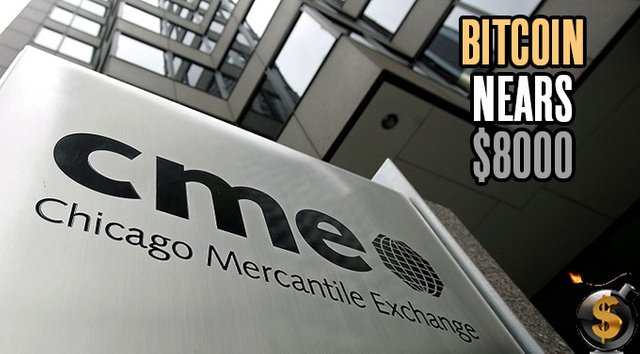 The market doesn't seem to care too much about my conspiracy theories or my dislike of the direction of bitcoin. Or maybe not… more on that below.
Bitcoin rose more than $600, or over 8% today to a new all-time high of $7,983.72.

One year ago today bitcoin was $742, meaning that with today's rise of over $600, it nearly rose more in one day than the entire price a year ago.
Bitcoin Cash (BCH) has been the net loser on bitcoin's rise, now trading near $1,000 after rising, briefly, to over $2,000 last week.

I said a few months ago that, for the first time, I was seeing the traditional investment community begin to get very interested in bitcoin.
What we are seeing today is that slow trickle turn into a tidal wave.
First, the Chicago Mercantile Exchange announced that they would launch bitcoin futures in the fourth quarter of 2017, pending all 'relevant regulatory review periods'. We are still waiting to see them do it, but it is apparently set to go by the end of this fiscal year.
Also Wall Street money has been moving in somewhat surreptitiously. As we mentioned back in September, Jamie Demon's JPMorgan was the 4th largest buyer of COINXBT - an exchange-traded note based on the underlying value of bitcoin and traded in Swedish Krona.
Plus, institutional investors like former hedge fund manager Michael Novogratz of Fortress who is launching a $500 million digital assets fund through his new firm, Galaxy Investment Partners. It will be the largest fund of its kind.
Wall Street has finally awoken to the power of bitcoin and blockchain technology. And, they don't really even care about the initial vision of bitcoin nor that its fees and speed may be making it unusable as a currency.
All they really care about is that it has been going up, a lot, and that the blockchain space is like the internet in the 1990s.
What does this mean? Well, with traditional money flowing into the market we could see bitcoin hit Jamie Demon's price target of $100,000! In fact, maybe that was his plan all along.
Because people like Jamie Demon don't care about bitcoin destroying central banks. In fact, he wants to stop that. So, if they can somehow take control of it through Blockstream, make it slow and expensive, convince everyone it is truly "digital gold," blow it up to $100,000, sell it all and demolish it… then they'd make a fortune and destroy bitcoin in the process.
That's what Wall Street does.
We'll see what happens and I'll be updating subscribers in the next few days on how to play the latest developments.
With bitcoin hitting another ATH, we'll once again offer our special discount on the TDV newsletter HERE.
In the meantime, I never recommended selling bitcoin and have not sold any of mine… so, no complaints here about another all-time high!
Combined with Bitcoin Cash, which I also recommended HODLing, we are now on the cusp of $9,000.
I think a white rapper once rapped about bitcoin saying, "Now it's $2k, on it's way to $10k".
Getting very close.
And, oh yeah, f**k you, Ben Bernanke!