The crypto world is sufferring another "red" day. Coin360.io paints a vivid picture of how red (or green) things are in a beatiful infographic of bitcoin status, including all other altcoins.
Given the volatility of crypto as status quo, there are a lot of speculations on what the price will eventually head to. This ranges from the most technical, to the most analytical, even down to the most outrageous.
Let me add to that with one that is logical. I won't delve into the above approaches as they are already succinct in them. My approach is logical and I will tell you what it's not, using economics.
Bitcoin will not go down to US$3,000 range as speculated.
Logical Approach
Mining bitcoin is pretty much like mining gold, in an investment perspective. Mining gold involves costs -- hardware, equipment, electricity and manpower to name a few. Likewise, bitcoin mining involves costs.
I googled how much it would cost to mine 1 bitcoin (or 1 BTC). Apparently, it differs per country (and the disparity is huge!).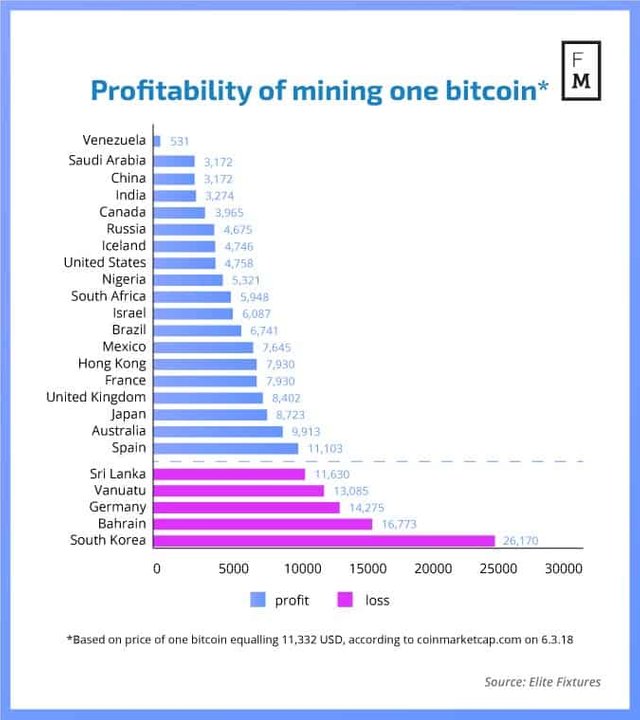 What Logic Says
From the above picture, you will notice that mining bitcoin would prove to be detrimental to business interests in many countries if the price of bitcoin shrinks.
If it costs too much to mine bitcoin than you can sell it, would you do it? The bigger question is: why? The logical approach plays a big role here.
Threshold Price
When mining bitcoin approaches a threshold price, a lot of shops who mine bitcoin as a form of business would close down. This price is again speculated to be somewhere between $4500 to $5000.
At that range, some would stay and continue to mine even if the profit is small (accumulate as much coins as you can for an upswing makes perfect sense here). The difficulty would also drop making the threshold price swing down.
Even then, if you and I see the price go lower than this range.. what would be the most logical thing to do? If you ask me, I would convert everything to fiat. Yes! Sell every single crypto you have as everything will eventually shutdown and close shop.
Imagine if you're sitting on thousands of bitcoins, or even hundreds. Would you want to see all of it go down the drain? The logical approach here makes sense. Bitcoin will not go down to US$3,000. A lot of whales simply will not allow it.
---
If you like this post, you know what to do.
Support:
Bitcoin (BTC) - 3Kyjg1Wj1PNGN3KhiRprxYvvQpdjC5kT3k
Etherium (ETH) - 0x5F168F895C63ccC5FbEf921047bc2b63f6780c3F
SmartCash - SbgqBUuGBVaaFERmc5zPn8XStxXe7vE1SL