BTC Bitcoin - Not out of the wood yet. Short term $10100? $12500?
Hey everyone,
Here's a quick update on Bitcoin. Overnight (at least in western Europe) we witnessed a shy breakout from the wedge up to $8850. That's always something, isn't it?!
Regarding my previous post, I'm still serious about it and will be paying close attention to price movements, or even news that could justify the forecast. Let's take a look at the chart now: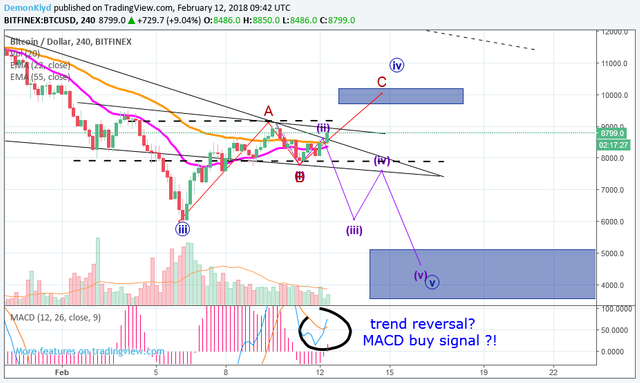 Two possibilities:
semi-BULLISH scenario: On the one hand, the breaking out of the wedge may be a signal for an uptrend to start anytime soon... and the MACD tends to confirm this upward movement, at least for the short term. Why ? Because I still believe that we're still in the C wave of a larger corrective trend that would be blue circled wave iv. In the end, we may be aiming at a possible $10100, or, IF volumes confirm (which is NOT the case so far), up to $12500 (possible H&S pattern). Afterwards, the next target would be final circled wave v of 5, meaning the end (?) of the overall correction. All new all time high targetted at $35000.
BEARISH scenario: This a fake breakout, and volumes remain low as hell, and red candles start showing up all over again. Bitcoin is quite struggling to reach higher prices as many resistances must be breached decisively to convince other buyers to get on the bus. This would mean a significant drop within the next 48h, maybe to end to as low as between $4000 - $5200, as mentioned in my previous post. Not very likely though, as sellers are exhausted and getting rarer as buyers are coming back in play.
Keep an eye on this one!
Enjoy the ride :)



Thanks for reading me, I'd appreciate an upvote if you enjoyed this technical analysis. Also Don't forget to FOLLOW me & Resteem !!!
Remember this article is not intended to guarantee any gain nor encourage you to invest in any way! This is just for your information.
You could even consider offering me a beer! ;)
ETH 0x7f6A03620BCaDaFCb76E0B0E253F4bF50b6f8A24
BTC 1JPARFZfvrdj9VgNxcvq8D9G3dc5X113Wd
BCH 13R98Ggzuq5NZx5AnguMkNXs3qmBMhPqvg
Have a good one!