BCH - NEO - XRP - XVG - DGB... Altcoins to go phasic with BTC? Well, yes and no... Read this blog!
Hey everyone! First of all and once again, let me wish you and your family a Merry Christmas. Let us not forget about all those less lucky people out in the cold. Never forget that what one gives is rewarded back a hundred times!
---
Lately Bitcoin's correction has had many wondering about whether the current cryptosphere was getting bearish, or, on the way round, if this was another great opportunity to buy the dip.
Well, here's my two cents: some altcoins will, anyhow, grow even stronger off this episode. See for yourself: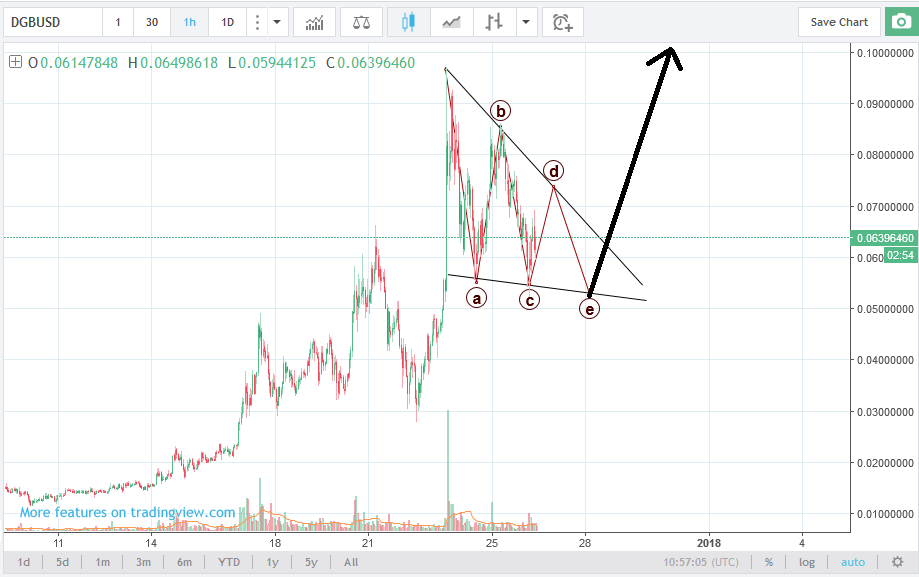 DGB is forming a beautiful ABCDE correction in the form of a bullish flag. Circled waves D & E must confirm, but what should we do? Sell some at 0.07, buy back at 0.055.
Next? XVG.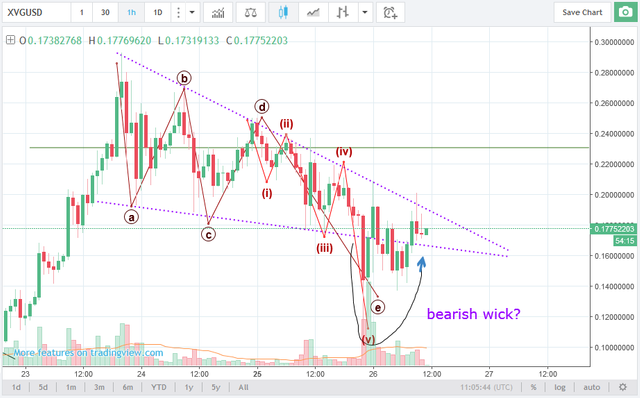 Another downward pointed bullish flag...! Next destination should be UP according to this pattern. However an alternative must be taken into account: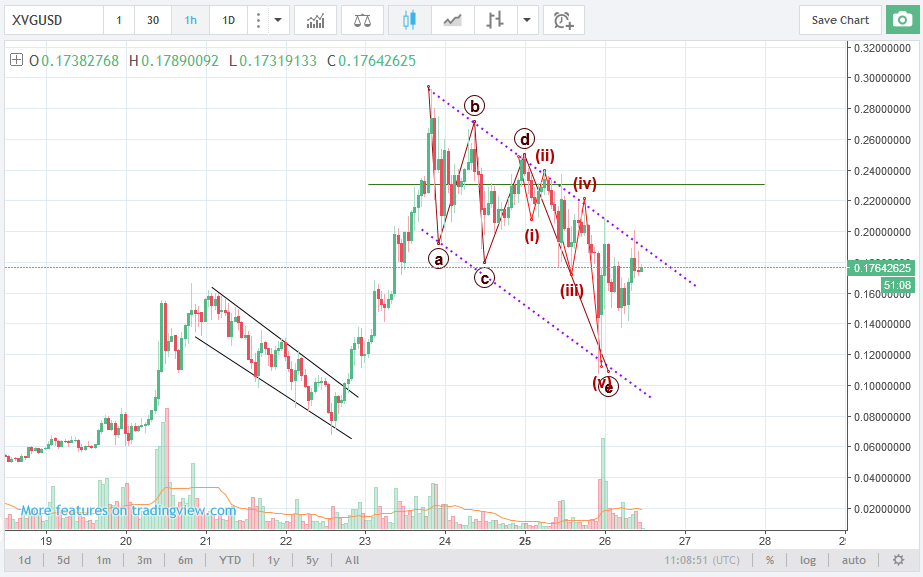 Same count, still bullish, same destination! On to XRP, one of my favorites: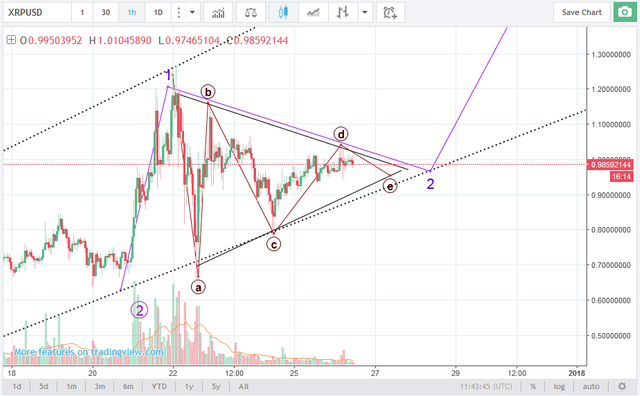 Bullish as it can get! And here's a longer perspective and possible forecast: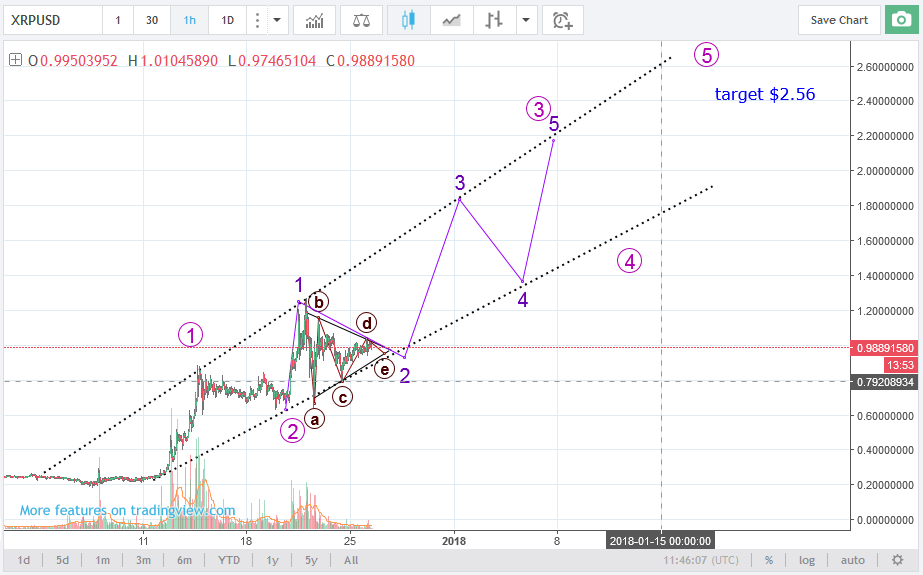 Now, would you like some serious bearishness? We're off to NEO and ETH. So here's NEO with TWO possible pathways (ETH has a similar looking chart):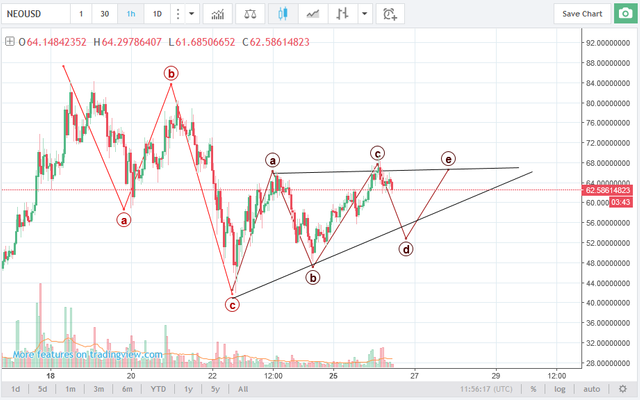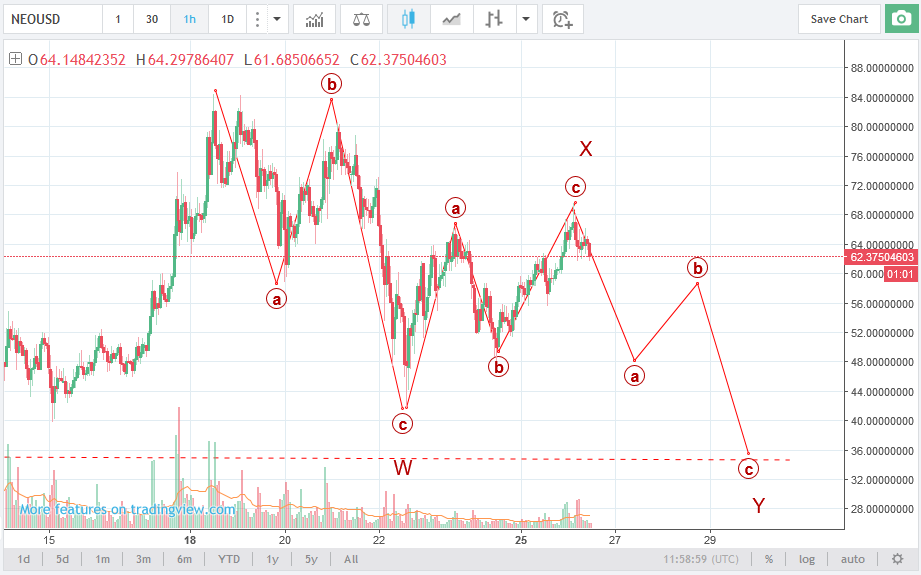 So what do we have here? We may be looking at a possible candidate ready to test the $35 main support line either it be in the form of a WXY correction, or because of a bearish ABCDE triangle forming. Remember that patterns can morph into something else as time goes by.
And now, my favorite, Bitcoin Cash. I would like you to take a look at this triangle, and more particularly, at the circled price movement: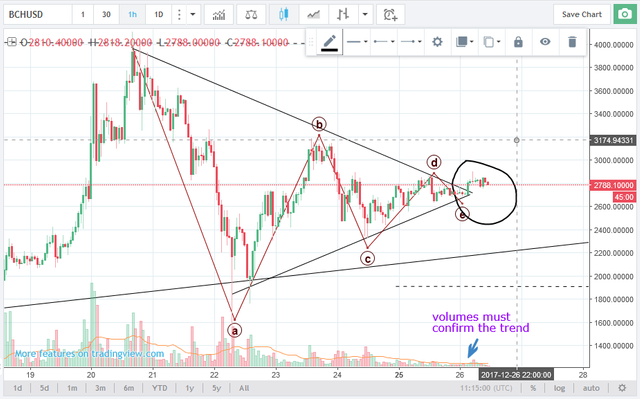 Now, look at this ABCDE correction that occured late november early december, and pay attention to the circled part as well: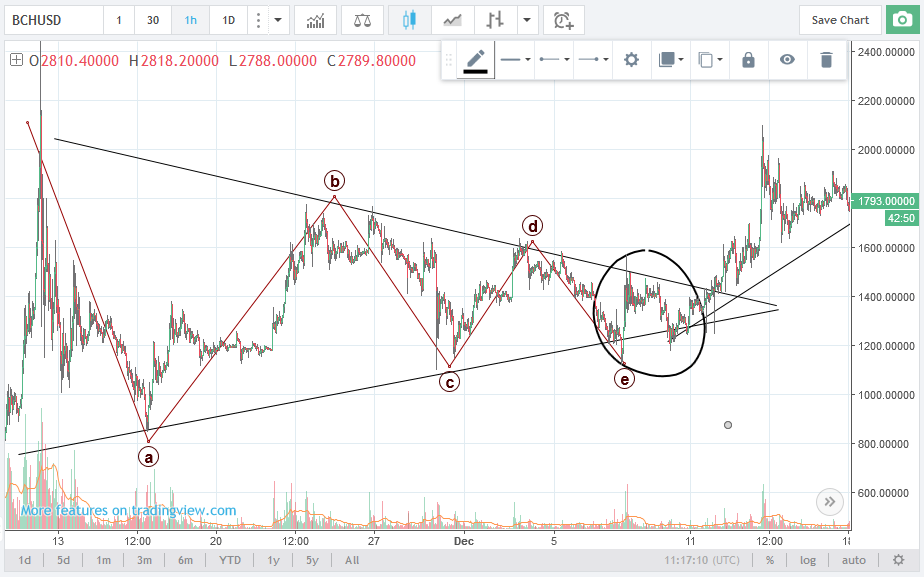 Don't you see the forest behind the tree, as would @haejin say? There is a possibility of a fractals in the way BCH corrects. And look where it's been bringing us so far: higher highs!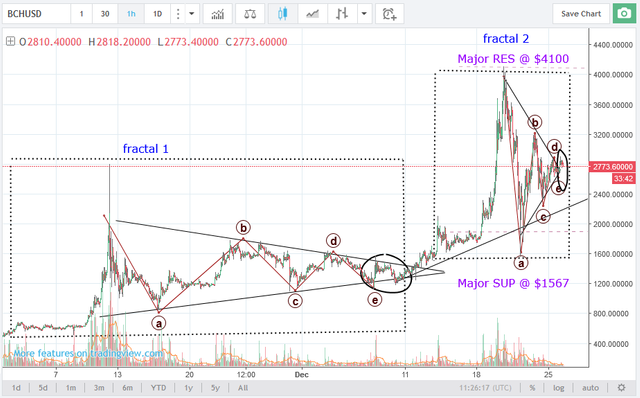 EDIT 1: Look how BCH price is narrowing onto the past all time high of $2800! It is now literally BOUNCING over it! This $2800 line needs to become the new support line for a decisive impulse UP!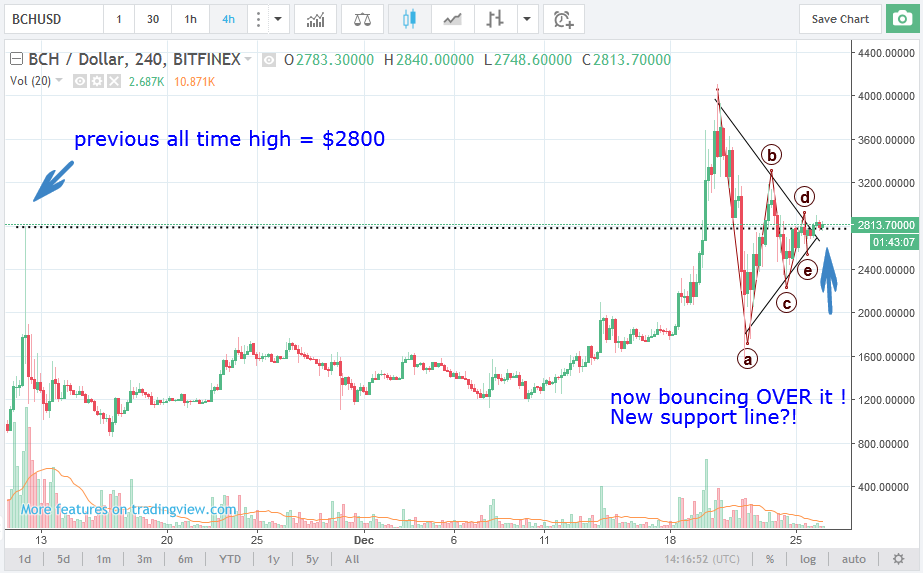 SO what I'm trying to say here is, despite BTC not knowing where to head as of right now, there are so many great alternatives. Remember that even if today BTC is the king of the cryptosphere, one day, he may be slain and surpassed by his heir, Bitcoin Cash, who himself may be dethroned by another generation of the Bitcoin family.
However, between you and me, we all know there will always be one discreet and yet dominant winner in the long run. (cough BITSHARES ! cough)..... !
Enjoy the ride!
-------------

------------
Thanks for reading me, I'd appreciate an upvote if you enjoyed this technical analysis. Also Don't forget to FOLLOW me & Resteem !!!
Remember this article is not intended to guarantee any gain nor encourage you to invest in any way! This is just for your information.
You could even consider offering me a beer! ;)
ETH 0x7f6A03620BCaDaFCb76E0B0E253F4bF50b6f8A24
BTC 1JPARFZfvrdj9VgNxcvq8D9G3dc5X113Wd
BCH 13R98Ggzuq5NZx5AnguMkNXs3qmBMhPqvg
Have a good one!