Like almost everybody I speak to these days about Bitcoin I was a skeptic. I mean, I wasn't a hater but like everybody else alive right now I was born into a system of fiat money. So, that's what I was convinced was money by the time I needed to know what money was. How could a digital . . . 'thing' be money? Since I'm a gamer for life I had seen more than my fair share of "Digital Economies" crash within months of release. Back in the day I used to play Ultima Online quite a bit but there were many other games with a fair amount of development time given over to the creation of an in game economy. All of these in game economies were brought to their knees with what was usually a "dupe" hack in which either the base currency gets duplicated and sends the currency into parabolic inflation or high value items (swords and such) being duplicated to the point where the item became ubiquitous losing all value. How in the hell would Bitcoin be any different?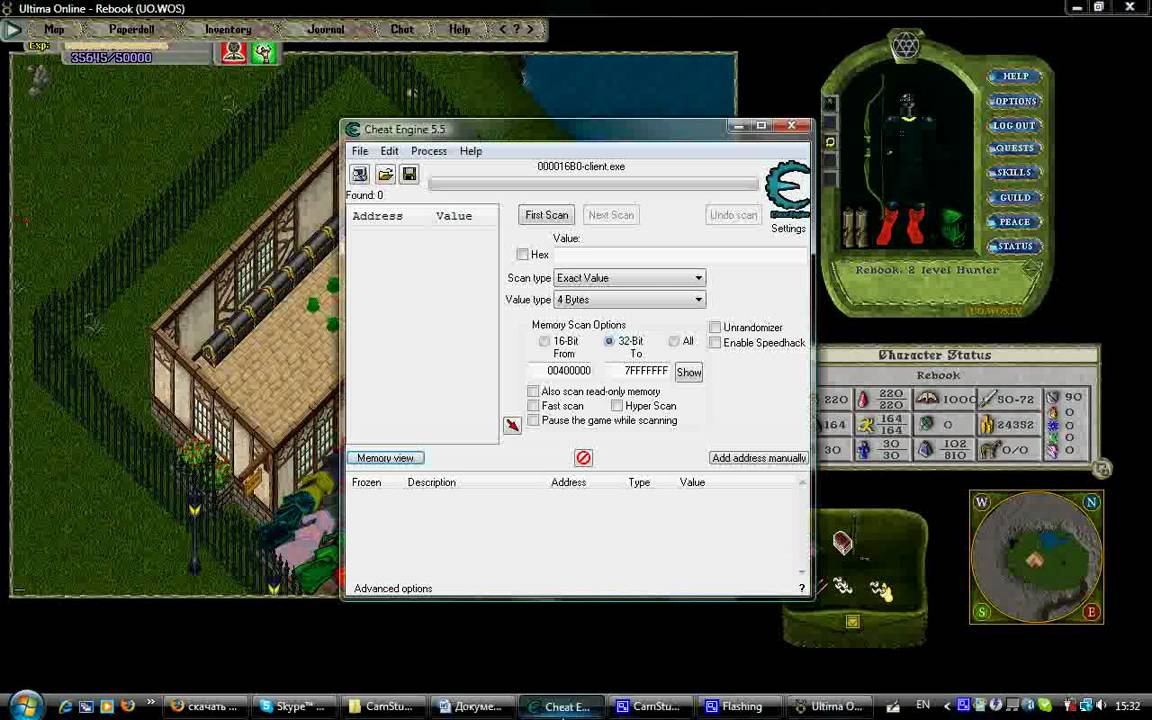 I heard about Bitcoin around 2009 or so and didn't buy any because I didn't know how and, like I have said, I wasn't convinced at all that Bitcoin wouldn't be duplicated in some fashion (and I ain't talking about the never ending barrage of shitcoins). Even had I bought some at super low prices I most likely would have got Goxed along with everybody else because it takes quite some time to figure this stuff out e.g. why you need and how to use hardware wallets and cold storage. With that said I finally entered the Bitcoin space during the summer of 2015. I was able to catch the very bottom of what I have come to know as the 15 month bear market. I used dollar cost averaging to continuously buy about $250 worth every month until the end of summer 2017 with a couple of larger buys towards the end.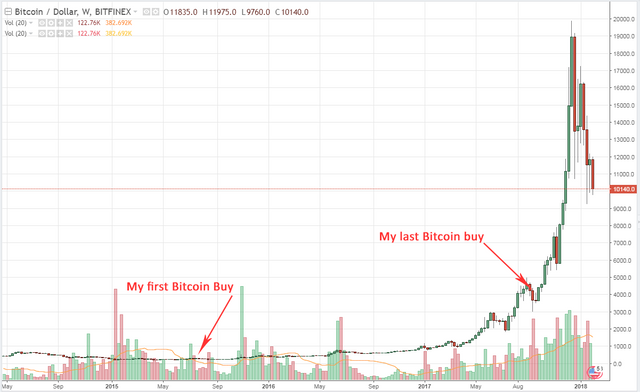 The reason I finally jumped in was on the advice of a pod-caster. He had said, "this stuff is here to stay and it will become ubiquitous so you need to learn how to use it". It so happened that he began taking Bitcoin as payment to subscribe to his podcast's support group and I thought, "what the hell". I got an account on Coinbase, hooked my bank account to it and bought almost one full Bitcoin at $250. I immediately turned around and bought a subscription to his support group for 0.2 BTC.
0.2 BTC! . . . . it's the most expensive subscription to anything I have ever bought but I wouldn't know that until much later. I also bought a video game which has now turned into the single most expensive video game I have ever purchased but again I wouldn't know that until later. I didn't have a HODL mindset.
I do now.
So here I am staring into the abyss that is my first bear market. I never had to go through the one that the old timers went through. Here is what is interesting though . . . I think I might be more prepared for this bear than even the old timers were because of the following:
I have seen every manner of 30% dip. I think we had 6 in 2017 alone.
I have seen Bitcoin attacked by governments again and again and again.
I have seen Bitcoin attacked from within again and again and again.
I am now watching as main stream media jumps on the attack wagon.
I could expand this list until the world looked level but it would be beating a dead horse. Bitcoin has been, is being and will be attacked by everything under the sun forever and ever. If you are thinking that a day will come when it won't be then you do not have the HODL mindset.
But here's the other thing: I am also staring straight into some of the most fascinating technology development the human race has ever known. Most of that is occurring on Bitcoin, not Ethereum, not Dogecoin (don't get me wrong, I love the Doge but it's not being actively developed), not (insert name of shitcoin here) but Bitcoin. It's mostly happening on Bitcoin. Schnorr, MAST, Lightning Network, MimbleWimble and bulletproofs. We are staring square in the face of the most cutting edge technology ever seen and it's happening on Bitcoin.
We might be in a bear market and we might see Bitcoin drop even more in price. I'm OK with that. When I finally did figure out that I had pissed away thousands of dollars on a video game and a subscription I wasn't mad but I was a embarrassed; I hadn't understood two of Bitcoin's value propositions at all. Why would I let go of something of which there will only ever be 21 million of for a transaction that I don't need immutability for? The government is not going to censor me purchasing a video game and if they tried then it must be damned good and that's when I'd whip out good 'ol Bitcoin but not a single second before.
I HODL because I can better see the future because of my past with Bitcoin.
I HODL because no one truly knows where or how far this technology will go.
I HODL not because I have a store of value but because I have address space on the most innovative decentralized technology the world has ever known.
I HODL.